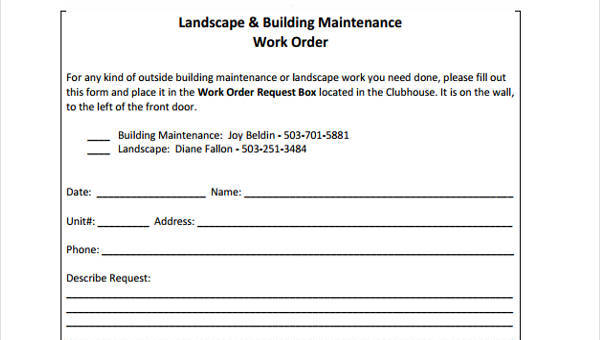 Many businesses and organizations have things that need to be done. They all require different services and products that they'll either need to provide, or be provided with. This is why whenever someone needs certain things to be done or requires specific products, they make use of order forms to help them out.
There are many different ways for businesses to use order forms. Designing a wholesale order form for when a certain company decides to sell a number of goods to different retailers for commercial, industrial, or professional uses.
Computer Work Order Forms
Computer Repair Work Order Request
University Computer Service Work Order
Sample Computer Work Order Request
Vehicle Work Order Forms
Vehicle Inspection Work Order
Garage Vehicle Service Work Order
When Do You Use a Work Order Form?
A work order form is issued in the event that any company or organization requires certain services that need to be done, or products that they need to have. It's not just for them to use, but clients of these establishments can also issue work orders for whatever products or services they need. A good example would be a client can demand an appraisal report from a certain organization through the use of appraisal order forms.
How to Create a Work Order Form
If you plan on creating a work order you'll have to start by putting in your company name, address, contact details, and the name of the person issuing the order. Then you'll have to state the kind of product or service that you'll need, along with the problem that you need addressed. You will then have to properly specify the work description if it's for a service that needs immediate rendering. Also provide an invoice remittance address if it's not the same as your company address.
Follow these instructions for when you need to create a work order, especially if you have to fill out purchase order forms for certain products that the company requires for business.
Work Maintenance Order Forms
Work Order Maintenance Request
Work Maintenance Order Request Form in PDF
Repair Work Order Forms
Sample  Repair Work Order
Repair Work Order Form in PDF
Fall Protection Repair Work Order
Different Types of Work Order Forms
Here are some examples of work order forms:
Cake order forms are the kind that are filled out by clients for when they require certain companies to deliver any cake that they desire. Having a cake makes any celebration feel more joyous and celebratory, which is why many event organizers make use of these forms to order the cake that they need. These forms allow customers to specify the details of the cake they want such as the flavor, texture, size, and more. Some companies also have custom cake orders that allow the client to provide unique designs and have control of all of the details that the company should be willing to comply with.
Photography order forms are forms used by those who require the services of certain photographers or photography companies. Businesses also make use of these forms when they need to have certain events  that require the services of these photographers. These forms help specify as to what even that the photographer will have to cover, along with other details, such as the equipment that will be used and other extra services that need to be done.
Food order forms are documents that are mainly issued by establishments that would like to order food in bulk, which is why many restaurants and catering services make use of these forms for when they need specific ingredients. These forms allow clients to specify as to what food they'll require, along with the quality as well as the quantity in which they will need them. These are also used by clients who need to have certain types of food delivered for different events. All that needs to be specified is the food that needs to be brought, along with where the event is taking place and the time.
We have numerous work order forms available on our website for you to download and use, so feel free to look around.
Contractor Work Order Forms
Standard Sub-Contract Work Order
Sub Contractor Work Order
Subcontract Work Order
Building Work Order Forms
Building Maintenance Work Order
Building Work Order Form in PDF
Work Order Request Forms
Resident Work Order Request
Facilities 
Work Order Request
Electronic Work Order Request
What is a Construction Work Order?
Construction work orders are issued whenever any client desires any kind of structure to be made. They must use construction work order forms to properly document the construction project that is about to take place. When issuing a construction work order, one must take into account the kind of work that is to be done, along with making agreements with the contractor on how the work is going to be done and the materials that will be used.
How to Make a Work Order Form?
When creating a work order, here are the items you should put in:
Your complete name, along with other personal details such as contact details, address, and the name of the company you work for
The date of when the order is made
The location as to where the product or service is required
A description as to what you need
The time and date of when you would like the product or service to be provided
A  list of the materials and goods, along with the total amount of payment
In the event that you need to print out any of these, then there are printable order forms available in this website for you to download.
Design Work Order Forms
Graphic Design Work Order
Web Service Work Order
Design Work Order
Work Change Order Form in DOC
Chemistry Department Work Order Form
Guidelines and Tips for Completing a Work Order
Here are some things you should follow when completing a work order:
Provide as much information on what you need to have done. Be very specific with what you need so that there will be no issues once the work order commences.
Always provide important information such as your contact details and address, as well as the address on where the work order is to be done or where the goods have to be brought to.
State the date of when the work order has to commence, as well as when it should finish.
Provide delivery instructions in the event that you require certain materials.
Always make sure to have extra copies of the work order to have physical proof of whatever order you issued.
So whether you're using event order forms to issue specific tasks for an event or sales order forms for different sale purchases, make sure to follow those guidelines and tips to help you out when making any order.