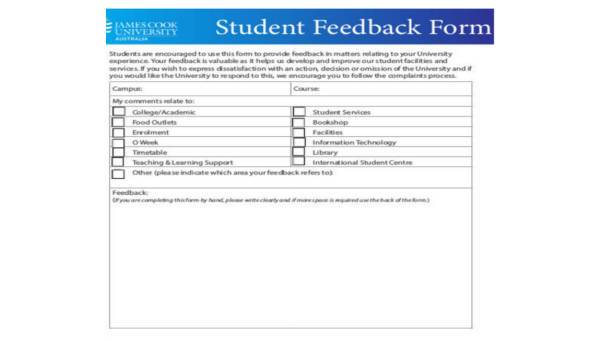 Students are very important for every educational facility. If there are no students, then there would be nobody for the teachers to teach. It's up to the school to make sure that the students enjoy their learning experience and make sure that they're given the proper school life that they deserve.
Some schools feel the need to know if there's anything they can improve on, so they ask the students what aspects of the school they feel can be improved upon or even changed.
Student Feedback Forms can help school principals and staff by letting them know the different aspects of the school and determine if any of these are either really good or really bad.
Student Feedback Questionnaire Form
Student Teacher Feedback Form
Free Student Feedback Form Sample
Student Feedback Form Example
The Different Kinds of Student Feedback Forms
There are various types of forms that schools can hand out to their students to acquire the proper feedback they need. Here are some examples of forms that help students voice out what needs to be changed or not.
Teaching Feedback Forms and Student Teacher Feedback Forms are used by students to assess a certain teacher and find out how he or she treats the students. These forms also assess how well a teacher educates the students.
Medical Student Feedback Forms are used by those who are undergoing medical courses and wish to give feedback on the kind of education they're receiving.
Student Presentation Feedback Forms are used by teachers and students to evaluate the execution and accuracy of the presentation of a certain student.
Student Lesson Feedback Forms are used by the students to evaluate the kind of lessons they're enrolled in. They're expected to assess if the lesson was indeed useful and if the lesson was presented well or not.
Student Placement Feedback Forms are used by the students when they go on a trip and are booked in hotels or other establishments that provide proper accommodation. The students use these to assess how well these establishments are.
Medical Student Feedback Form
Student Presentation Feedback Form
Student Lesson Feedback Form
Student Placement Feedback Form
The Importance of Student Feedback Forms
Feedback is an essential part of effective learning. It helps students understand the subject being studied and gives them clear guidance on how to improve their learning. Additionally, it also helps the teachers and other school staff have a clear understanding as to what they need to improve on or if they should just keep up the quality of their services.
Effective student feedback can transition to higher education and may just give the students the learning experience they deserve. Providing students the avenue for feedback should enhance learning and improve assessment performance of both the teachers and the students.
If schools take into account the feedback given by the students, then they might just improve and more people will wish to enroll within the education establishment, giving the school an even better reputation.