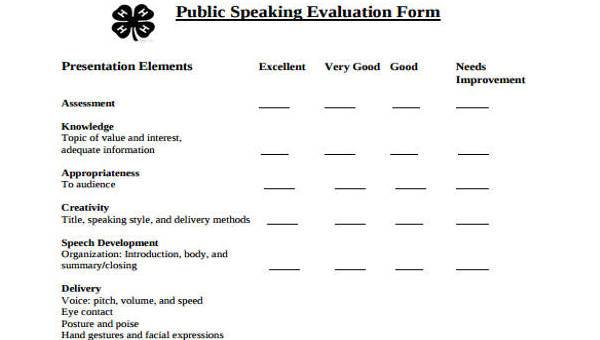 A process that allows an organization to carefully examine a program or activity is called an evaluation. This includes collecting and analyzing data with regards to certain characteristics of the program or activity. For this process, Evaluation Forms are required to make sound and informed decisions and judgments to improve the effectiveness of a program or activity. The periodical assessment of a program or activity is necessary for any organization to adapt to this very dynamic world.
Aside from that, evaluations enables you to showcase your program's success or progress, and the collected information will help you better communicate the impact of your program to others. This is important when it comes to public relations, maintaining an organization's morale, and gaining support from current or potential clients.
Peer Speech Evaluation Form
Public Speeching Evaluation Form
Informative Speech Evaluation Form
Informative Speech Evaluation Form Sample
Speaker Speech Evaluation Form
A good evaluation should be tailored to the program's needs and build on existing knowledge and resources. A well-planned and carefully executed evaluation provides more benefits rather than one that is thrown together hastily and retrospectively. In many institutions, specifically an educational institution, a Course Evaluation Form is considered a vital part of its progress. These could be in the form of a paper or electronic questionnaire that requires a written or selected response to a series of questions in order to evaluate a specific course. It basically aims to produce feedback which the teacher and the school can use to assess their quality of instruction. It can be used to gather information about the impact of learning and of teaching practice, analyze and interpret these impacts, and figure out a way to respond to whatever result there may be.
These forms generally include variables such as communication skills, organizational skills, enthusiasm, flexibility, attitude, the interaction between students and teachers, knowledge of the subject, course difficulty, and grading of exams. The information contained in these forms can also be used by the administrators to make decisions regarding promotion, tenure, and salary increases for the teaching staff. Download some of the samples available here to get a clear idea of how this is done.
Speech Self-Evaluation Form
Speech Evaluation Form Example
Persuasive Speech Evaluation Form
Speech Evaluation Form Example
Speech Delivery Evaluation Form
Simple Speech Evaluation Form
Comprehensive and quality Teacher Evaluation Forms are necessary for every educational institution to conduct a proper assessment of the quality of their teachers. These forms are used by schools and universities in reviewing and rating the teachers' performance in their classes. The data collected is then used to provide feedback to the teachers and help them develop their career. Although there are states that have specific guidelines on how these evaluations are done, they have to be done at the district level, and the specifics and requirements can vary widely.
This type of evaluation usually relies mainly on observations made by principals and other school administrators in the classroom, samples of the works of the students, the teachers' records and lesson plans, and other things that are relevant and necessary.