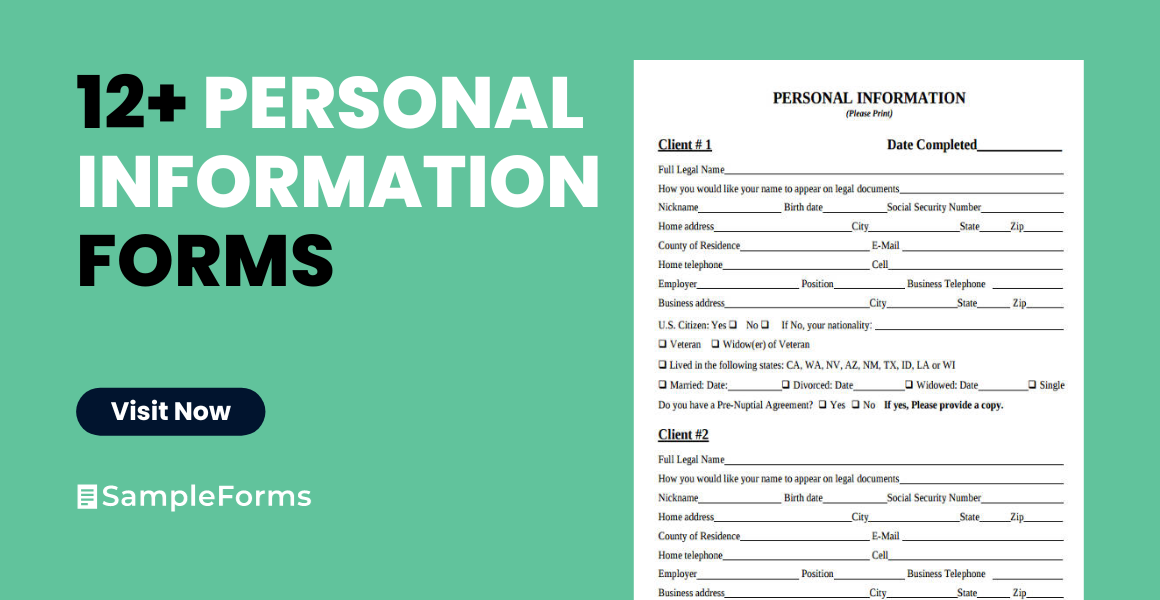 When an individual is required to make a review of material that is directly related to a subject of conclusion which cannot be included in a printed version, this individual is making Supplementary Information. Supplementary Information is an example of an Information Form that is used as an optional part of an actual definition of a subject.
On the other hand, Annual Information or most commonly known as Annual Information Return (AIR) are reports specifically outlined to gather information about business practices, internal controls, and market conditions for the previous year of an organization. It is basically information that contains high value financial transactions.
Employee Personal Information Form
Release of Personal Information
Student Personal
Blank Personal Information
Client Personal
Customer Personal
What Is A Personal Information Form?
An example of an Information Form is the Personal Information Form. It is a form that requires you to fill out your personal details which will most likely include details like your complete name, home address, birth date, and other similar personal information.
These forms are mostly provided during interviews in an organization when applying for a new job, for rental requirements, for medical institution purposes, and many more. These forms are used by organizations to keep a record of their clients. Take note that by filling out these forms, an individual is giving consent to another individual or organization a disclosure of one's personal information.
Purpose Of A Student Information Form
Just like Personal Information Forms, a Student Information Form is also an example of an Information Form. Student Information Forms are mostly provided by schools for their students to obtain accurate personal information. The purpose of these forms is to keep a personal record of their students.
If, for example, there are some students with abrupt behavior in their classes or there are any unexpected emergencies, the school administration would know who to contact. A Student Information Form contains personal details of the student, and contact information of the student's parents.
Interview Personal Information
Personal Medical
Patient Information
Personal Rental
Tenant Personal
Volunteer Information
Sample Personal Information Form
Health Information Forms are forms mostly used in medical institutions used to record an individual's medical history. These may also include lab results, x-rays, and other clinical information.  On the other hand, Emergency Information Forms are forms used when an individual is in a potentially life threatening situation.
Disadvantage of Personal Information Forms
We all know that Personal information is used in most businesses and organizations for appropriate communications. However, in most cases, identity theft may occur and your personal information may be disclosed to a certain public and criminals who may misuse this for inappropriate marketing. To help reduce the risk of an identity theft, one must know how to protect their personal information.
How To Protect Your Personal Information
There are many ways to protect your personal information. To protect your personal information, one must:
Not disclose personal information publicly
Know who you share your personal information with
Dispose your personal information in a safe and secure place
Ask questions and think before deciding to share your personal information
Lock away and secure financial documents and records
With everything mentioned above, we are pleased to inform you that our website provides you with these Personal Information forms that you can download and use for free. Just be sure that when gathering personal information from clients and other individuals, these information must be kept in a safe place. If ever disclosed to the public, legal consequences may proceed.