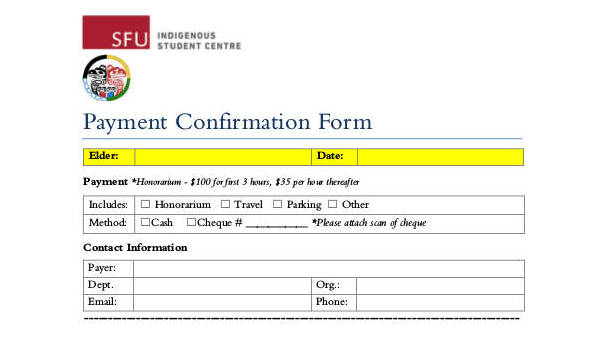 Whenever you're due a bill that requires you to pay immediately, you'll then have to make sure that the companies that you've paid these bills to have received confirmation of your payment. There are even forms which give you instructions on how to confirm your payment.
In the event that your payment confirmation was not recognized or that there were problems in the information contained, then you can use Payment Confirmation Resubmission Forms to ensure that the details of payment provided are accurate enough to be accepted for confirmation.
Credit Card Payment Confirmation Form
Health Care Payment
Incentive Payment Confirmation
Elder's Program Payment Confirmation
What is a Payment Confirmation Form?
As its name states, the point of payment confirmation forms is to ensure that you receive proof of whatever product or service that you paid for. Each Payment Confirmation Form is different and each one has their own specific purpose.
A good example would be a Loan Confirmation Form which would show that you've paid the full amount of the loan you initially acquired. So if you're going to need confirmation of your payment, then make good use of these forms.
How does one get a Civil Payment Confirmation Form?
When one incurs a civil penalty, it means they've been imposed a financial penalty by a government agency for any wrongdoing that they may have committed, such as street vandalizing or destruction of property. In this event, these people will have to pay a fine equal to the crime that they have committed. To confirm that they have done so, there are forms such as Service Confirmation Forms which show that they have provided ample service for whatever crime they've committed, along with the necessary payment for compensation.
Stop Payment Confirmation
Payment Confirmation Sample
Payment Cinfirmation Form in Doc
What Does "Awaiting Payment Confirmation" Mean?
It's exactly as it sounds. This means that that the person or business that has provided the product or service has yet to receive payment and is waiting on the customer or client. Think of it in the same way as Order Confirmation Forms in the sense that instead of waiting on the orders to be finalized, you're waiting for the receipt on whatever it is you purchased. So make sure that whatever bills you have are paid right away so that these companies can send you confirmation of your payment, because you would want to make certain that you've paid all the bills that you're due.
How Does One Send Payment Confirmation?
Payment Confirmation can be sent either through physical or electronic means. It's basically a receipt that shows proof of what product or services that you've bought. Say for example that you used a booking confirmation form to ensure that you've booked a hotel for the night. You've paid the amount required to book for the rooms, but you need a receipt to show that you did. They can either hand you the payment confirmation in person via a legal document, or they can send it  through you via electronic means by sending it to your e-mail address.  So make a choice of either sending it electronically or giving the person a physical copy.