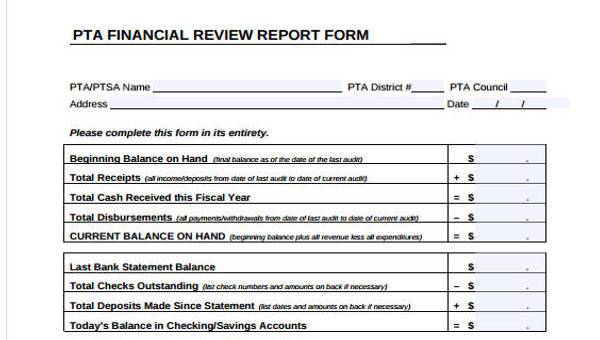 Everyone has to keep a good eye on all of their finances. If you were the head of the household, then certainly you'd want to make sure that you keep an eye on all the expenses you make in order to ensure that you don't spend more that you earn, right? This is doubly important for companies that make a living by providing their goods and services to the public.
They have to make proper reviews on where they stand financially. However, they also need to make certain that these reviews are documented on official forms. How will they achieve that? The one thing that can help them is the use of the right Financial Review Forms.
Confidential Financial Review Form
Annual Financial Review Form
Financial Review Form in PDF
Adult Education Financial Review Form
Financial Review Report Form
The Different Types of Financial Review Forms
There are many types of forms that any person or business can use in the event that they need to check where they stand in terms of their financial status. Here are some examples of these types of forms:
Employee Financial Review Forms are forms that are utilized by businesses in the event that they have to check on where their employees stand financially. It's important that every employee understands as to where they are in terms of financial standing, and these forms help in determining just that. There might be workers who are having financial problems, and through the use of these forms, the company can designate a department to offer a financial plan to said worker.
Annual Financial Review Forms are used by just about anyone to see how much they earned and how much they spend within a year's time. This is especially important for businesses in instances when they have to see how well they did in the previous year. This allows them to make the necessary changes in order for them to earn more. This could mean letting some people go and improving the kind of services they provide to the company.
Financial Review Form Example
Personal Financial Review Form
Financial Review Form in Doc
Personal Financial Review Form Sample

General Financial Review Form
The Importance of Financial Review Forms
Think of these forms in the same way you would Employee Performance Review Forms. In the same way an employee uses these forms to review just how well they perform, a company or person uses Financial Review Forms to make a proper assessment on how much money they have gained or lost due to their actions.
Everyone has to make certain that they don't go into the red. This means that they don't want to enter a state of financial crisis or even bankruptcy. Hence, through the use of these forms, these people can get an in-depth review of where all their sources of income are coming from, how much these sources are giving them, where their money is going, and how much of it is going away. This allows them to make important decisions on what they can do to improve their financial status.
Hence, in the event that you need to keep a close track on your finances, or if you want to help someone else keep track of his, then don't hesitate to use these forms to help you out.