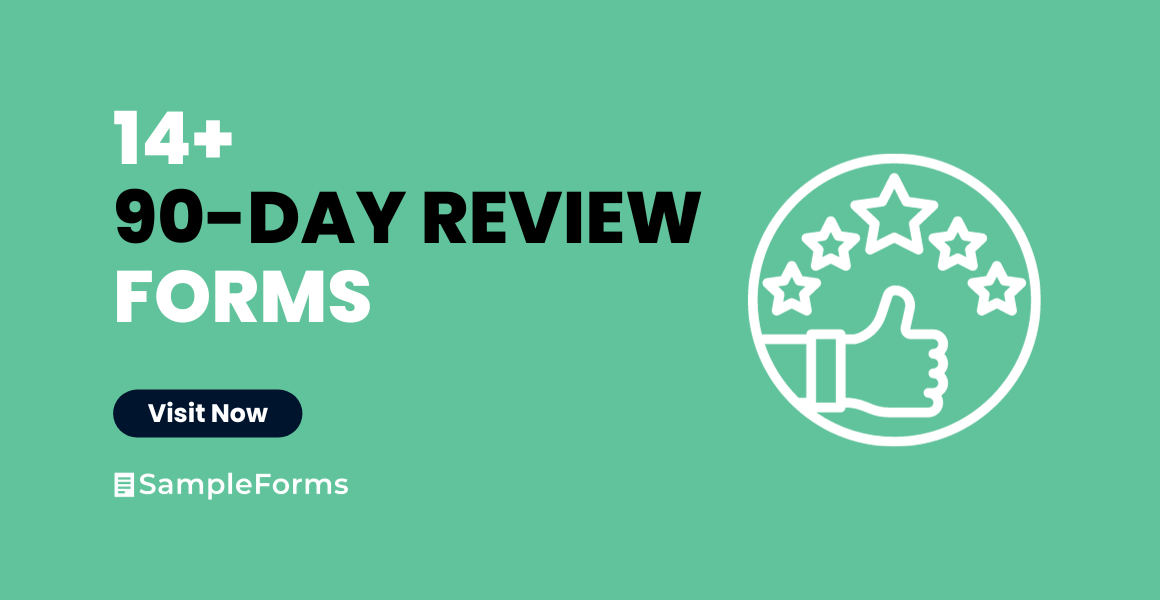 There are different kinds of forms that are used in evaluating or assessing one's performances. And one kind of form is a 90-day review or evaluation of individual employee's performance. This is basically equivalent to three months wherein the employee is subjected for an initial appraisal. Though, there are those companies in which they only use an annual performance review for their employees.
Nevertheless, these 90-day reviews should also be conducted in order to have an effective monitoring of each and every employee's performances. These kinds of reviews serve as a great help to improve the progress of the individual, as well as the company's management of their workforce. Further on this article are the various reasons of why these reviews are mandatory to be conducted and how they help in business development.
90-Day Performance Review Form
90-Day Performance Review Form
90-Day Performance Appraisal Form
90-Day Staff Performance Review Form
90-Day Employee Performance Review Form
The Purpose of Conducting a 90-Day Review
Similar to other performance reviews, these 90-day reviews are conducted to basically test the employee's capabilities. Although, others are conducted annually and/or monthly. In this case, this kind of review is undertook after three months of the probationary period review of employees. Further purposes or importance of the 90-day review are as follows:
This review is to determine if employees' performances are consistent for a long period of time. This basically helps the management to keep track of the working or performance progress of each and every employee.
The review is used in order for the business management to see if their employees are serious or dedicated to their job and are willing to strive even harder.
The review helps both the management and the employees to know if they (employees) are fit for the job with the specified qualifications.
The review is basically conducted to evaluate individual's qualities, values and skills. As well as individual's personality, both organizational and behavioral.
The review is for the monitoring of employees' performance and work progress. Thus, keeping the employees on track, right straight to the expected results.
This tests if employees have fully understanding with regards to their job. And whether they are fully aware of what they are doing.
The review also examines employees' individual intellect response to the different situations.
This helps employees to reach the goals and attain the expectations that are set by the company management.
The review is also used to know if training programs make some impacts or changes to individual employees, and/or are effectively conducted for performance evaluation for improvements.
This review is for employees to be qualified for the job that they have applied for, as their capacity is measured.
This review somehow helps the employees to be kept motivated as they are made to strive for more, and beat their past performances.
The review definitely tests the employees by basing from the different aspects and factors.
Employee's productivity and quality of work output are examined and evaluated.
The review is to make certain that employees are making satisfactory progress in their work.
This is for the management to be aware of what are needed to be changed with regards to their training programs. Thus, making use of the training needs assessment forms also make things easier.
The results from the review are jotted down to have an actual basis or evidence of one's performances.
This helps identify what are the reasons behind the poor performances of each and every employee.
The use of this review is also to make sure that employees have complied all the requirements in order for them to be qualified for employment.
This is used to help the employees discover their own strengths and weaknesses. And help the management to learn more about their employees. This can also be done by utilizing an employee self-review form. This kind of review creates awareness to both parties, and helps them derive or formulate some action plans in order to make changes for development.
The list above is just few of the reasons why 90-day performance reviews are conducted. In order for the process to be successful, the results from the review should be documented together with the personnel files of each individual employees. The documents play an important role due to the fact that performances are administered with the use of these forms. These should not be taken for granted for the reason that business development can be derived from these performance reviews. This is because one of the considered factors of why company businesses fail, is having a poor performance monitoring. In other words, the management lacks control or administration with regards to their people or workforce.
90-Day Performance Evaluation Form
90-Day Evaluation Review Form
90-Day Evaluation for Classified Staff
90-Day Staff Performance Evaluation Form
Skills and Qualities That Are Put to Test
Just any other reviews for performances, a 90-day review also has a list of criteria that are mandatory for each of the employees to obtain. Here below are the list of skills, qualities, and values that are often evaluated. These serve as the basis in order for individual to be qualified for the position that they have applied for.
Flexibility. This is with regards to the ability of the employee to be able to work under pressure. And that, he or she is able to adapt to whatever changes comes to hand. This is also pertained to how fast can he/she absorb and apply all the new learnings.
Job Knowledge. This is pertained to how well does the employee know about his or her job. This tests whether he/she has the full understanding regarding to what he or she is assigned to do.
Initiative. This refers to the willingness of the employee to voluntarily work and make his or her own constructive ideas for application at work. Simplifying the meaning of being initiative, it basically means working on some tasks with less supervisions. Thus, the ingenuity of an individual is being tested.
Productivity. The number of work produced in a timely manner without the absence of product quality assurance, that is what this productivity is pertained to.
Dependability or reliability. This, technically, refers to how true the employee is to his or her work. He or she commits to the tasks that were given or assigned to him or her. And does not fail to perform them. Thus, making him or her dependable, someone whom you can always count on.
Punctuality. This trait is about the employee's attendance and adherence to the work schedules. And performs all tasks without any delays.
Client or customer service skills. This refers to the ability of the employee to build mutual relations with other people, to anticipate, and to provide effective solutions for client or customer satisfactions.
Teamwork or interpersonal skills or relations. This tests whether employees are easygoing or tactful when they are dealing with their co-employees, or even with other people. This also tests whether they are cooperative and interactive.
Improvisation or decisiveness. This evaluates the capacity thinking of an individual that tests their abilities to come up with decisions when they encounter different kinds of situations. This also tests the individual's originality, analysis, and reasoning.
Accountability. This trait is evaluated to see whether employees are willing to take responsibility of their mistakes, even though they are unintentional. This also tests how each of them carries out instructions and duties accordingly.
Preparedness. This is pertained to how well the employees are prepared for different kinds of circumstances. And whether they could endure and handle the worst situations, or give up.
These are just few among the various qualities that every company seeks from their applicants or employees. Technically, these requirements for qualifications are used to evaluate individual's organizational and personal behavior, personalities or traits. The most important thing here is that employees are willing to strive hard or sacrifice some for the welfare of the company's business.
90-Day Review Forms for Probationary Period
90-Day Probationary Evaluation
90-Day Probationary Review Form
90-Day Probationary Evaluation Form
90-Day Employee Probationary Review
90-Day Staff Probationary Review Form
90-Day Probationary Performance  Evaluation
90-Day Probationary Evaluation Review Form
90-Day Employee Probationary Appraisal Form
It is mandatory for every company to have a set of criteria or objectives in assessing their employees. Otherwise, the performance appraisal or evaluation is pointless due to the fact that it does not follow any basis. Thus, conducting a review without any path or purpose. In spite of that, companies have to be considerate as they create the list of qualifications for the certain job position. The criteria should be considered to be the following:
specific in which it can be understood by basing on concrete details
attainable or achievable, instead of it being unrealistic
measurable by means of having a factual basis
aligned with company objectives
timely bound by means of setting a due date or deadline for such qualities to be achieved
There are various kinds of 90-day review forms for employee's performances that are provided in this article. You may refer to these downloadable forms in order to better come up with more ideas on how to utilize and create them. As you can see, these are layered and organized wherein all necessary information are categorized or classified accordingly. And there are also enough spaces that are provided for the reviewer to fill in those essential or required details upon completing the 90-day review process. You may follow the flow of how the information are indicated in the form, or create your own way and style. For as long as all the important details or data are provided, then there would be no problem.