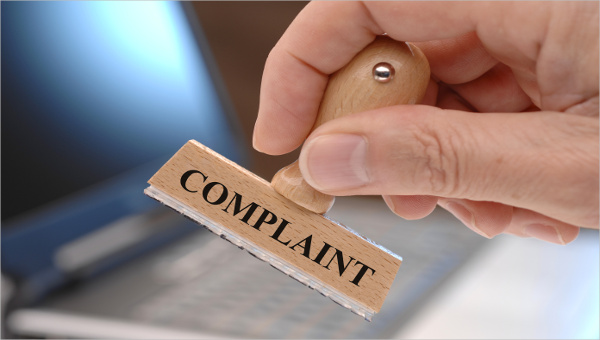 Every business has at least one or two complaints that they receive. There are also many possible reasons as to why a customer would like to make these complaints. It could be that certain customers might be referring to a dispute that they have had with the employees of a certain establishment.
Which is why whenever any company or organization acquires a complaint, they must know what action is best. They need to understanding things such as handling employee complaints so that they may better themselves. By doing so, this will ensure that they grow more as a business and fix issues that customers have had with them.
Business Customer Complaint
Customer Services Complaint
Customer Complaint Feedback
Employee Customer Complaint
Bank Customer Complaint
Utility Customer Complaint
What is a Customer Complaint?
A customer complaint is issued by every person who has happened to be involved with any business related activity or transaction. These are issued if the customer has had any issues that might have ruined their experience in dealing with these businesses, or allows them to show how unsatisfied they are with certain products or services that they have received.
Companies always have Customer Complaint Forms so that people who happen to be involved with them may file any concerns and problems that they have found with the business, thus allowing these businesses to understand more on what actions to take.
Uses of Customer Feedback
Customer feedback is a great way for businesses to understand more on how their customers feel about them. It allows the customer to provide feedback on all the products and services that the business is able to provide. If the feedback shows that the customers are unsatisfied with a certain aspect of an establishment, such as how the establishment is managed, then it allows opportunity for growth by fixing these problems.
Businesses are able to provide a better experience to customers with these forms, provided that the complaints are reasonable. If you need to find the right template to gather feedback in regards to the issues customers face, then there are Complaint Form Templates that you may use.
Client Complaint Form
Customer Food Complaint
Customer Complaint investigation Form
Blank Customer Complaint
11 Tips on How to Handle Customer Complaints
If the customer is unreasonably upset about something, look past the point of the anger and see what the problem is.
Record and organize the complaints that may help you understand more on your company's functional capabilities.
Know the type of customer you are talking to. This will let you know as to how you are going to respond to these people.
Avoid using phrases that may sound passive aggressive.
If you are to transfer your complaint to your manager, then do so in a quickly and explain the reason carefully.
Use questions that will show your customer that you are still willing to assist.
If you can handle the problem, then do so in a quick and efficient manner.
Be sure that your customer knows the solution to the problem.
Always treat the customers with the respect that they deserve.
If a customer is not willing to cooperate, then do not drag it out even further.
Always remember to take every complaint seriously.
So whether you're handling Complaint Register Form in which customers use to register any and all complaints or handling Official Complaint Forms of certain legal issues, it is best to take note of the tips above to help you.