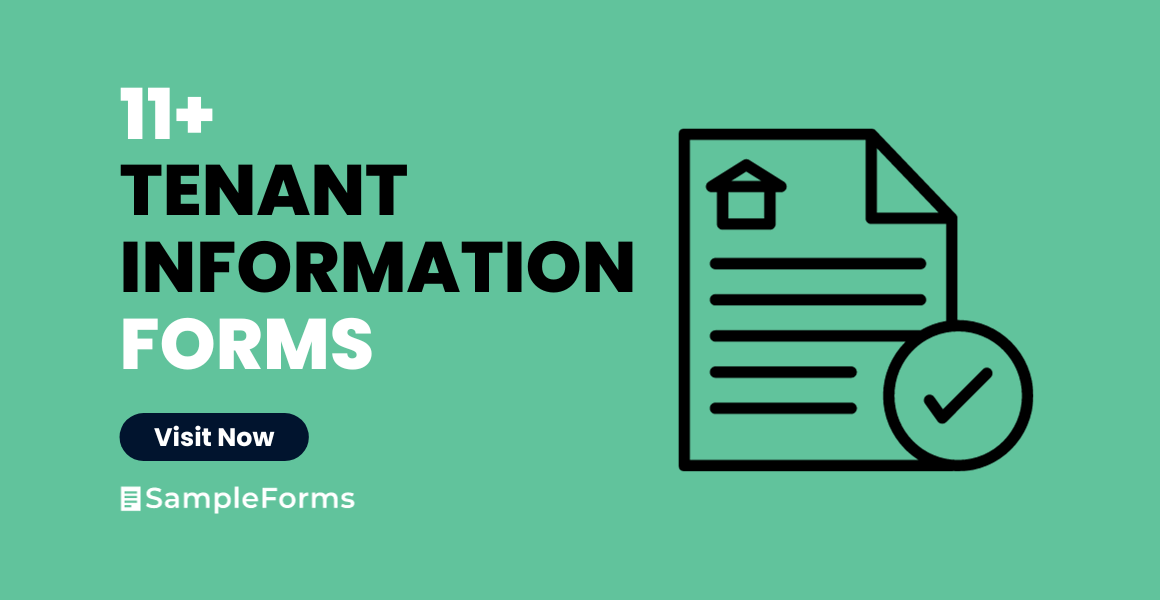 Acquiring information from potential renters is crucial in the business of land-lording. Tenant Information Forms require applicants to provide details about themselves, such as their name, previous and current address, previous and current landlord information, work history, references, and other general questions. The information obtained by the landlord from these questions allows them to conduct verification and screening on a candidate to find out if he is eligible for the tenancy.
Renting out properties can be a good source of income because it provides continuous cash flow and requires little cost for hiring staff or a management to run it. The one major thing that a landlord has to worry about is the means to protect his rental property from tenants who will cause damage to the property, will use the rental unit for illegal business, or will prove unable to pay the rental dues.
New Tenant Information Form
Commercial Tenancy Application Form
Tenant Contact Information Form
Tenant Personal Information Form
Tenant Information Form in PDF
Once an applicant has filled out the details in the Tenant Information Form, the next step for the landlord is to conduct a verification on the claims being stated in the form. This includes but is not limited to conducting background checks, running a credit history check, verifying whether or not the applicant has a criminal record or has committed a felony, contacting current and previous landlords to see if the applicant has a history of eviction, and checking with current employers to make sure that the tenant has a stable job and has the capacity to pay his monthly dues.
By doing a background check or by verifying the identity of a tenant, you will be able to gauge if he is eligible or not. Do not feel obliged to accept a renter who does not have positive results after you do a background check on them. Accepting questionable tenants can only lead to bigger problems.
The qualities of a good tenant are subjective; however, most landlords base the qualifications according to the list below:
A Tenant's Capacity to Pay
The rule of thumb is that a tenant needs to have a stable job – one that he has been in for at least 6 months. Another important thing to consider is the amount of income that a tenant receives each month. The rule of thumb is that his monthly income has to be at least 2 or 3 times bigger than the cost of rent, considering that he still has other expenses to pay. Contacting current employers allows you to verify this information; however, if an applicant refuses to give consent to the verification of his information, a landlord can also request for documents to prove a tenant's employment status and income, such as a Certificate of Employment and copies of his latest payslips over the past 3 months.
Good Credit History
A renter with a good credit history means that he always pays his bills on time. Running a credit check allows landlords to see if an applicant is capable of paying his rent on time. However, not all states allow landlords to peer into a tenant's credit history. It is important that you verify the laws of your state before running a credit check on an applicant.
Criminal Record
Another way to ensure the safety of your property and of your other tenants is to make sure that you are accepting a tenant who is not engaging in illegal business or might potentially use the rental unit for such. Running a check on an applicant's criminal files will allow you to see if your potential renter has committed a felony. However, as with credit checks, the laws pertaining to a landlord's right to check on a tenant's criminal record vary from state to state.
No History of Eviction
When a tenant gives out the details of his previous and current landlord, this allows you to connect with them to check if a tenant has had a history of eviction and what exactly caused it. If the tenant was evicted multiple times and for the same reason, this might be a warning sign of potential issues down the road. Weigh your options and determine if it's worth the risk.
Tenant Release of Information Form
Tenant Household Information Form
Tenant Information Form Example
Tenant Information Request Form
Tenant Application Form
Printable Tenant Information Form
Tenant Income Information Form
Hundreds of Tenant Information Forms can be downloaded on the internet, but not all of them are able to cover the basic information that needs to be included in a Tenant Form. The forms we supply are guaranteed to contain pertinent data that is essentially needed in a Lease Application Form together with other essential information forms, such as Release of Information Forms, Statement of Information Forms, and Employee Information Forms. Below is a list of what should be on your Tenant Information Form.
Personal Information about Your Tenant
Personal details pertain to your applicant's full name, home and work telephone numbers, mobile number, fax number, date of birth, e-mail address, and the present address.
Rental History
This section includes the present and previous addresses of the places a tenant has rented in at least the last 5 years. The names of the owner, the postcode, the duration of the lease, and the reason for leaving also have to be indicated in the form.
Employment History
This part of the form requires an applicant to provide a list of his current and previous employers, the contact information of his current and previous supervisors, his work address, and his salary information. The rule of thumb is to let them indicate their employers or supervisors going back to at least 2 years.
Personal Referee
Some Tenant Forms also require an applicant to provide information about someone close to the applicant who can make decisions for him in the absence of the tenant.
Written Consent and Declaration
The final part of a Tenant Form will usually pertain to the verification that the information provided is correct and true. It also contains a clause that allows the landlord to verify the details in the form and to seek references as required, such as a banker's reference or a credit check.