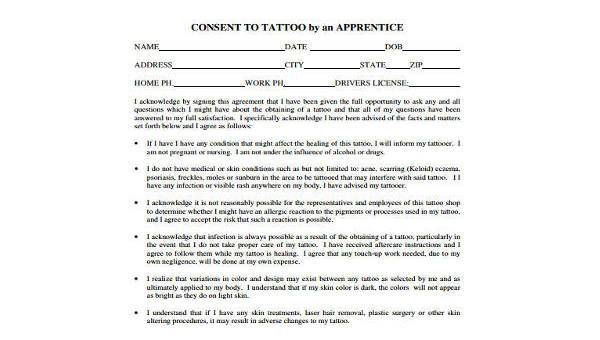 "I want to have that on my right forearm!" My eyes gleamed with excitement as I stared at that spider tattoo on the computer screen.
I will never forget the day I got my "el araña," and I could still feel the needles, like tiny daggers, on my flesh. The process was indeed painful, but gratifying. I was already in my mid-twenties and in good shape, so I did not need to seek permission from my parents or a medical professional. If, however, I was a minor or suffering from a condition that could exacerbate due to the said process, then I would need Tattoo Consent Forms.
 Tattoo Consent Release Form
Standard Tattoo Consent Form
Free Tattoo Release Form
Tattoo Shop Consent Form
Tattoo Removal Consent Form
That Kanji Sure Would Look Good, But…
There are things you need to do. You just cannot take the tattoo artist's aftercare instructions for granted. Not all of them can be understood right away, or you need more explanation, so go ask. It is better to be ignorant for a minute than endure the consequences for a lifetime because you were too shy (or too cool) to clarify.
Any celebrated tattoo artist or enthusiast would show you the door if they found out you were under the influence of drugs / alcohol. Moreover, you will be denied service if it is found out that you are:
Suffering from a dermal illness
Suffering from anemia (or any blood-related disease)
Pregnant
Diabetic
You need to be emotionally, financially, mentally, and physically sound. Aside from your reference art, bring a copy of our Tattoo Consent Forms, with your doctor's signature affixed together with the supplementary papers if you think they are required to be shown too. The artist, the apprentice, and the studio will not be held liable for any untoward damages.
Tattoo Apprentice Consent Form
Tattoo Client Consent Form
Procedure Tattoo Consent Form
Tattoo Parental Consent FormI Ink, Therefore I Am

I have been a fan of tattoos since I was young, like nine or ten (but didn't get my "el araña" until I was already twenty six and earning). I was so desperate to get one that I had a hard time stopping myself from doodling figures on my skin using the very same pen I used to pretend to jot notes down when in school. My classmates and neighborhood pals came across my "masterpieces" and started requesting for some. Driven by those boosts to my ego, I granted their requests without asking anything in return. It made the budding artist in me happy. I was high on flattery, and you could not blame me at that time.

If you want to have the "real deal" (as opposed to, say, henna tattoos, which, in my opinion, are quite lame), then you need to have these Sample Consent Forms. The forms are as important as the tattoos, so go ahead, feel free to study what these forms are all about; though unlike a tattoo, it would cost you nothing.