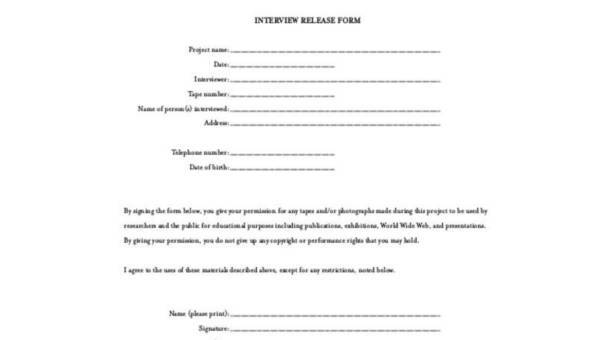 The real purpose of Release Forms is mostly to discuss and break down the contents of the agreement or terms and conditions of a project. This is shown and discussed with both parties in order to fully understand their concerns and proceed without any problems in the project. These forms will serve as unequivocal proof should one party accuse the other of breach of contract.
There are twenty-two formats you can use and freely modify to accommodate some questions you need to include. Through these forms, you will be able to save much effort in checking the terms and conditions when needed.
Interview Release Consent Form
Podcast Interview Release Form
Interview Project Release Form
Interview Release Form in PDF
Student Interview Release Form
To ensure that content of a video is royalty-free or permitted by the author or creator of the media used, you must create Video Release Forms in order to clearly state your purpose. Whether it's for commercial publication purposes or for your own personal use, the grounds must be clear to the producer and the creator. This will legitimize your claims over the project and satisfy the demands of the author.
There are eleven different formats you can use according to what you need to have on record. These forms also provide understanding for both parties involved and create a more in-depth input about the contents. These forms also help when you need to review the terms established by both people involved in the project and check carefully for possible mistakes. These will clarify confusions about what is stated in the contract before releasing the item.
When directing a commercial or a movie, it is important to bear in mind possible copyright issues in order to ensure a smooth-sailing business. These forms will also be used as proof if there is a need to present them to solve production problems.
Working Interview Release Form
Interview Release Form Example
Interview Permission Release Form
Interview Video Release Form
Interview Release Form Sample
In a world of celebrities and copyrights, it is important to understand the reason as to why you must input your terms and conditions in order to avoid misunderstandings. Doing so will clearly state the terms and conditions before releasing items that might be copyrighted in public sites or on various media. Through our forms, you will be able to lay out your personal goals and reasons for creating this work in order to show it to the author and convince them of your goodwill.
These are Media Release Forms which you can freely use or modify in case you want to add more questions that you want both parties to answer. This will also help them break down the rules and regulations needed to be kept in mind in order to avoid mistakes during the publication and to clearly discuss the details of the entire agreement. Through our forms, you will be able to make agreements with the creators of the items you used in the video and enjoy making the project without encountering any more hassles.
It is important to come to an agreement with both the producers and the artists in order to avoid drastic actions such as a lawsuit.