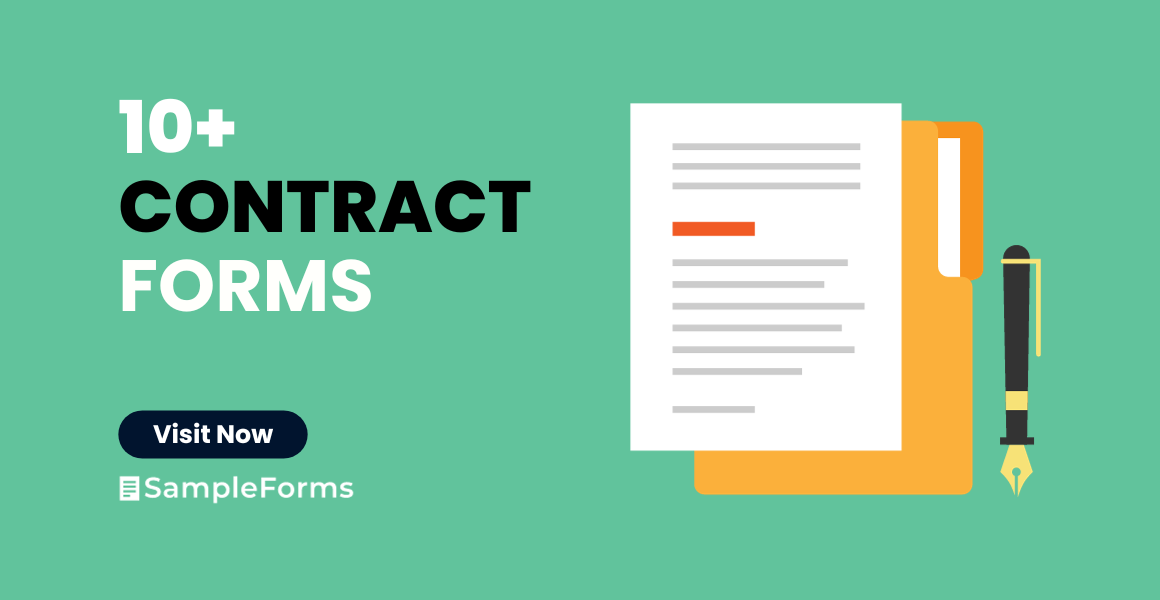 Contracts are written agreements that act as hard, physical evidence that prove how you and another party to the contract have both come to an agreement wherein you both willfully consent to abide to the terms, conditions, and obligations that have been stated in the contract. Contracts are also known to be legally binding agreements that are written and are essentially useful when settling legal disputes.
Contracts are vital pieces of paperwork in businesses. They are almost often found in companies and organizations. There are various types of contracts that can be made and used depending on the purpose. Some examples of written contracts include real estate contracts, marriage contracts, loan contracts, and so on. These are only a few of the many contracts that can be used. In this article, you will find a vast selection of contract samples and templates that you can download.
Referral Contract Forms in PDF
Standard Referral Contract Form
Agreement to Pay Referral Fee Form
Referral Contract and Fee Agreement Form
Supply Contract Forms
Framework Supply Contract Form
Supply Contract Bond Form Sample
Water Supply Contract Form
Industrial Contract Forms
Industrial Attachment Contract Form
Industrial Alliance Application for Contract Form
Standard Contract Form Sample
Contract Approval Forms
Contract Approval Form Sample
Free Contract Approval Form
University Contract Approval Form
Employment Contract Forms
Model Employment Contract Form
Sample Employment Contract Agreement Form
Employment Confidentiality Agreement Form
Why Do We Need Contracts?
Contracts are documents used almost every day in all parts of the world. They are very much useful especially in providing security among parties to the contract. In a world where people cheat, steal, and lie, gone are the days when you can bank on a person's word with the mere shake of the hand. Here are other reasons why contracts matter:
1. Establish Facts
A contract is essential since it contains detailed information of the agreement that was previously made by the two parties involved in the transaction. For example, if both parties happen to come into a disagreement during the transaction, a contract can be used as a reference to resolve any issues that the two parties have. By having a written contract, the two parties can assure that they are protected by the contract that they have signed when they entered into the agreement. It is important to thoroughly check all the information written in the contract before signing it to be able to ensure whether all the details contained in the contract are based on facts.
2. Provide Limitations in Obligations and Warranties
Contracts allow the enumeration of the specific duties that a company will provide, especially in contractual or service agreements. These types of contracts are usually provided in order to guarantee a follow–up service on a merchandise or a service such as maintenance, technical support, customer service care, or replacements. Having a written contract makes sure that service providers or retailers are being compensated for the work that they complete and that warranties have a validity period to avoid abuse of warranties and replacements.
3. Has a Non-Compete Agreement Clause
A contract or a written agreement usually includes a Non-Compete Clause. A non-compete agreement prohibits certain individuals (such as employees) or businesses (such as suppliers and vendors) from offering a similar type of merchandise or service in the economic marketplace. A non-compete agreement ensures that your suppliers, vendors, or contractors do not open up a business similar to yours or that your employees work for a competing company for a specified number of years – typically for a year or two.
4. Helps to Fix Resource Costs
A typical utilization of business contracts is the formation of an assention or organization that consents to pitch financial assets to another at a settled cost. These agreements guarantee the assembly or the generation of an organization can acquire financial assets at a particular cost for a characterized era. Organizations likewise utilize these agreements to support themselves against the potential cost increment of financial assets. Settled cost contracts may reverse the discharge on organizations if an abatement in monetary assets happens later on.
5. Gives Out Expert Insight
Legitimate counsel should be consulted before going into any merging or partnering contract. Independent ventures might be helpless to bigger organizations and may be open to the exploitation of the business's eagerness to pursue certain business function. Contracts regularly incorporate risky lawful terms that a lot of entrepreneurs neglect to comprehend. Lawyers can always provide much clearer data on the advantages of business contracts and whether independent ventures should consent to particular legally binding terms.
How Do You Create a Solid Contract?
Creating an effective contract for your business is essential, especially when dealing with transactions that involve business or money. When creating a contract, there are certain guidelines that you need to follow to ensure that you will have a legal document that you can rely on. Although writing a contract can get a little complicated, especially if you are new to creating one, here are some useful tips that will guide you when you start creating a contract for your business. The tips for creating a solid contract are as follows:
1. Written vs. Verbal
Although some states and courts acknowledge the validity of a verbal agreement, one has to admit that verbal agreement are oftentimes difficult to prove and enforce in the court of law. A written contract is one's best form of defense because it clearly lays out each of the party's rights and obligations and also serves as a point of reference when one party does not understand or is confused about the set terms. A written form of agreement is your physical and tangible piece of evidence that will get you out of hot water.
2. Stick to the Basics
A written contract should serve its main purpose, which is to inform and to provide clear details about the negotiations between both parties. Contrary to what most lawyers think, a contract does not really need to contain a lot of jargon to make it enforceable. Written contracts should be clear, concise, and simple. The most important thing that you need to keep in mind when whipping up a contract is to make sure that it is well-organized by providing heading and subheadings. Take note that a contract has to be signed willfully and should be clearly and properly understood by all parties involved.
3. Negotiate Directly with the People Involved
Contracts should be discussed and formulated by the people who are directly involved in the negotiations. Make sure that you directly conduct contract negotiations by people who have the right authority to bind the business and have a vested interest in ensuring that the business is able to give out its end of the bargain.
4. Provide Accurate Names and Titles
A lot of people usually make this mistake when they construct a contract or a written agreement: they usually indicate the names of the people who are signing an agreement for the business instead of indicating the legal name of the company that is obliged to perform the terms, conditions, and obligations that are stated in the agreement. For example, if a business is organized as an LLC or a corporation, it needs to be identified in the contract or the agreement by its correct legal name. If John Smith, for example, is the owner of Palm Beach Publishing & Ent., the contract should then be under Palm Beach Publishing & Ent. and not under John Smith.
5. List Down All Important Details
Your written contract should contain all pertinent and necessary details – even the smallest and most minute ones. Putting down all terms that have been agreed upon is the main reason why you are writing a contract to begin with; therefore, you should not leave anything out.
6. Provide Payment Terms
For business contracts, financial details are very critical. The names of the payee, the schedule of payments, the method of payment, and the conditions or requirements for making payments should be stated.
7. Supply Options for Terminating a Contract
Certain circumstances have to be set to allow either party to end or terminate the contract. Certain terms such as failing to provide the exact type of service on the time and date that were set can be incorporated in the contract without legally obligating the other party or being legally sued for breach of contract.
8. Have Written Terms for Reconciliation
Misunderstandings or disputes may arise somewhere along your business transactions; it is best to provide a written clause for mediation to help you and your partner handle things amicably instead of spending a huge amount of money going to court.
Independent Contract Forms
Independent Representative Contract Form
Independent Contractor Agreement Form
Independent Contractor Non-Compete Agreement
Construction Contract Forms
Contract Agreement for Building
Construction Management Contract Agreement
Contract For Project Management Service in PDF
Purchase and Sale Contract Forms
Real Estate Purchase and Sale Agreement Form
Sale and Purchase Contract Form for Business
Vehicle Purchase and Sale Agreement Form
Cancellation of Contract Forms
Request and Cancellation of Contract for Sale and Purchase
Cancellation Agreement Form
Mutual Cancellation Agreement Form
Car Sale Contract Forms
Contract for Selling a Car
Your Private Car Sales Contract
Used Car Sales Agreement Form
Rental or Lease Contracts
A rental contract is a legally binding document that lays out all the details of the transaction such as the terms and conditions, and other necessary information regarding the tenancy. Some of the important information included in the rental contract include the names of the tenants, the payment information, and the amount that the tenant needs to pay on a monthly basis.
A rental agreement is a written document that is used to formalize a transaction that has been agreed upon by both the landlord and the tenant. A rental agreement is provided by the landlord, which is the owner of the property, to the tenant or the individual renting the property. A rental agreement is important in order to protect both the landlord and the tenant should any misunderstanding happen in the future.
A rental contract allows both the landlord and the tenant to properly understand what to expect before entering any transaction. Through a contract, the landlord can ensure that he/she is protected should the tenant cause any damage to his/her property. The tenant can also assure that the landlord cannot increase the price of the rent unless he/she is notified or unless the contract expires. Both parties are obligated to follow the terms and conditions written in the rental contract.
Partnership Contracts
When two or more individuals merge together to create a partnership in business, it is always advisable to have a well-drafted Partnership Agreement that carefully outlines the terms of the business relationship.
A Partnership Agreement is a written contract between partners in a partnership that dictates the terms and conditions of the business relationship between the partners, such as percentages of ownership, an outline of management powers, and the distribution of profits and losses.
Supervisory Agreement Forms
A Supervisory Agreement or a Supervisory Contract is a contract created in order to help in facilitating a supervisory process. This type of contract lays down rules and objectives for the supervisor to follow in order for him to perform his work responsibilities well. A Supervisory Agreement Form can vary depending on the type of organization that uses it. Some Agreement Forms indicate schedules for meetings and employee responsibilities to help them gauge their subordinate's level of performance and to help them manage their tasks accurately. You can download our sample Supervisory Agreement Forms to help you work quickly and efficiently.
Marriage Contracts
A Marriage Contract is a type of contract that serves as physical proof that two people have legally and formally united in order to become partners in a personal relationship. A marriage is a contract in itself. You can write that contract yourself – wherein it is called a "premarital agreement," or you can accept the default contract written by your state legislators.
Contracts are useful tools both in business or outside of business. Be sure to protect yourself and your company from potential lawsuits and unfair agreements by always having a solid and a foolproof contract of agreement.
Sales Contract Forms
Contract for Sale of Real Estate Form
Sample Car Rental Contract
Residential Sales Contract Form
Catering Contract Forms
Standard Catering Contract Form
Wedding Venue Contract Form Sample
Catering Agreement Form
Event Contract Forms
Event Vendor Contract Form
Wedding/Event Contract Form
Rental Event Contract Form
Renters Contract Forms
Room Rental Agreement Form
Home Renters Agreement Form
Month-to-Month Rental Agreement Form
Car Purchase Agreement
Whipping up a Car Purchase Agreement is the last hurdle to go through when purchasing a vehicle. A car purchase agreement is a written contract that outlines the rights and responsibilities of the car seller and the buyer. A car purchase agreement contains essential information such as the after sales service, the maintenance, and etc. If the buyer has purchased a second-hand car, a car purchase agreement is used to indicate that the buyer has purchased the car from the seller, specifying the names of both parties. Like all other Agreement Forms, a Car Sale Contract Form or a Vehicle Purchase Agreement Form legally binds the buyer to purchase the vehicle and the seller to sell the product.
Contents of a Car Purchase Agreement:
The seller's name and address
The buyer's name and address
The vehicle's make, model, year, and color
The vehicle identification number
The vehicle's mileage at the time of sale
The date of sale
The amount paid for the vehicle
Signatures of both the buyer and the seller