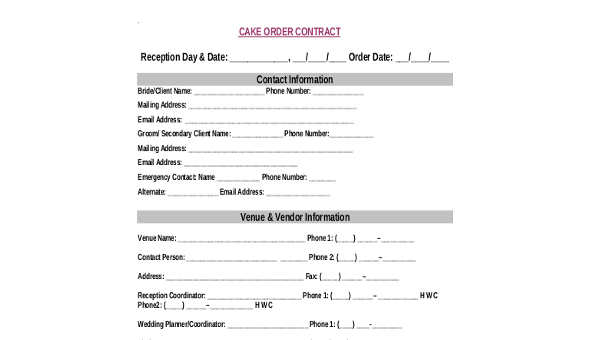 "Let them eat cake," as quoted by Marie Antoinette. We all love cake. May it be for birthdays, anniversaries, weddings, debut, reunions, sports championships – all of these make cake a star for all occasions. Heads-up to those who are running a pastry business! With a truckload of orders, you might encounter confusion as to who made reservations first.
You don't want to make things complicated for your client. By creating systematic Order Forms,you will be able to handle them orderly and you won't wear out.
Haven't you noticed how your favorite cake store delivers your order in due time?
Cake Order Contract Form
Printable Cake Order Form
Wedding Cake Order Form
Birthday Cake Order Form
With the long line of orders, things get bulky over time. Cupcakes, whether customized or not, are most in demand. These systematic Cupcake Order Forms will help you know how many trays of cupcakes you have to prepare for a specific customer, given their preferences. With this detailed outline, you may know where to deliver and whom you can contact based on the information provided in the order form. If you have your own website for cupcakes, you may include an order form, which saves you time going to your store.
School Intramurals, College Week, and Family sports days have one thing in common: T-SHIRTS! Every department wants to have their own personalized T-shirt. If you happen to run a business for this, T-Shirt Order Forms will most likely help you deal with the tons of orders from different institutions with different deadlines. With this tool available in Doc and PDF formats, it will help your task be less complicated and allow you to work in a systematized manner.
An efficient way of collecting orders is through the use of outlined order forms.
Ice Cream Cake Order Form
Cake Pops Order Form
Bakery Cake Order Form
Holidays Cake Order Form
Formal Cake Order Form
Order forms come in a variety. You may create online Change Order Forms with the help of these templates. Helping you outline specifics allows your clients an easy and non-complicated method to change orders as they suddenly have a change in preferences, particularly if your client has something he wishes to change about the color, or the overall design of the image to printed.
We all need reliable and easy-to-download Order forms that would fit our business. This professional collection of order forms will help you run your business. Once you download the sample order forms, you can modify them by placing your logo, address, template design, or anything else that you wish. It's all for your convenience, and no programming experience is required, making it friendly to use.
It is a smart way to organize your orders, especially during peak seasons when customers swarm your store.