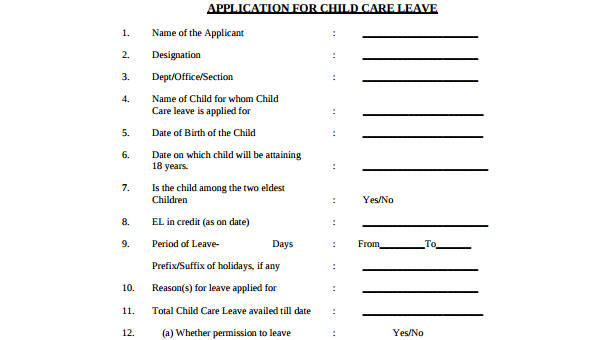 Being a working parent is a demanding task. You have to balance between your commitment to your career and relationship with your children. As much as you want take care of your children, you also want to give them the best for their future.
Your inability to rear your children shouldn't pose as a dilemma, for there are child care services who are willing to offer their time and assistance in taking care of your children. To choose the right person for the job, Application Forms can help you assess the person's skills and capabilities.
 Family Child Care Home License Application Form
Sample Child Care Application
Registered Child Care Provider Application
Child Care Leave Application
Child Care Subsidy Application
What is Child Care?
Child Care is the act of supervising and safeguarding children at home or center. It is a service acquired by parents or guardians who are unable to monitor their children on the day.
Tips in Selecting the Right Child Care Provider
Having a child care provider entails another cost, however this shouldn't prevent you from availing a child care service especially if your child needs extra attention. Family Grant Application Form are available to cater your family needs.
There are also Disability Allowance Application Forms for parents whose children have disability which requires proper treatment and care. Importantly, choosing the right person to provide care and protection to your children should be carefully considered. You don't want to put your children in danger. With this in mind, here are some guidelines in selecting a suitable person for the job.
Have a Background Check: Make sure to check all legal documents and evaluations from the agency regarding the work ethics of the person. It's good to ask some feedback from people who know this person.
One-on-One conversation: You can deeply know the person by talking to him/her personally. Ask important questions that you are curious about but remain respectful.
Child Care Job Application
Child Care Rebate Form
Child Care Voucher Application
Child Care Application and Authorization Form
Child Care Provider Enrollment Supplement Form
Surprise Visit: You can evaluate the person's service by giving a surprise visit at home. Observe how he/she provides attention and commitment to the needs of your children. The things he/she does when the children are sleeping. Pay attention to his/her activities in the house. Or, you can install cameras around the perimeters of the house to constantly monitor the daily activities at home.
Discipline and Willingness: Find these traits in the person for they act as fuel to do their job well. You want the right person to trust your children so better know him/her deeply.
Every once in a while, your child care provider may file a leave for any emergency cases. If this happens, Leave Application Forms are useful to track down the number of leaves he/she incurred. Additionally, you will have an idea behind the motives of his/her leave.
Moreover, before you can select and hire the right child care provider, the person should provide his/her child care application form first. If an applicant does not have any agency yet but you know and trust this person, you can hand the applicant a child care application form from our website.