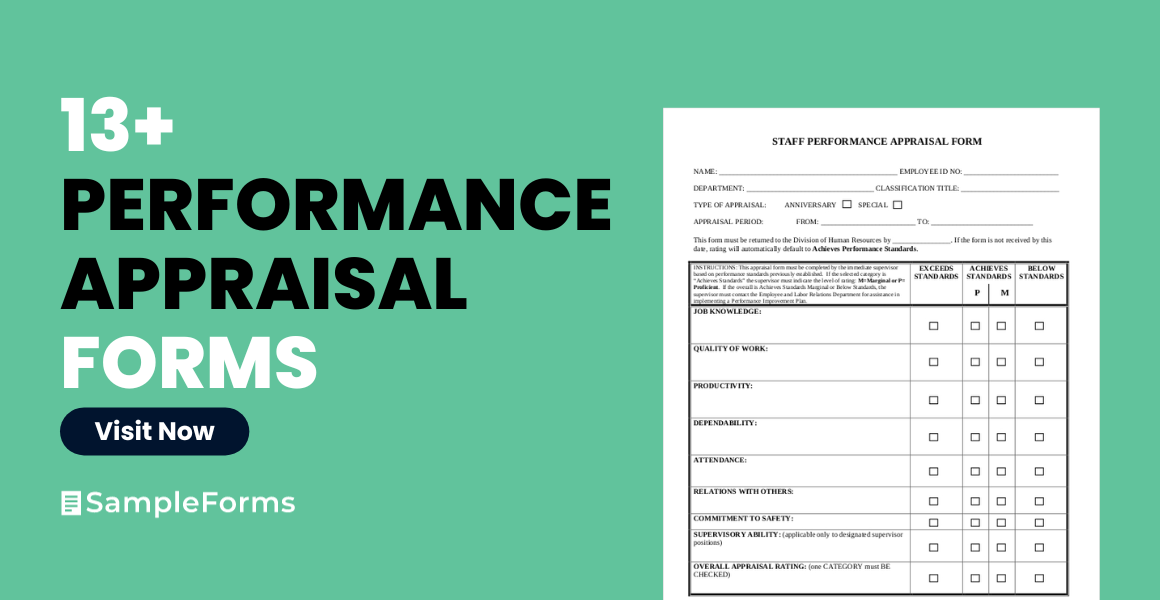 Performance appraisal is a continuous and necessary process in an organization; it's the best way by which the Human Resource Department can evaluate performance, skills, and the productivity of the employees at the company. Businesses usually conduct the evaluation process according to set dates, but the goals are almost always similar. Albeit you can create a personal form on your own for the assessment, it's important to consider downloading a free Employee Performance Appraisal Form to save energy, money and time.
Sample Performance Evaluation Form
This form will help you to get an accurate periodic review of an employee's performance. The form only helps you collect data from a member of staff, but the relevance of the examination results will depend on how proficient the communication between a supervisor and a worker was during the process.
Annual Performance Appraisal Form Example
Although performance appraisal should be a continuous process, some companies prefer to review work done by the members after 365 days. As such, a yearly performance appraisal form makes the single most valuable document for the evaluation cycle.
Best Performance Appraisal Form
Use this form if you want to evaluate the performance of the best employees at the company. Of course, the evaluation will help you understand the progress the best employees have made to make your business a better place.
Employee Performance Appraisal Form in PDF
Perhaps the primary reason for filing this form is the need to determine whether an employee qualifies for a promotion. For many companies, this means a change of roles and increase in salary.
Hourly Performance Appraisal Form Printable
Getting the right data for hourly performance evaluation is somewhat challenging, but a supervisor must keep an eye on an employee. At the end of the day, you should be able to observe and record the performance of an employee.
Job Performance Appraisal Form in Word
The form has only one goal: to provide critical feedback to help an employee improve their performance. It is not so easy for employees to figure out where they need to improve if there is no feedback at all.
Leadership Performance Appraisal Form
Managers must take this process seriously, for it's the only way to know whether leaders are performing as expected. The results will let CEOs decide whether the leaders need more training in their areas of expertise.
Monthly Performance Appraisal Form in DOC
The success of the evaluation process will depend on the level of communication between an employee and their supervisor. While using this form to assess the past performance of an employee, remember that communication is important.
Manager Performance Appraisal Form PDF
The Human Resource Department has the right to evaluate, record, and file the performance of a junior or senior manager. As such, the Manager Performance Appraisal Form is, indeed, a necessary tool.
One Page Performance Appraisal Form Sample
Perhaps a one-page appraisal form is usually the simplest evaluation tool, but it is best to use it if you expect the process to be short. The sample form template is free to download.
Quarterly Performance Appraisal Form
If it's your company's policy to conduct an evaluation after every three months, this is the form that you should use. The results of the assessment should help you to understand the overall performance of an employee over a period of three months.
Staff Performance Appraisal Form
By using this form, you will be eliminating the need to create a new model, which often takes too much time. Though the free sample form is easy to customize, it's important to use it without making any design changes.
Basic Performance Appraisal Form
What is Performance Appraisal?
Performance appraisal has become a part of many companies' policies, so much, in fact, that companies can no longer run without assessing their employees. Some policies state that employees must go through the evaluation process once every month while some companies prefer to conduct the activity after every three months, six months, or twelve months. The fundamental aspect to consider before, during, and after an evaluation process is communication. Because performance review is a continuous activity at the company, employers (CEOs, Managers, or HR) must help employees and their supervisors to build a long lasting rapport. This way, a worker and their supervisor will be able to provide accurate data during the evaluation. useful Appraisal Order Forms
The Goal of Performance Appraisal
There are three reasons why your company should consider performance appraisal:
To Determine if an Employee is Worth Promotion
An employee must prove to the HR team that he is not only reliable, skilled, hardworking, and respectful but would also perform his duties in a way that guarantees promotion after a few series of employee performance appraisals. Promoting an employee may mean increasing their salary, changing their job type at the company, or both.
To validate The HR's Choice of Employees
The Human Resource Department is the body responsible for employing new workers, though managers, supervisors, and CEOs can do the same. A performance appraisal, therefore, can be used to determine whether the recruitment and selection process was successful, depending on the test results.
To Evaluate Training Needs
To understand whether an employee needs continuous training or simply a short-term guide, conduct an employee appraisal. Even if your company provides training semi-annually to all its employees, it is important to understand that the failure to provide continuous training to the less skilled workers could have a negative impact on your business. You can also see Appraisal Review Forms
The beauty of performance appraisal forms is that they are easy to use, simple to edit, and 100% customizable. Many businesses, though, choose to use the template as it is, especially because it is often a complete design that suits their needs. Download a free form today, and start the evaluation process right way.