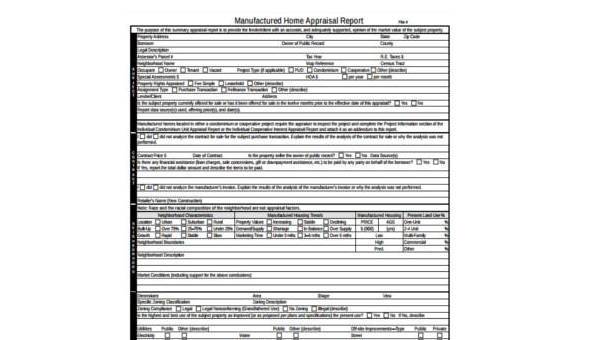 Appraising happens when you want to determine just how much a certain service, object, or even establishment is worth. When you're buying a home using a mortgage, refinancing an existing mortgage, or selling your home to anyone other than an all-cash buyer, then a home appraisal is a key component of the transaction.
Home Appraisal Forms are what you need to have in order to determine how much a home is worth, or how much it could potentially cost. Whether you're a buyer, owner, or seller, you'll want to understand how the appraisal process works.
Manufactured Home Appraisal Form
Home Appraisal Checklist Form Sample
Home Security Appraisal Form
The Different Kinds of Home Appraisal Forms
Home Appraisal Forms can come in different varieties. These help determine just what you need to assess before purchasing a house. Here are some examples of other forms that help you with that:
Home Appraisal Checklist Forms are for those people who wish to appraise and check what certain homes feature before they make their purchase.
Residential Appraisal Forms are for those people who wish to own homes within a residential area.
Home Appraisal Renewal Application Forms are to renew the appraisal of certain homes to see if any changes have been made.
Appraisal Management Renewal Application Forms are for those who need to renew the management of appraising certain homes.
Land Appraisal Forms are for assessing the plot of land that certain homes are built upon.
Home Security Appraisal Forms are for those who wish to assess the security and safety of the home they wish to purchase.
People should consider these while checking out certain homes. They should also make sure to check for forms like these before even considering a purchase.
Generic Appraisal Management Renewal Application Form
Sample Residential Appraisal Form
Home Appraisal Renewal Application Form
Residential Appraisal Order Form
The Importance of Appraising Homes
When you're buying a home and you're under contract, the appraisal will be one of the first steps in closing that contract. In most cases, the continuous and planned steps of home purchase transactions will only continue or push through if the home appraisal is not below the price of the contract. With this, you can veer away from transaction delays or even cancellations if you make sure that the appraisal will come in at, or better if above, the contract price being specified.
When everything goes smoothly, the home appraisal is always a must before making that purchase. When the appraisal value is lower than expected, the transaction can be delayed or even cancelled. Whatever party it is that you are currently on when it comes to property transactions, it is advantageous for you to be knowledgeable of the processes involved in appraisal. Whether you have plans of buying a property or if you are a real estate property seller, your ability to navigate appraisals and their functions can make a lot of positive difference when reviewing documents where appraisal terms are stated.
You'll have to make sure that certain factors fall in when appraising a home. People tend to check if the home has a high level of security, is secured in a proper community, and even has proper furnishing and living conditions. For the buyers who wish to purchase a home, they'll have to see what it has to offer and that it has the proper documents. For the sellers, they'll need to make sure that they have those documents, all while meeting the concerns and needs of the buyer.