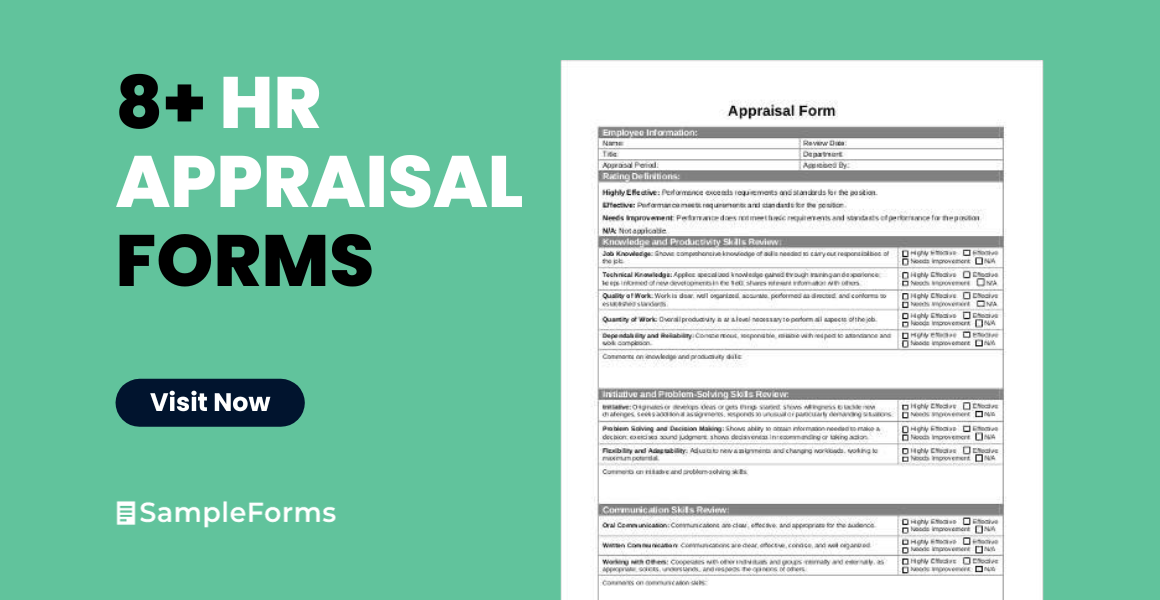 Human Resources play a crucial role in the running of an organization. A Human Resource Department is responsible for overseeing the functions of various departments and the management of employees. It is therefore crucial that the human resource manager and his team are well-versed in the disciplinary functions, compensation and benefits, training and development, recruitment, and employee relations. It is equally important that a human resource manager carry competent skills in communication and decision-making.
Assessing an HR management plan for success includes looking into the company's recruitment policies, hiring processes, determining the effectiveness of human resource leaders, the effectiveness of strategic plans developed by human resources, and determining the effectiveness of the team toward strengthening relationships between the employer and employees.
HR Performance Appraisal Form
HR Manager Appraisal Form
HR Staff Appraisal Form
HR Self-Appraisal Form
HR Executive Appraisal Form
To evaluate the effectiveness of the human resource process in a company, Harvard researchers were able to formulate 4 models as a means to measure their performance level.
Commitment
An effective human resource management results to committed employees. Commitment means the exhibition of loyalty and motivation among employees toward the company. Various surveys or interviews can be done in order to gauge an employee's level of commitment to a company. An increased rate of absenteeism and voluntary separation is also a sign of an employee's lack of commitment to a company and should therefore prompt human resources to polish policies and enhance them further to promote employee loyalty.
Competence
Competency means testing an employee's ability to perform his tasks well. This aspect touches on the extent and efficiency of the human resource management to develop policies that attract skilled talents and to actually keep them.
Congruency
The third model for assessing human resource management is to evaluate if it is congruent. Do the management and employees share the same vision and work together to achieve them? Are there conflicts between managers and employees? An effective human resource management is derived from maintaining trust and common purpose in the workplace versus high levels of tension and stress.
HR Staff Performance Appraisal Form
HR Appraisal Form in PDF
HR Appraisal Form Example
HR Appraisal Form in Word Format
Cost Effectiveness
Cost effectiveness is concerned with the efficiency of operations and determining if policies set by human resources are efficient in terms of wages, benefits, turnovers, and other similar factors.
Assessing a human resource management allows organizations to enhance their employee's level of commitment, competence, congruence, and cost effectiveness. Employers need to be aware that loyalty from employees means that the management also needs to be transparent with its employees and promote proper communication between employees and managers. As soon as all 4 models are practiced effectively in the workplace, efficiency and productivity will follow.
Our Appraisal Forms and Performance Appraisal Forms are designed for your easy access and provide functional templates that you can download to help you save on time.