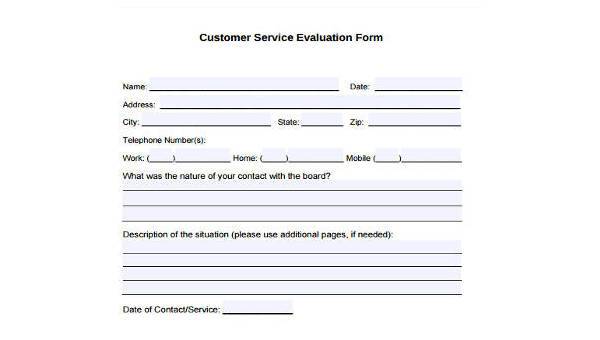 People need to make sure that things are in working order. They need to make sure that things are working right and working in the way they're supposed to. This process is called appraising, and this means that people who will be conducting the appraisal will be determining if things are done well or not, and they should not afraid of making any negative comments if necessary. This is especially true for customers of any company. They won't be afraid to appraise just about anything a company has to offer.
However, in order for these customers to make official and proper appraisals, they'll need to put it all on paper. And the best way to do that is by grabbing Customer Appraisal Forms and putting in their findings on the appraisal of the different aspects of the company.
Customer Service Appraisal Form
Self-Appraisal Form in PDF
Annual Performance Appraisal Form
Performance Appraisal Form
The Different Types of Customer Appraisal Forms
There are various types of forms that a customer can use to make sure that his or her appraisal is taken into full consideration by any company that they've done business with. Here are some examples of these types of forms:
Customer Retail Appraisal Forms are the kind of forms used by customer to make proper appraisals of items sold on retail. Selling sales on retail means that goods are sold to the public in small quantities for use or consumption rather than for resale.
Customer Service Appraisal Forms are forms for those customers who want to properly evaluate the kind of service they got from certain establishments they visited. These help them out in making sure that the establishment understands just how well they're treating their customers.
Customer Annual Appraisal Forms are for those yearly evaluations made by customers on how well a certain establishment is doing and how well they're producing their services for customers.
Customer Service Evaluation Form
Customer Self-Evaluation Form
Performance Appraisal Form in Word Format
The Importance of Customer Appraisal Forms
Think of these forms in the same way as Car Appraisal Forms. In appraising cars, a professional needs to make sure that all the parts are in working order to make a fully functioning vehicle. It's the same when a customer appraises every part of an establishment to make sure that the establishment is providing service in the way it's supposed to.
Customer appraisals can even help out a business by letting them see the areas where they are poor in and the areas in which they can improve. When business owners take a good look at these appraisal forms, it'll help them do whatever they can to makes sure that the business is successful by following what the customers like and what the customers don't like.