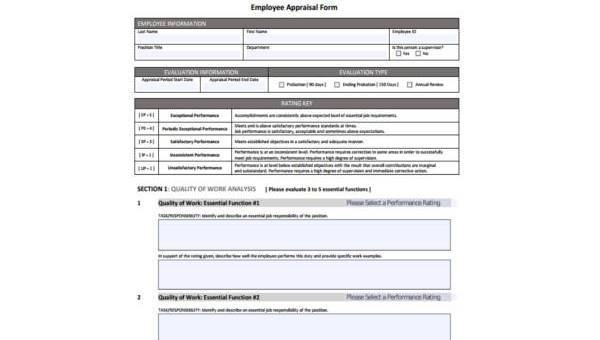 Every employer wants to make sure that they are getting their money's worth by maintaining and retaining employees who are worth it – meaning that the employee is able to perform and complete his tasks competently and accurately.
Through periodic Staff Performance Appraisals, employers can calibrate if an employee is functioning at his optimum level of performance. Staff Performance Appraisals should not be taken as a means to demote or fire an employee but rather an opportunity for growth and development.
Employee Annual Performance Appraisal Form
Annual Performance Appraisal Report Form
Annual Performance Appraisal Form in PDF
Annual Performance Appraisal Form Example
Why Companies Need to Conduct Performance Appraisals
Determines Promotion Opportunities
A lot of companies depend on the findings of a Performance Appraisal to fully establish an employee's chances and abilities to merit a promotion or an increase in compensation. Because Performance Evaluations reflect an employee's strengths and achievements, these can be used as a reference to see if the employee is capable of handling bigger work responsibilities or deserves a bonus for doing an exemplary job.
Points Out Strong and Weak Points
Performance Appraisals allow supervisors to determine an employee's strong and weak characteristics, skills, and abilities. As soon as an individual's strengths are pointed out, a supervisor will then be able to profile an employee into a work position or a department where he can be more productive. On the other hand, it will also allow supervisors to assess if an employee needs to go through further training to work on areas that are more challenging for him.
Annual Performance Appraisal Review Form
Annual Performance Appraisal Form in Word Format
Free Annual Performance Appraisal Form
Allows Communication
Through Performance Appraisals, supervisors will have a window of opportunity to communicate with an employee and to brainstorm different ways to help him improve and increase productivity. Feedback should be composed of constructive criticism, praise, and an objective plan of action to address issues and concerns.
How to Make Objective Appraisals
Devise a Rubric
To maintain objectivity and accuracy in conducting Employee Performance Evaluations, a person who has been tasked to conduct Performance Appraisals must first establish a rubric that will serve as his basis of criteria in order for him to provide objective, accurate, and unbiased evaluations.
Proper Documentation
Keep track of an employee's work performance such as his achievements or any disciplinary action that was given to the employee for misconduct. Downloading our Annual Appraisal Forms, Appraisal Forms, and Performance Appraisal Forms will help you properly organize and document your appraisals in a convenient way.
Be Sure to Provide Feedback
When ending a Performance Appraisal, be sure to always give a critical assessment or suggestion to the employee to help him improve his performance.
During the discussion, point out the employee's strong points and cheer him on for doing a good job. Also point out the areas that he needs to improve on and help him develop methods or practices for him to perform better next time.