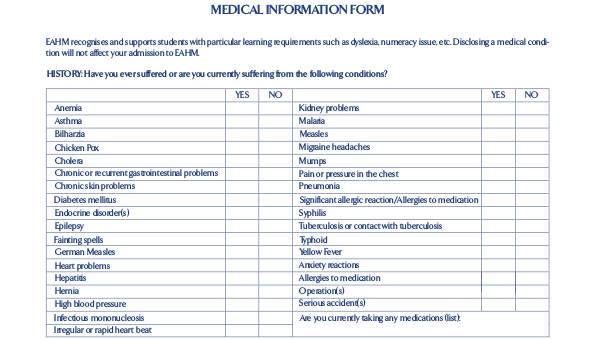 If you work in a hospital, then you know just how important medical information is. In the event that en emergency arises, especially a medical one, you'd wanna know what to do now, wouldn't you?
That's why there are forms such as Medical Release of Information Forms, which can help just about anyone out. They are there to make sure that if anyone suffers from any kind of medical emergency, whether it's something minor or major, the people who can help that individual out know what to do and who to contact.
Emergency Medical Information Form
Employee Medical Information Form
Release of Medical Information Form
Medical Patient Information Form
Medical Insurance Information Form
The Different Types of Medical Information Forms
There are various types of these forms that can help just about anyone when certain situations call for immediate medical attention. Here are some examples of these types of forms:
Employee Medical Information Forms are the kind of forms that are required by all companies to have. Every single company needs to make sure that they gather all the medical information of each and every one of their employees. This helps them understand their conditions and find out which tasks some of them can or cannot do.
Medical Information Request Forms are usually used by those who work in hospitals. Doctors won't understand what to do if they don't even know their patient's condition, so that's why they make official requests that allow them to access the patient's medical history and charts. If it's not the doctor, then it's for the nurses to use so that they'll be able to treat the patient better until the doctor is able to do so.
Emergency Medical Information Forms can be used in just about any establishment. This is used when a person experiences a serious medical injury that requires immediate action, such as contacting those under the emergency contacts list.
Medical Information Consent Form
Medical Information Request Form
Medical Information Disclosure Form
Medical Information Form in PDF
Standard Medical Information Release Form
The Importance of Having These Medical Information Forms
It's really important that all establishments have all the medical information of their staff on file or that of just about anyone who's associated with them. They need to have forms such as Medical Statement of Information Forms to make sure that they know what kind of condition that person is in so that they'll be able to prevent anything that could affect or possibly even ruin that person's health.
These are especially important for hospitals because the people working there are in charge of making sure that everyone's health is stable, and they can't do that if they don't know what's wrong with their patients. These are really important because these will allow them to know just what's wrong and what they can do to help the patient out.