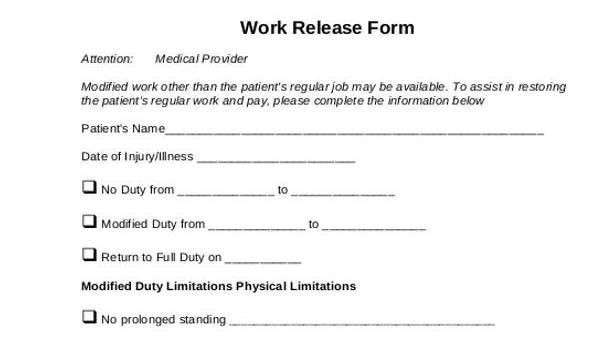 If you want to release someone's information to a specified company or party, or if you want to be released from any legal liability before performing a procedure, then you would need to have a signed Release Form. A Release Form is used when one party, called the releasor, documents that he is releasing the other party, called the releasee, from any legal liabilities or making any claims in the future. There are also times when this is used to release a company from financial liabilities in case of a medical emergency or repairs to an equipment. You may browse through our Generic Release Forms below.
Generic HIPAA Release Forms
Standard HIPAA Release Form
HIPAA Privacy Release Form
HIPAA Authorization Release Form
Generic Photo Release Forms
Generic Minor Photo Release Form
Generic Photo Release Consent Form
Generic Photo Permission Release Form
Generic Model Release Forms
Generic Photo Model Release Form
Photography Model Release Form
Simple Model Release Form
Generic Video Release Form
Generic Video Image Release Form
Basic Video Release Form
Who Can Use Generic Release Forms?
Medical facilities, health insurance providers, and any third party company or independent contractors who handles protected patient health information uses HIPAA Release Forms to release such information to another party or company as stipulated on the Release Form.
Photographers and photo studios need a signed Release Form before they can release the image of a person for whatever purpose it may serve. In line with this, modelling agencies, videographers, film-making companies, and other companies and professionals in the media industry also need a Release of Liability Form or Release Form for this purpose.
Lending companies and real estate companies also use Release Forms to release a person's mortgage or lien when the debt has already been cleared or paid off. In real estate, this means that the company no longer has the right to seize the property because the lien or mortgage has been paid off already.
Employers and educational institutions also use Release Forms before they can release information or the records of their constituents to authorized parties for whatever purpose it may serve. These authorized parties have to be explicitly stated in the Release Form.
What Are the Advantages of Using Release Forms?
Release Forms are important to businesses because they ensure the continuity of the company. No matter what kind of business you have, you will really need a Release Form at some point. They can help you protect your company from lawsuits that could come from unforeseeable events that you have no control over. An example is the use of Tattoo Release Forms that ensure that the customer understands the risks of getting a tattoo inked on his skin.
Aside from that, there are laws that are in place to protect your consumers' privacy and avoid the unlawful disclosure of information. It would be considered unlawful if a Release of Information Form was not used prior to the disclosure. Hence, a Release Form does not only protect companies and businesses but also the consumers as well. This allows consumers to partially control the disclosure of their information to other companies or parties.
Using our pre-made Release Forms can help you save time and resources that you can use to focus on other productive areas in your business. Having to come up with Release Forms or any other Business Forms from scratch can be very tedious and time-consuming. Aside from that, since these forms are properly labelled, they are easier to organize. Properly organizing your business forms can help you keep them and locate them for future reference or in case you need to present them in court when someone would try to take legal action against you.
So those are the common users and common advantages to using Release Forms. With the variety of businesses in the market today, there surely are a lot more than what is listed on this article. But if you fall under any of the categories listed, then you will surely find one here that will suit your needs.
Generic Release of Information Forms
Generic Release of Health Information Form
Generic Patient Information Release Form
Generic Medical Information Release Form
Generic Copyright Release Forms
Generic Photo Copyright Release Form
Photography Copyright Release Form in PDF
Logo Copyright Release Form
Generic Lien Release Forms
Generic Vehicle Lien Release Form
Generic Auto Lien Release Form
Real Estate Lien Release Form
Subcontractor Lien Release Form
Generic Records Release Forms
Generic Medical Records Release Form
Generic School Records Release Form
Generic Health Records Release Form
Records Release Request Form
HIPAA Release Forms
HIPAA Release Forms, or Medical Records Release Forms, are used by covered entities in accordance with the HIPAA or the Health Insurance Portability and Accountability Act of 1996, which has a privacy rule that inhibits the disclosure of patient health information without a written authorization form signed by the patient.
Who Are Considered Covered Entities?
Covered entities are medical care facilities, medical services providers, health insurance providers, and any other third party company or independent contractor that deals with sensitive and protected patient health information and fits the description of business associates.
What Is Patient Health Information?
Patient health information is information about a patient's medical history, medical treatment or procedures, healthcare provisions, and payment information that can be linked directly to an individual. This type of information is considered confidential and should be protected as a preservation of a person's right to privacy. But of course, there are certain situations wherein such a protection can and must be waived, and thus the covered entities can disclose patient health information even without a written authorization form.
What Are the Exemptions to the HIPAA?
Covered entities may disclose patient health information to law enforcement officers when required by law to do so. Examples are for law enforcement purposes, such as a court order or a subpoena, administrative requests, or to locate a missing person, fugitive, suspect, or material witnesses.
In suspected child abuse cases, covered entities may be required by law to disclose a child's health information to state child welfare agencies.
They may also disclose patient health information for the purpose of administering medical treatment, processing payments, and performing other healthcare operations.
So those are the exemptions to the HIPAA. Any other scenario outside of these exemptions would require a HIPAA Release Form for the disclosure of patient health information. An example of a scenario that would really require a HIPAA Authorization Form is when a patient will take legal action for personal injuries and medical malpractice cases. The medical information of the patient would have to be accessed to verify such claims.
If you are one of the covered entities, then you would really use these HIPAA Release Forms on an almost daily basis. You may also see our Patient Information Forms for downloadable samples of forms to obtain patient information. Our forms are easy to use and the format is indicated so that you can find what's best for your company's purpose and field of business.
Tattoo Release Forms
Standard Tattoo Release Form
Tattoo Release Form in PDF
Free Tattoo Release Form
Generic Credit Release Forms
Credit Release Authorization Form
Credit Release Form in PDF
Generic Work Release Forms
Return to Work Release Form
Minor Work Release Form
Printable Work Release Form
School Work Release Form
General Media Release Forms
Free General Media Release Form
Standard Media Release Form
School Media Release Form
Model Release Forms
Model Release Forms are used by modelling agencies to be filled out by their models. This kind of Release Form transfers a model's rights and claims to the photos to the agency or photographer, thereby allowing them to fully own the photos, videos, or any other material. This means that they can release the materials to the general public for advertisements or any other purpose it will serve. This also means that they can reproduce the material and show it on various platforms, such as the television, social media platforms on the internet, and some other media platforms that would be deemed necessary by the agency. Without a Model Release Form, you do not really own the materials you have worked hard for and paid for. If you want further legal security, you may also use Copyright Release Forms so that your copyright can be defended in court.
Model Release Forms also protect the models by making sure that any stipulations that would make the model more comfortable to enter into the agreement, are duly included. This protects the model's right to privacy and make sure that there aren't any materials that will be released and reproduced that he has not given his permission for. This allows the model to make sure that all materials do not go against his values and preferences. If the model is a minor or child under the age of 18, you may also want to see our Parent Consent Forms.
Tattoo Release Forms
Getting a tattoo is not easy. There are risks involved in it that are out of the tattoo shop's or tattoo artist's control. That being said, it is important that every person who gets a tattoo signs a Tattoo Release Form to release the tattoo artist from any legal liabilities in case any of these unforeseeable events occur. It is important that before a person gets a tattoo, he is explained of the risks involved and of the proper after-care regimen to avoid any infections. Since the care for the tattooed area is the sole responsibility of the customer, it is only right that a Tattoo Release Form is signed.
It also has a statement that certifies that the customer is above the legal age. If the customer is a minor, a Parent Consent Form has to be submitted by the customer. Any allergies to the ink or materials that will be used also have to be stated so that if there are any, the artist may use alternative ink or cancel the procedure entirely.