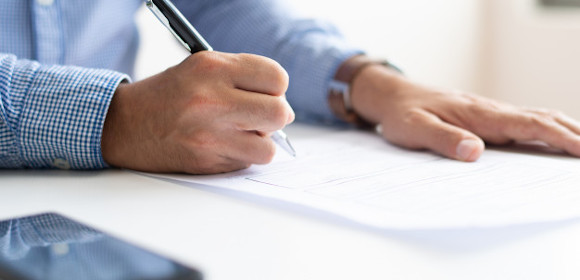 Feeling the comfy breeze by the beach, drinking with friendly strangers at the club, or focusing on a long but relaxing beauty spa are some possible activities that can be achieved during the holidays. Getting a time off from work because of a holiday vacation certainly excites people anyway. However, the manager or HR in a business might not approve of such plans and the best way to finalize is to start sending a holiday request form. With that request, employees eventually receive the green or red signal whether managers approve of the leave or not.
FREE 21+ Holiday Request Forms in PDF | MS Word | XLS
1. Employee Holiday Request Form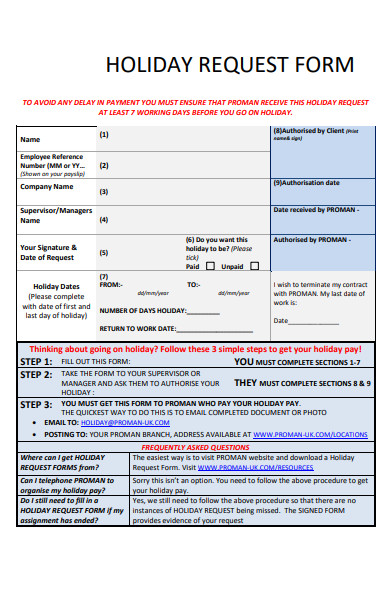 2. Staff Holiday Request Form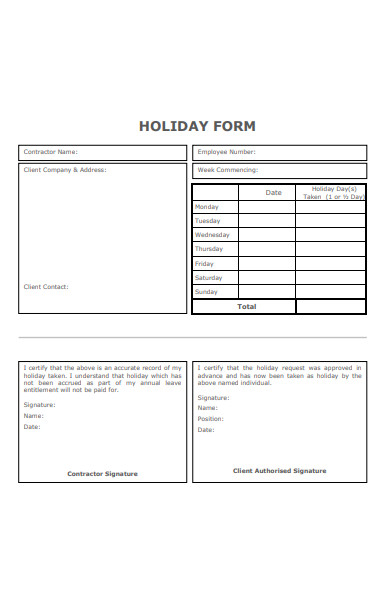 3. Annual Holiday Request Form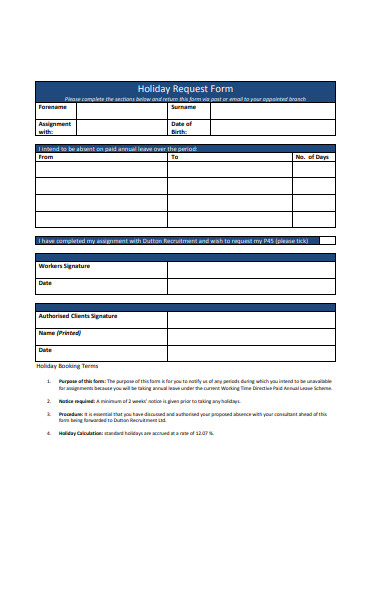 4. Agency worker Holiday Request Form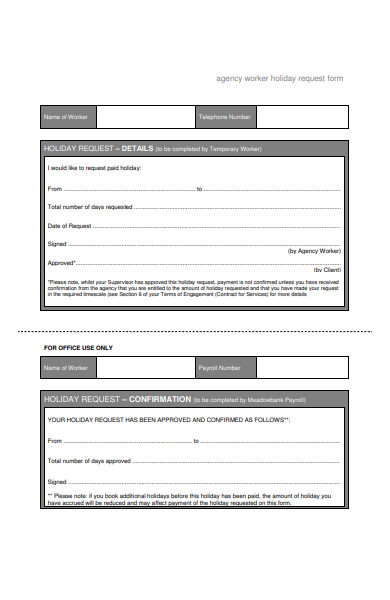 5. Holiday Services Request Form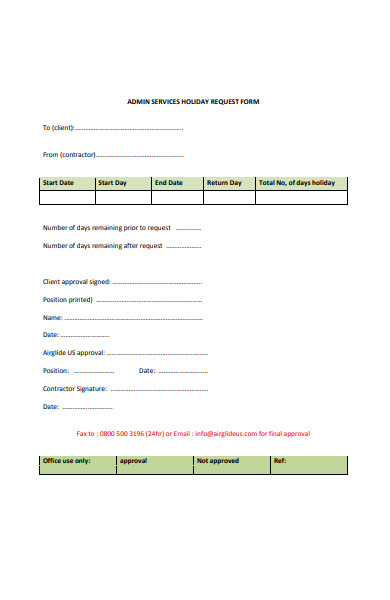 6. Holiday Request Form Sample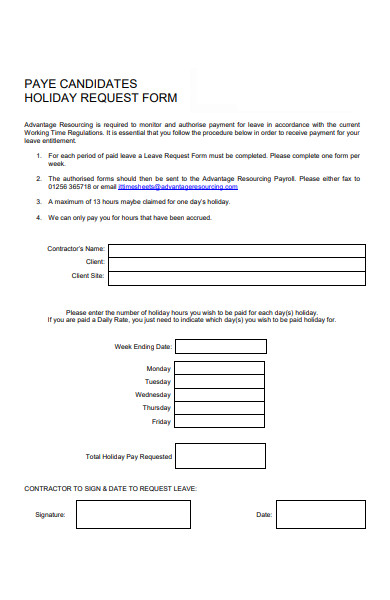 7. Holiday Request Off Form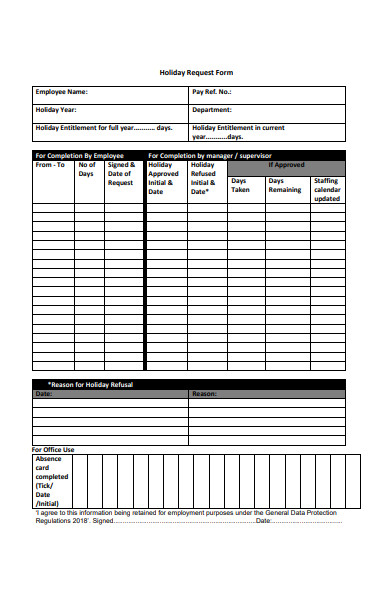 8. Holiday Request Form Per Week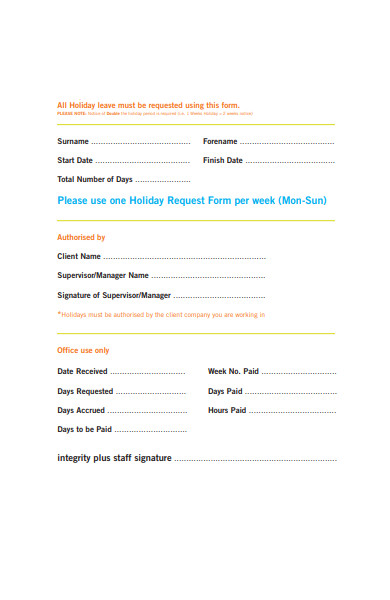 9. Holiday Pay Request Form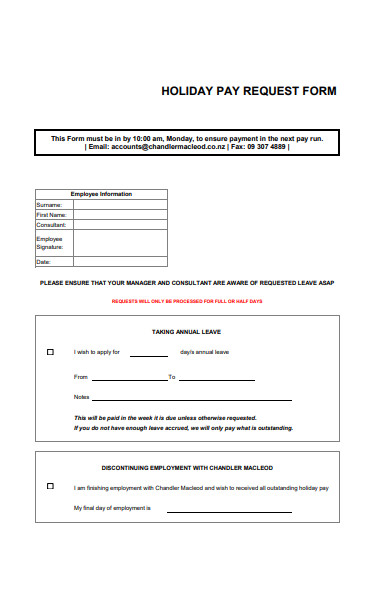 10. Holiday Scheme Request Form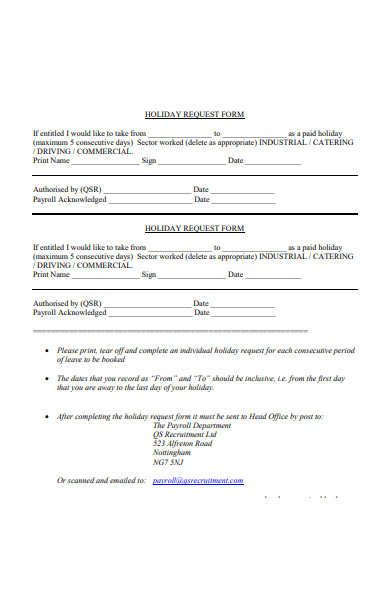 11. General Holiday Request Form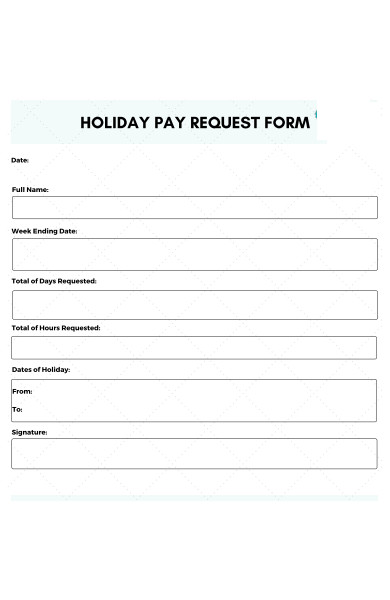 12. Holiday Information Request Form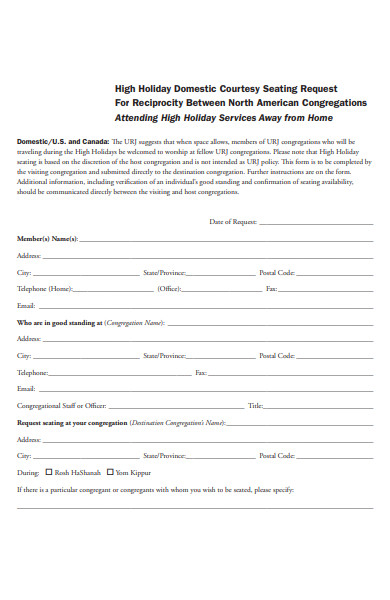 13. Holiday Paid Time Off Request Form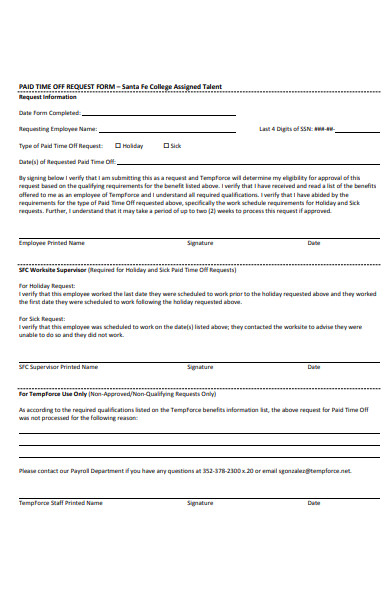 14. Holiday Authorization Request Form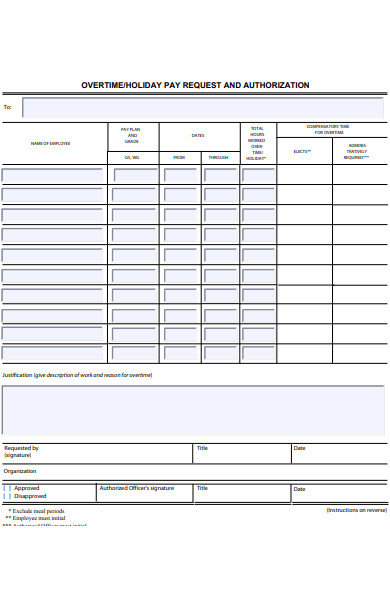 15. Holiday Skip Pay Request Form
16. Holiday Consent Request Form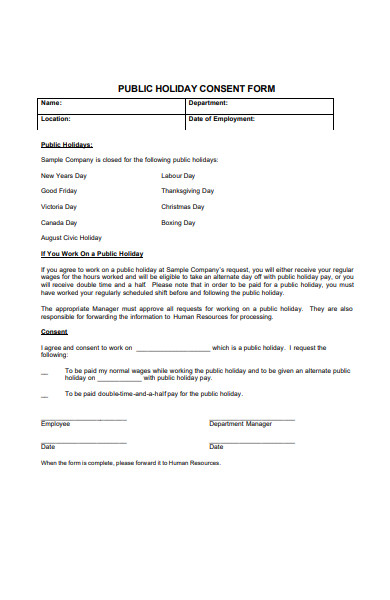 17. Premium Holiday Request Form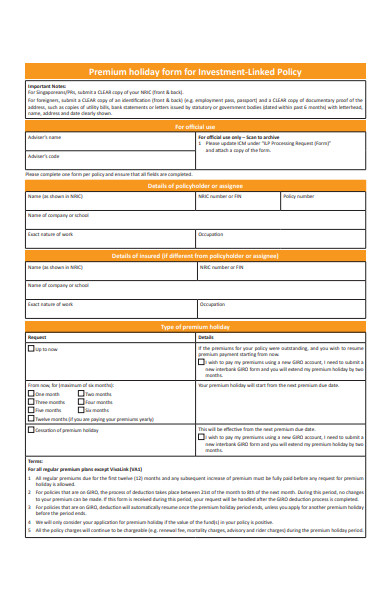 18. Additional Holiday Request Form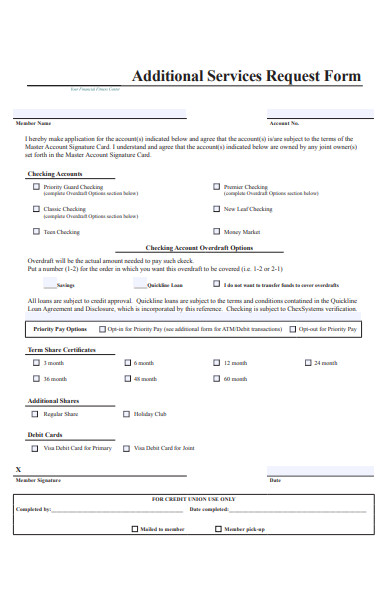 19. Simple Holiday Request Form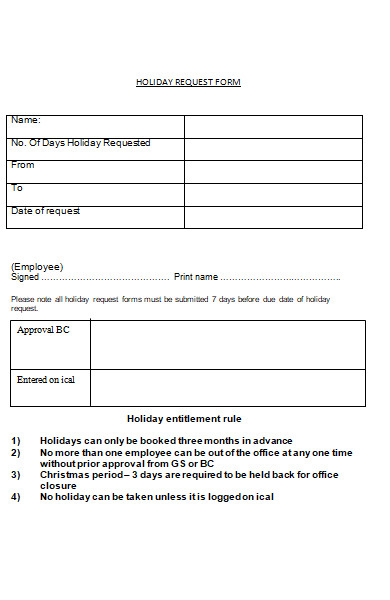 20. Basic Holiday Request Form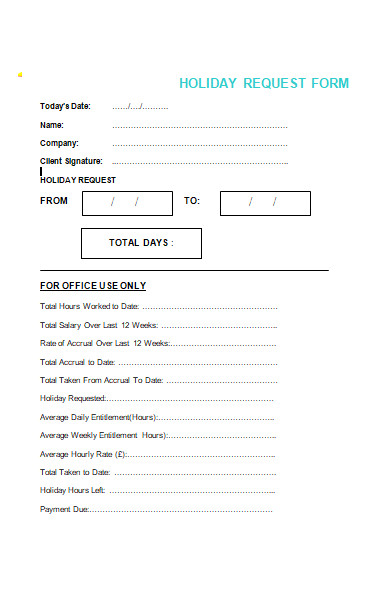 21. Holiday Support Request Form
[/ns_row]
What Is a Holiday Request Form?
A request form that specifically asks for a leave application during the holidays is how holiday request forms get defined. It is formal to manage that document first to be sure whether the holidays are labeled as paid or unpaid leave. Special holidays are often unpaid, and it can be disappointing to be absent without receiving money afterward. Another situation is when an employee may have been too excited to book for a flight at a fancy destination. Yet, employees are required to be present on the said dates due to emergencies. By requesting early, such a person may get considered to leave or turn informed about the rejection first, so booking a flight never had to happen.
The holiday request document itself would ask permission, which is a professional practice to maintain for any worker. Who knows what could happen in the following weeks or days before a particular holiday that something new might come up like in moving the holiday leave or if an emergency working day is needed. By informing and being permitted ahead, everything is already sure that the granted holidays for leave will strictly follow and no change of plans. Anyone who makes this request must also be confident with the details provided on the form because moving the dates or changing plans at a late basis may no longer get accepted after the official approval.
What Benefits Are Present from Holiday Request Forms?
The great thing about holiday requests is how those compose of advantages, and some of the common examples deserve recognition. Implementing this type of document did not just take place to promote negative factors anyway as any worker deserves to leave or rest as part of their holiday entitlement too. Here are the benefits associated with holiday request sheets:
Observes Formal Permission

It is unprofessional for anyone to go AWOL because there are laws to keep in workplaces. In wanting to leave, there is always a protocol to follow on how to do that. The standard way is by preparing a document request which will contain all the information about the holiday leave from the start date, reason, employee information, and more. At least employees are observing the rules in following the formal way of asking permission and waiting for approval.

Keeps Managers Informed

The holiday vacation request prepared contains the details about why someone needs to be off at such a time anyway. Indeed, holidays will get mentioned, but informing further about how someone heads to another country or moves back to a family home will be more informative. Thus, no manager worries whether someone is not around at a particular schedule as those got stated in the sheet.

Gathers Documentation

Informing requires documentation because merely asking to leave through talking with an employer is not enough. Maybe such an employer forgets about a particular employee's leave request due to being busy with other projects. It turns better to have it documented with the form as proof that a request got made ahead. The sheet used can work as official evidence anyway, like in tracking some details found from that document.

Ends with an Official Response

All effort given in preparing the form and completing it would not go to waste because employers get expected to respond later. Indeed, the whole thing is still considered a request, so the responses can either be approved or refused. It is satisfying to know the answer ahead, even if a refusal will be received. With that disapproval, at least the worker knows what to do by not proceeding to make plans on holiday. In fact, a yes or no is not the only thing to receive but also an explanation about the decision to help the employee understand why.
Recruitment Agency's Additional Holidays for Non-Smokers
Any employee commonly wants an extra holiday off at work because that means there is more time to rest and enjoy a day off. That reason is even why many employees send out a holiday request leave form to ensure they can enjoy the holiday benefits. A beneficial idea granted by KCJ Training and Employment Solutions in Swindon, England, last January 2, 2020, is the plan of having extra holidays on people who do not smoke. The recruitment company offers additional four holidays annually to non-smokers. Such a business can be an excellent example to follow for other companies to bring more benefits to employees.
The agency's plan sets the bar high compared to other businesses for not degrading smokers. While smoking is typically discouraged, some people really want to smoke. Instead of telling them to stop smoking, there is encouragement for ceasing involved in giving four extra holidays for not smoking in a year. If smokers want to get hold of such benefits, then they know that ceasing is the way to do it. On the other hand, non-smokers also get benefited here as they get rewarded for not consuming ten-minute breaks for smoking daily.
What Are the Usual Parts of a Holiday Request Form?
Many information can be around in a holiday request, yet common denominators will be part of the deal too. Identifying similar points is a big deal instead of guessing at whatever is around or not on the form. By familiarizing the elements, it gets uncomplicated in completing how the sheet turns out. The essential examples to recognize are the following:
Employee's Information

An employee has to introduce himself or herself because employers never need to guess who the form belongs to. Knowing the employee through the name, contact information, job position, and the like will already be informative enough to identify whose request it is. Precise and complete details must get prepared to ensure that no mistake will get recorded. Having some errors may have the document to get considered invalid, which could lead to automatic rejection from the manager.

Request Details

The massive information lies down to the request information. This part mentions the schedule planned for when the holiday leave starts until the last day. The kind of vacation used also requires specification because maybe others regard the sheet as a 5-day leave application, a payment request, or anything different from a standard holiday request. Other details here involve the reason for the need to leave as such a factor also affects the decision of a manager in allowing or disallowing the application.

Employer's Approval Form

At the very bottom part of most forms, requiring signatures from both the employee and employer will matter. No signature should be absent, or the documents may still get considered incomplete. There can be a stub part too wherein the record can get torn from the sheet, and it will contain the employer's signature or approval about the request. That stub will be a useful record to keep as proof too about how the leave got approved.
How to Prepare Holiday Request Forms Effectively
In preparing for the holidays, a lot of considerations will get observed. Checking for the best rates at a vacation clearance can get managed to save cash or perhaps pack the right swimsuit in case swimming or tanning is part of the plan. Besides what to do on the holidays, giving an effort to prepping the form used to request for leaving at the desired date should get processed carefully. Here are ways to follow for adequate preparation of holiday request documents:
Step 1. Choose a Well-Formatted Template
What template to use will matter since a poor choice could end up in making an unpleasant output. Some adjustments can be made to customizable templates anyway, particularly on how to edit the format. Formatting affects the presentation of these sheets, so everything should go well from the measurements and the overall look. By observing assessments to different printable and editable templates, one will eventually discover the best model to depend on.
Step 2. Label the Sheet as a Holiday Request
It is a must to show everyone the form is for a holiday request, or the rest might wonder what the whole thing is about. Putting a title makes it easy to distinguish what the entire thing works for, and it cannot get welcomed, or a disappointing outcome may take place. There are many things to input on forms anyway and being careful with the labeling process is part of the deal. After having a title, anyone taking the form will understand its purpose already.
Step 3. Observe a Professional Design
Presentation and design speak volumes that first impressions on those factors can affect how people view the company or anyone who made such forms. Maintaining professionalism is an excellent approach to set a standard. A minimalist design can already work as overdoing the creativity aspect is not how to accomplish this only. With an evaluation of how designs look, one will eventually reach the desired outcome.
Step 4. Learn How to Categorize Parts
The documents can get divided into specific categories, so the information does not have to look like a mess. Things do not look organized if the reason, leave schedule, signature, and more factors got mixed in one long paragraph only. With categories, everything shall appear more arranged. Making things easier is the goal for categorizing and not the other way around. Otherwise, anyone taking the form might have a difficult time processing things.
Step 5. Keep Record of the Holidays and Leaves
In a company, not all leaves are available for a single person only that if a particular date had a lot of people requesting a day off, then not everybody will be granted. A record review makes it easy to check and keep track of how many holidays are present or the number of leaves left. Who took a specific date to leave can also get verified through official records. The point is that awareness cannot get ignored to know quickly about getting accepted or not.
While plans and vacations bring hype or excitement, the need to control such emotions is essential because the first important step is to complete the request form, specifically for a holiday request. Preparing for rejection is even worth doing because there are times an application will get rejected. No matter what the response states, what mattered is that a professional request sheet got used to addressing this formally. Updating the progress is only necessary if no response got received on the approval or rejection yet.