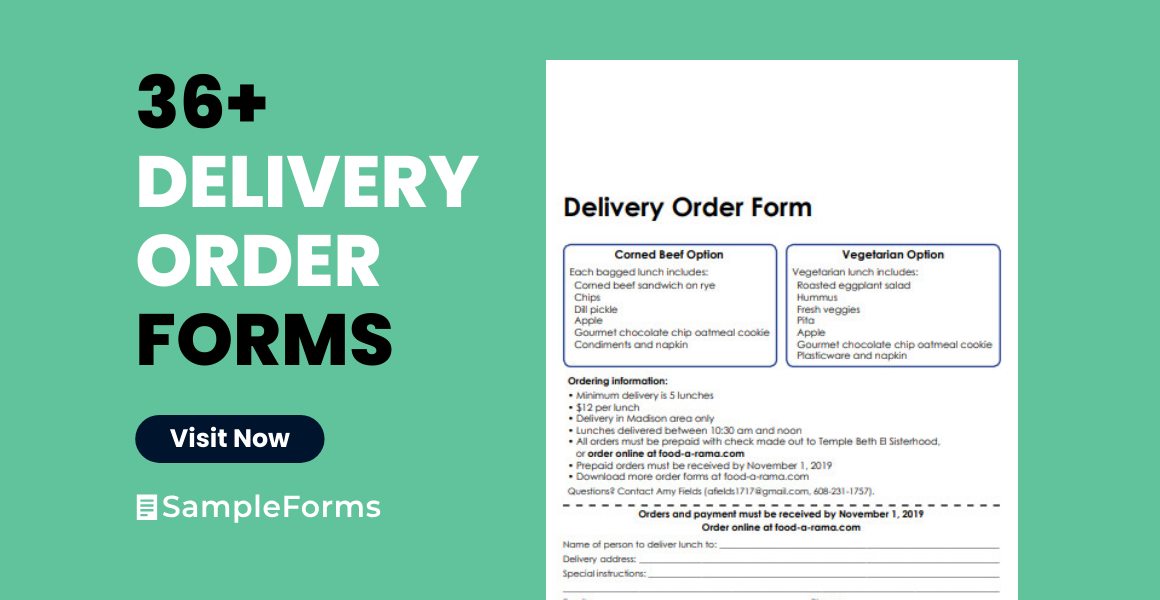 Nowadays, it seems more convenient when we order or purchase stuff through delivery services since we no longer need to walk from store to store. Food? Supplies? Name it, and it is all available online or through phone calls. But delivering products with only a list in mind would be difficult to track and trace. That is when order forms come in. Delivery order forms are helpful in making a service provider's job efficient. Want to learn more about delivery order forms? Read further in this article to get started!
FREE 36+ Delivery Order Forms in PDF | MS Word | XLS
There are different types and formats in making delivery order forms. To help you get by, here are a few sample delivery order form templates you can freely download and customize. These printable documents are available in all versions of Adobe PDF, Microsoft Word, and Microsoft Excel.
6. Food Delivery Order Form
7. New Patient Delivery Order Form
8. Business Delivery Order Form
9. Mail Service Delivery Order Form
10. Standing Delivery Order Form
11. Home Delivery Order Form
12. Email Delivery Order Form
13. Delivery Pharmacy Prescription Order Form
14. Streaming Delivery Order Form
15. Software Delivery Order Request Form
16. Delivery Order Import Checklist Form
17. Delivery Service Order Form
18. Simple Delivery Order Form
19. Wood Delivery Order Form
20. Delivery Option Order Form
22. Delivery Order Indemnity Form
23. Non Delivery Order Form
24. Pickup Delivery Order Form
25. Smoothie Deskside Delivery Order Form
26. Electrical Delivery Order Form
27. Special Delivery Order form
28. Mulch Delivery Order Form
29. Bush Delivery Order Form
30. Care Home Delivery Order Form
31. Restaurant Delivery Order Form
32. Communication Delivery Order Form
33. Ice Delivery Order Form
34. Medical Delivery Order Form
35. Booking Balloon Delivery Order Form
36. Delivery Order for Supplies Form
37. General Delivery Order Form
38. Gift Delivery Order Form
Where Can We Use Delivery Forms?
Businesses would always have documents prepared when doing various types of operations. One of the actions they need to monitor well is their processes in performing their services to their target audience. That includes the delivery service providers. Just like other businesses, they need to ensure that they are delivering goods as expected by their clients. One way for them to achieve that particular performance is through delivery order forms.
Order forms are useful for delivery services since these businesses would need a precise list of the client's desired products. This document is an excellent tool for any business that needs organized operations in taking in requests from consumers. There are different situations that delivery order forms are helpful for a business. It includes gathering consumer's information, assessing the best selling products, and many more.
Elements of a Delivery Order Form
When you are doing a delivery, you would always provide your clients with an order form before you start preparing their goods. This document allows clients to input all their order details for the service providers to get the right products delivered. If there is a thing that service providers need to prioritize, it is to utilize a well-written order form. As a guide, here are the commonly used elements in a delivery order forms:
Customer Information – Just like any other official business document, delivery services will need the customer's personal information for references. Order forms should at least have the client's full name, address, and contact information, so the service providers identify the right receiver of the delivered goods. The customer information is also an excellent tool when promoting new products since it contains contact details of their potential buyers.
Product Information – Most of the time, businesses offer different products and services to their target audiences. An order form should have a detailed description of the goods that each customer purchased. Usually, the document contains the product's name and code. This way, service providers will efficiently identify and pack the products. Most consumers will use an electronic delivery order forms that simply allow them to select the products they desire.
Quantity – Simple order forms wouldn't be useful and efficient if there are no indications of how many products that the customers wish to purchase. There should be a place where consumers can specify the number of goods they are going to avail. This process also helps with the inventory and production of the business. It makes them prepare the right materials for the delivery orders.
Total Amount Due – The order forms should have the full amount charged so the clients can prepare the exact amount when processing the payment. The total amount due usually includes additional fees and service charges, along with product prices and quantities.
Payment Methods – Every company has different procedures in processing transactions. A delivery order form should have a clear statement about the procedure for your clients to understand and follow each of the instructions provided. It is also convenient for both parties to agree on the same procedures to avoid any conflicts.
Delivery Dates and Trackers – No matter how small this detail is, order forms must have the dates and tracking numbers. Order forms should reflect the day that the clients placed respectively placed their orders, as well as the order numbers, so the goods are easy to track once they are sent out for delivery.
Acknowledgment – All official business documents should have a delivery acknowledge note to ensure that both parties involved agreed on the same thing. Understandably, the note will serve as a contract that binds the client and vendors.
Why Are Order Forms Essential in Deliveries?
In business, it is an entrepreneur's priority to ensure that deliveries are going as what they have planned. That is why they need order forms as an instrument to keep track and monitor their operations well. Order forms contain all the product information there is to know about the delivery orders created by their clients. It also gives consumers convenience in tracking their orders. There are various benefits order forms bring to a business, especially for delivery services.
With order forms, delivery services would be more quick and efficient. This document is filled out by consumers and sent to service providers for them to prepare. Delivering goods without any reference would possibly lead vendors to perform their services unorderly. Fortunately, order forms are there to help them maintain an organized and well-managed operation.
The Popularity of Food Deliveries
Food is one of the top goods that people would always invest in, no matter where they are. In fact, purchasing food through online apps and websites is a trend in this generation. Of course, when one orders online, it is most likely to be brought through deliveries. People will have to deal with delivery procedures so they can successfully purchase their desired goods.
Food delivery services are one of the growing businesses in today's generation. According to Statista, online food delivery services alone reaches almost 122,739 million USD estimated revenue for the year 2020. With this number, we can clearly see how businesses would always aim for a successful operation. That is why order forms are always there to help in catering to every consumer's requests. This document will surely help service providers in organizing their food deliveries without any hassle.
Order Forms as Promotional Tools
It is always part of a company's business plan strategies they have to apply in marketing their services. There are different ways that companies can advertise their business to their target market. One is to gain their trust. Businesses, like the delivery service providers, need to earn their consumers' trust to have fluid and successful operations.
One way for companies to gain their market's trust is through providing transparency. With the help of order forms, companies will have to build a reputation in the market to get the right sides of their audiences. The delivery order forms will serve as an assurance that the consumers will get their goods no matter what. Since it has a tracking number, consumers can monitor their deliveries themselves.
How Will You Prepare a Delivery Order Form?
Delivery is a challenging work to monitor and control if you don't have the right documents to help you. One of the tools that vendors use is an order form. Delivery order forms have all the information about an order placed by one of your clients. To successfully process a delivery, you must be familiar with how to prepare order forms. Here are a few tips and steps you can follow to create a well-written delivery order forms:
Step 1. Identify the Products Requested
As a service provider, you should be aware of all the products available in your company. Order forms will have a section that allows consumers to input their desired goods. Always bear in mind that the order forms are like request forms. It should reflect the specific products the business offers. Sometimes, it is easier to place a product list when creating an online order form. It makes it more convenient for consumers to select and see the corresponding prices of their orders.
Step 2. Secure Accurate Payment Procedure
One of the things that order forms should have is the payment procedures. Most of the time, delivery services will need the client's account information for a quick and easy transaction. This process will also help the business establish transparency since the consumers are well aware of how the transaction is processed. Consumers will surely trust service providers with procedures like this one.
Step 3. Place Tracking Order Numbers
Consumers are more at ease in ordering through deliveries if they can monitor the procedures themselves. One way to provide consumers that type of service is through tracking numbers or reference numbers. These digits allow customers to monitor and get updates about their deliveries from the service providers. As the vendor, you should never forget to place the tracking numbers. It would also benefit the suppliers since they can organize each of the orders according to their order numbers.
Step 4. Include an Acknowledge Note
Delivery orders need an order confirmation or an acknowledgment. Always attach a statement for consumers to see if their requests are placed successfully or not. Most businesses provide the acknowledgment note after the orders are successfully processed. This message serves as the first update of the goods requested by the clients. Sometimes, this segment verifies that the client has agreed on all the terms and conditions of the service providers.
With all these details, you now learn how essential delivery order forms are to a business. There are various benefits of using order forms in performing deliveries. Once you know the nature and functions of delivery order forms, you will have a successful process of delivering all your orders. Whatever your business tackles, you will always get by with delivery order forms.