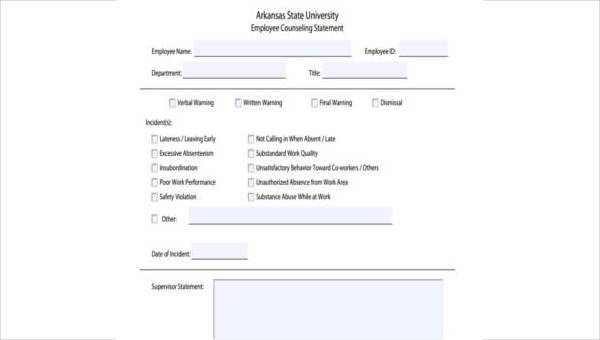 Whenever people need counseling, this means there are problems that they cannot handle themselves and they need a professional to help them out. These problems could be personal, social, or even psychological. When these problems tend to get too much, then it can seriously affect how a person behaves or performs.
This is why there are counselors to help these people out. These professionals were meant to help anyone with these problems so that they can get back into tip-top shape. However, these people would also need to provide statements before they can proceed with any session. This is to show proof that they understand and agree to all the conditions of the session.
Additionally, these statements need to be in official documents in order to be proven true and to track the patient's progress. The one thing that can do that is Counseling Statement Forms.
Employee Counseling Statement Form
Initial Counseling Statement Form
Financial Counseling Statement Form Example
Disability Counseling Statement Form
Army Counseling Statement Form
Types of Counseling Statement Forms
There are many of these forms that just about any person can use for whenever they need to make statements of any kind prior to a counseling session that they're about to receive. Here are some examples of these types of forms:
Army Counseling Statement Forms are the kind of forms that are utilized by those within the army who have undergone counseling sessions. Those men and women in the army will undoubtedly go through problems that could seriously affect how they perform during their training and their duty. This is why they have to state with these forms that they're going to get the help they need so that they will be able to continue their service, or at least ease their problems.
Employee Counseling Statement Forms are used whenever an employee is required to undergo a counseling session. There will be those employees with serious problems that could negatively affect how they perform in the workplace. This might even affect others in the process. So when that happens, they're required by superiors to make these statements that they're getting the help that they need.
Counseling Statement Form in PDF
Military Counseling Statement Form
Counseling Disclosure Statement Form
Fillable Counseling Statement Form
The Importance of Counseling Statement Forms
Whenever you're having a problem that's affecting how you behave in certain locations or how you treat others, then even you would want to make sure that you get the session you need. However, you also want to make sure that you understand just what you're getting into before you start agreeing to take these sessions. This is exactly why there are Counseling Statement Forms for that.
It's really important to have these statements on hand, because it is stated herein that you understand just what kind of information that you'll have to disclose during these sessions. These forms will also help you out in making sure that those in charge of the session do not use these information against you.
These forms are also a great help to counselors as these statements should show just how much the client will have to pay for the services rendered. What is taken into account is the amount of time the patient spends in each session. The longer it is, the more he or she will have to pay.