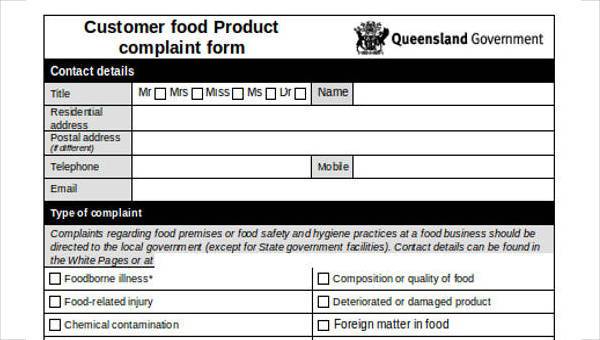 Complaints, may it be in any industry or circumstance, root out from the problems that clients and other entities experience from the product offerings, procedures, and/or services of a business. Basically, if a customer isn't satisfied with the kind of product or service that he or she has received, then most likely they'll be sending one of these.
There's always bound to be at least one unsatisfied customer. And when that happens, they'll make sure to let the company or establishment know that they aren't happy. These forms aren't just for customers, they're also for other people such as patients or even employees.
There are a lot of things that can be factored in as to why someone would feel the need to issue a complaint. However, they also need to make sure that these complaints are official and written in the proper documents so as to ensure that they'll be properly looked into.
So how would they do that? Well, they can do so with the proper Complaint Forms.
Customer Complaint Form in Word
Customer Food Complaint Form
Free Customer Complaint Form
Customer Complaint Form Example
Employee Complaint Forms
Free Employee Complaint Form
Employee Complaint Form Example
Employee Discrimination Complaint Form
Student Complaint Form in Word
University Student Complaint Form
Free Student Complaint Form
Sample Student Complaint Form
Patient Complaint Forms
Patient Complaint Form Sample
Patient Surgery Complaint Form
Clinic Patient Complaint Form
The Different Types and Purposes of Complaint Forms
There are lots of these types of forms that just about any person can use when they feel that they aren't happy with what they received or for just about any reason that justifies their complaints. Here are some examples of these types of forms:
For Customer Complaints
Customer Food Complaint Forms are the kind that are utilized by those people who have acquired any kind of food that was sold to them and found problems that ruined their eating experience. These kinds of forms are usually used in restaurants where food is basically the main thing to sell. It could be that the customers were not satisfied with the quality of how the food was prepared, thus the complaint. Or it could be that the ingredients used in the preparation was of such low quality, that the customers couldn't even swallow a single bite. Either way, these food establishments need to seriously take these complaints into account.
Customer Service Complaint Forms are used by those people who have experienced problems in the customer service department. Customer service is there to make sure that each and every person is well taken care of and that they're provided with the assistance they need to have a relaxing and satisfactory experience. If these people are denied that and are instead met with employees who don't even know how to handle their customers, then these establishments better be prepared for a ton of complaints from every single customer that has experienced this.
For Employee Complaints
Employee Discrimination Complaint Forms are forms that are generally used by those who work in companies or organizations, and have had problems with the way they've been treated by their coworkers or even their own bosses. Discrimination is always going to happen in the workplace. There's always bound to be one person who will discriminate another for either having a different skin color or even a different nationality, and this could seriously affect the victim's work progress. This is why it's best to report people like these to the right authorities within the workplace, and the way to do that is by using these forms.
For Product Complaints
Product Complaint Forms are for those who have recently purchased any kind of product from any business and found out that there are some issues that concern the product that they're not happy with. This tends to happen a lot as there are tons of customers who file complaints about products that seem to be made from shady materials, or ones that were not what was advertised. Sometimes it gets so bad to the point that these customers actually sue the companies for the kind of unsatisfactory products that they received. So if any company were to receive these complaints, they'll make sure that these are quickly resolved so that no other issues arise from it.
For Vehicle Complaint Forms
Vehicle Taxi Complaint Forms are used by people who have ridden taxis and were not happy with the way the service was performed. Every single day, there's always someone who needs a taxi ride. Taxis are very convenient because the passenger gets to decide the route with the comfort of knowing that they're riding in a vehicle, for the right price of course. However, not all taxi rides are convenient and enjoyable, as there are always problems that the passenger might or might not encounter. Some examples would be that the passenger was not treated properly by the driver, or the driver was taking a longer route, or the driver was being rude to the customer in general. These passengers have the right to use these forms to file an official complaint to the company that owns these taxi services.
Harassment Complaint Form in Word
Discrimination Harassment Complaint Form
Harassment Incident Complaint Form
Harassment Complaint Form Example
Vendor Complaint Forms
Procurement Vendor Complaint Form
Free Vendor Complaint Form
Sample Vendor Complaint Form
Complaint Information Forms
Complaint Information Form Example
Free Complaint Information Form
Sample Complaint Information Form
Workplace Complaint Forms
Workplace Harassment Complaint Form
Workplace Complaint Form Example
Sample Workplace Complaint Form
For Harassment Complaints
Harassment Complain Discrimination Forms are usually used in workplaces when an employee has witnessed or experienced firsthand any form of discrimination from another employee or even from one of their bosses. Discrimination involves any unwanted physical or verbal behavior that offends or humiliates you. Generally, harassment is a behavior that persists over time. There's always going to be that one coworker or boss who seems to enjoy harassing others for their own specific reasons. Some of them do it because of racial discrimination, some because they don't respect another person's religion, and some of them do it just because the power they have to do so. So if any person witnesses or experiences this, then it's best to have these forms in handy so that the company heads or owner may be able to justify these wrongs.
For Student Complaints
University Student Complaint Forms are for those people who are attending universities and are not happy with the way they've been treated by these schools. The job of the university is to make sure that their students acquire the achievements that they deserve, while at the same time making sure that they experience an enjoyable and memorable school life. If these students don't get that, then they'll make sure to put their complaints in these forms. These complaints can range from a number of things. Some of them being how they're being mistreated by a teacher or even how some of the facilities and equipment are too outdated to be even used.
Vehicle Complaint Forms
Vehicle Taxi Complaint Form
Example Vehicle Complaint Form
Complaint Registration Forms
Financial Complaint Registration Form
Complaint Registration Form Example
Sample Complaint Registration Form
Product Complaint Forms
Customer Food Product Complaint Form
Product Complaint Form Example
Sample Product Complaint Form
Citizen Complaint Forms
Citizen Police Complaint Form
Citizen's Complaint Statement Form
Citizen Complaint Form Example
Client Complaint Forms
Client Complaint Report Form
Sample Client Complaint Form
Client Complaint Policy Form
The Importance of These Complaint Forms
If you were an unhappy customer, wouldn't you want the company to know why you're feeling that way? This is exactly why these forms exist. Complaint Forms can help just about anyone out in showing how unsatisfied they were with whatever they obtained. Customers can complain about the quality of the products or services that they paid for, usually stating that what they received was not justifiable for the price they had to pay.
If it's not about the product, then it's about how they were treated by the employees of the establishment. Some of them might receive lousy service from the establishment representatives, and these customers will not hesitate to file these complaints.
These also help out these businesses in a way. It lets them know the problems they have and what they can do to solve them. If these companies and organizations take these complaints into serious consideration, then it could mean improvement for their business and acquiring more customers in the process. This also helps them weed out problems such as firing unruly employees and gaining back the customers that they initially lost because of these problems.
It also helps out employees in these companies. Some of these workers have it rough. They might be working in an office environment that isn't helping them in being effective. Reasons for that could be that there are problems in the workplace such as faulty wiring or lousy decorations. Or it could be something as problems from other coworkers like harassment.
So whether you're a customer or employee, if you have these forms, you can file out these problems to make sure that they're taken seriously and hopefully, they'll be taken care of.