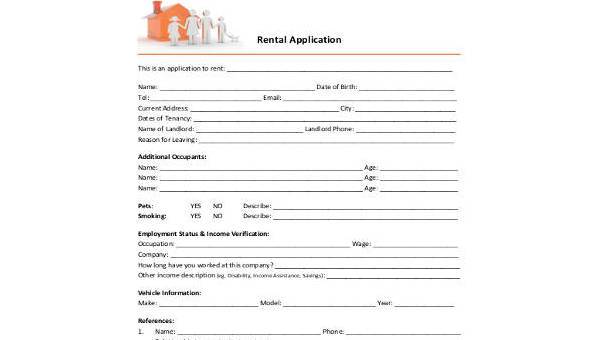 The land-lording business is proving to be a more practical and feasible type of business nowadays because despite the majority's dreams of having to own their own house by at least their mid-thirties, renting just proves to be a much more practical and cheaper option with the added benefit of having the option to decide where you want to live and not having to worry about repair and maintenance costs.
Renting is the new norm nowadays, which is why landlords need to be able to properly and thoroughly screen the people who are applying for tenancy to make sure that they can protect themselves from tenants who are a major headache. Landlords can easily do this with the aid of a Rental Application Form.
Basic Rental Application Form Free
Basic Apartment Rental Application
Basic Room Rental Application Form
Basic Home Rental Application Form
Basic House Rental Application Form
A Rental Application Form is a form that requires applying tenants to provide details about themselves that are relevant to the tenancy. This information is then used by landlords to verify if a candidate has the potential or the qualifications that they are looking for in a tenant. A Rental Application Form is kind of like an Employee Application Form, but instead of looking for someone to work for you, you're looking for someone who can live in your property without causing a ruckus.
As soon as an applicant has filled out a Rental Application Form, the first thing that a landlord does with it is to conduct tenant verification. A tenant verification is when the landlord does a background check on a potential candidate, looking into his credit history, criminal records, and tenant history to make sure that the candidate is who he says he is.
Through tenant verification and providing tenant application requirements to tenants, a landlord will be able to gauge if an applicant has the capacity to pay his rent and on time, or if he has a history of late payments, causing damage to property, etc.
The Qualities of a Good Tenant
Has the Capacity to Pay
Because land-lording is a business, it is critical for a landlord to determine if a tenant has the capacity to pay his rental dues and on time. This is the reason why landlords run credit checks and contact previous and current landlords to see if a tenant has the habit of making late payments. This is also the reason why landlords require information about a tenant's current employment to make sure that he has a stable job that will enable him to pay his rent while making ends meet.
Has Good Credit History
One of the problems that landlords usually face is the late payments of tenants for their rent. This can be minimized if there will be a background check to be implemented with regards to an applicant's credit history. A renter who exhibits a habit of paying bills on time is most probably one who is capable of paying his rent and has fewer chances of making late payments.
Basic Rental Application Form in PDF
Basic Rental Application Example
Basic Rental Lease Application Form
Basic Rental Agreement Application
Residential House Rental Application
Has a Stable Source of Income
An applicant's monthly salary will help you determine if a renter has more than enough to support himself while paying his monthly rental dues; however, it simply doesn't stop there. Landlords also have to check on an applicant's work history to determine if he has a stable job that will last for at least the next 6 months so that his rental payments will not be interrupted. The rule of thumb is that a tenant's paycheck should be at least 2-3 times more than his rental dues.
Criminal Records
Some landlords opt to check on a tenant's criminal record before accepting or rejecting a tenant's application. However, some states have put up laws that prohibit landlords from looking into an applicant's criminal records or rejecting a Rental Application based on a person's criminal history. Landlords, however, have the option to include a section of their Rental Application Form that bluntly asks the applicant if he has committed a felony. If peering into an applicant's criminal records is illegal in your state, you may just have to rely on good faith that the applicant is telling the truth.
Has No History of Eviction
A Rental Application Form or a Rental Lease Application Form will likely contain a portion that requires applicants to provide details about their previous and current landlords as well as their contact information. This is because landlords will have to connect with them to see if an applicant has had a history of late payments, a history of eviction, or has a pending case for incurring damage to property.