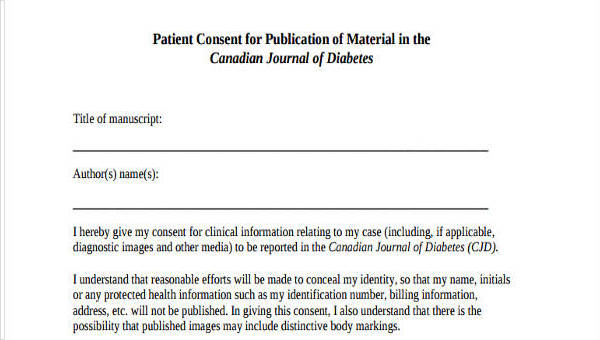 Whenever you're going to do research and you require someone to take part in it, then you'll have to make sure that you have that person's consent. Most people use consent letters, but there are consent forms to make sure that these people have officially given their consent.
The purpose of consent forms is to ensure that the person undergoing the research understands fully well as to what they are getting into. So long as the people that conduct research have these forms, then there should be no problems.
Consent to Take Part in Research Form
Psychology Research Consent
Medical Research Consent
Marketing Consent
Informed Research Consent
Academic Consent Form
What is a Research Consent Form?
Research Consent Forms are used to let the person know as to why they are taking part in a certain type of research and to show that they give full consent on what they're about to take part in. It's similar to Tattoo Consent Forms but instead of giving your consent on the tattoo you're about to receive, you're basically allowing someone to do a study on you.
There are many types of research that could require a human test subject. A good example would be a study on the human psyche. The person being observed in the research will have to undergo multiple activities that might put them through mental stress. If the person is still willing to be a part of the research after being fully informed about it, then they may use these forms to give full consent.
How does one Write an Informed Research Consent Form?
An Informed Research Consent Form must state that the subject is aware of the different kind of activities that will be done, along with the information that will have to be provided.  There are forms such as Parental Consent Forms that notifies that parents of a child as to what's going to happen.
What should be stated in these forms is what activities that the person is going to undertake, along with the name and signature of the witness and the date the form was signed.
Business Research
Informed Parental Research Consent
Hipaa Consent Form
Interview Consent
Informed Consent form Nursing Research
Patient Consent Form
What is the Purpose of a Research Consent Form?
The main purpose of forms such as Medical Consent Forms is to ensure that the person that's taking part in any research has given their agreement as to the activities or tasks that they must go through during the research. If these people conducting the research do not have the persons' consent about certain activities that they did not agree to do, then it could lead to serious issues which could be brought up in the court of law. So just make sure that you have these forms handy.
How to Write A Qualitative Research.
In order for one to get full information about what one is researching, one must think of the best method to gain the information. That person must then plan out the course of action as to how the research should be implemented, along with the different activities that they'll be required to do. A good example that does so are Business Consent Forms which outlines specific details of specific types of business plans, while at the same time requiring the consent of certain superiors as to how the business research should go in order to ensure quality information.