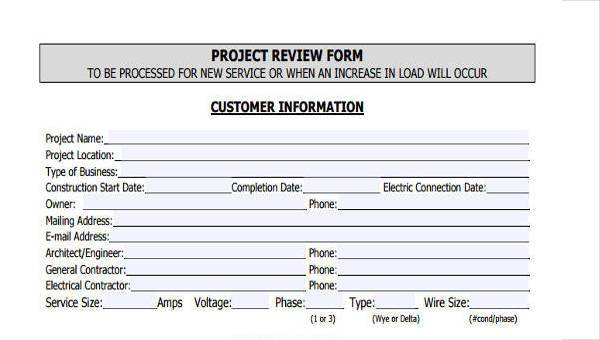 There are lots of different types of projects that are being conducted by people and companies every single day. And each of these people or businesses start these projects for their own specific purposes. Before these projects can be commenced with, there are certain items that need to be checked off first. There are important project details that have to be made sure of so that the project can go off without any sort of problems. This is why there are parties that make proper reviews and evaluations of these projects.
However, these people can't do these reviews unless they're properly authorized with the right kind of official documentation. If they have the official documents that allows them to perform these evaluations, then they shouldn't be seeing any problems from the moment they start until they finish.
So what can help them out with that? Well, Project Review Forms are definitely the right tools to begin with.
Project Review Application Form
Non-Project Review Form
Project Review Form in Doc
Sample Project Review Cover Form
The Different Types of These Project Review Forms
There are lots of these types of forms that just about any person or company can use for whenever they need to properly assess all the important requirements before a project starts. Here are some examples of these types of forms:
Employee Project Review Forms are the kind of forms that are utilized by those businesses that need to review an employee who is a part of any kind of business project. All sorts of companies or organizations have to make sure that the employee who's either in charge or taking part in one of their projects has the necessary qualifications and skills to do so. This is why they use these forms, to see just how well the employee is doing while performing and assessing said project.
Project Review Request Forms are used by just about anyone for whenever they need to request any of the proper authorities or officials in giving a thorough assessment of a certain project. This helps them out in knowing if everything seems to be in order to start up the project.
Project Review Form in PDF
Project Review Request Form
Historic District Project Review Form
Project Review Form Example
General Project Review Form
The Importance of These Project Review Forms
There's a similarity between both Project Review Forms and Employee Performance Review Forms. In an Employee Performance Review Form, a couple of authoritative figures have to check just how well an employee is doing in his performance by giving a thorough assessment. This is the same as a Project Review wherein certain officials have to check on all the necessary details that could affect how well a project will do.
These forms are really useful because they allow these officials and authorities to take in an in-depth review of all the factors that are going to take place during a project. Based on how well they think the outcome is going to be, they may decide to either let the project push through, or even cancel it altogether. It all depends on things like the kind of materials needed to perform the project, the amount of time it will take, the number of people performing it, and especially the purpose of starting the project.
Thus, in the event that you would want your project or someone's else's project to be properly reviewed, then make sure to download these forms right here, fill them out as necessary, and use them to their fullest.