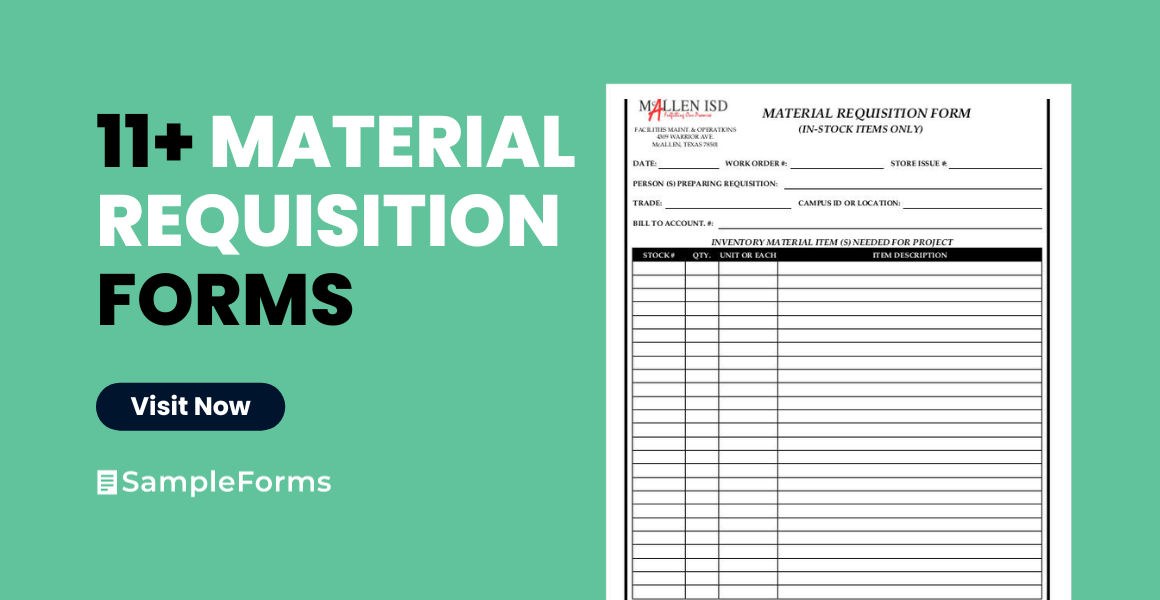 What is a requisition? Basically they're used whenever someone requests for goods or services to someone who could provide them. And these are especially important when it comes to business. There are a ton of businesses that need certain goods or services so that they may be able to continue performing. This is why they have these requisitions in order for them to request from their purchasing department as to what it is they need and why.
However, these requests can't just be done whenever. They need to be written in official and legal documents. So how would these people go about that?
Well, the one thing that can help out is the use of the right Requisition Forms.
Department of Materials Requisition Form
Material Requisition Form in PDF
Cleaning Material Requisition Form
In-House Stores Material Requisition Form
Free Material and Services Requisition Form
Course Materials Requisition Form
The Different Types of Material Requisition Forms
There are ton of these Sample Requisition Forms that just about any person or company can use whenever they need specific materials delivered. Here are some examples of these types of forms:
Cleaning Materials Requisition Forms are forms for those who need to request for certain cleaning objects. This is especially true for those large establishments that need to have their place kept spick and span. Certain cleaning services don't have all the materials they need for the job. So what do they do? They use these forms so that they'll be able to request for the cleaning materials they need. Whether it's more brooms, mops, or even cleaning agents, they can only order them through the use of these forms and keep a specified list of what they ordered.
Equipment Materials Requisition Forms are especially useful whenever someone needs specific equipment to perform certain projects. This is especially true during construction projects where those in charge will need all the equipment they can get to fully finish it. These forms are intended for the user to specify the kind of materials, along with the quantity, that they need them in.
Radioactive Materials Requisition Form
Marketing Material Requisition Form in DOC
Material Management Stores Requisition Form
Field Material Requisitions and Purchasing Form
Equipment/Materials Requisition Form
Purchase Order Material Requisition Form in DOC
The Importance of These Material Requisition Forms
Let's say that you're part of a company that's in charge of making a lot toys for all the kids within your area. However, you realize that the company is running out of materials to make that one toy all the kids absolutely adore. How are you going to make sure that you get it?
Purchase Requisition Forms will prove most helpful in such a situation. In the event that a certain company runs out of the materials it needs, or needs certain materials to perform their business, they may use these forms to make a formal request to their purchasing department for what they need. They may also specify the amount they need and when they need the orders. You will need to be sure of the quantity of the orders, or at least give a rough estimate to allow the other party to start setting aside a portion of their inventory.
In the event that you need certain materials delivered to you for your own purpose, then make sure to get a good use out of these forms. You'll never know when you might need more of these to meet the demands of your customers.