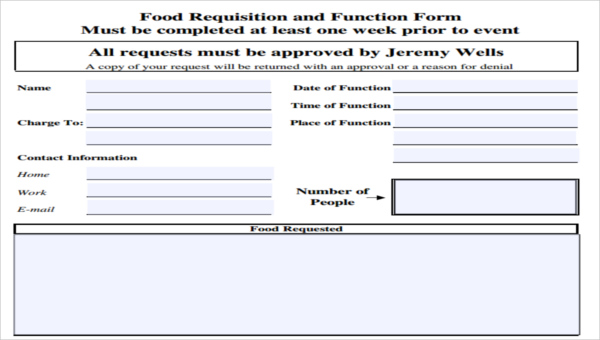 If you plan on making a formal request, especially if you're in a company or organization, then it's best to use a requisition form. There are so many requisition form uses that they've become so helpful to just about every business, which is why these forms are being used on a daily basis.
The difference between a requisition and a purchase order is that a requisition is still a form of request that can still be denied by certain authorities. A purchase order is something that needs to be done as soon as possible, which means that the purchasing department of the company will buy any material or service that's needed.
Food Requisition Justification
Food Service
Food Bacteriology
Food Requisition Function
Food Quality
What is a Food Requisition Form?
A food requisition form is used to ensure that if a certain company or organization needs specific type of food delivered, they're able to make a request for them.  These are especially important to businesses that focus on the food industry, such as restaurants or even hotels. You'll just need to know how to use these forms to ensure that you get the food you need to feed all of your customers as well as your employees.
Food Requisition Form Template
If you're going to start making a template for a food requisition form, you will have to take note of the following information that should be included:
Name of the person making the request
Company that the person is from
Contact details of the requester
Address of the company, for delivery purpose
The type of food that is to be delivered
The quantity in which they need to be in
These can also be used in the event that you the request is approved and when you need to use purchase requisition forms. Just make sure that you fill all of that you include all of that information for when you need to create a food requisition form template.
Food Microbiological Testing
Supply Requisition
Free Food Requisition
Food Inspection Requisition Form
7 Tips to Improve Operational Inventory and Reduce Food Waste
Always make sure that you keep track of your food stock
Make sure you know the expiry date on certain products
Form a team of people that can handle inventory
Train them in the proper way
Make sure that they follow routine when checking on inventory
Make sheets or excel files which make it easier to organize inventory
Only order what you need such as the ingredients on your menu
So if you need to make a request for more food to provide more services to your company, then use something like an internal requisition form which will allow you to make a request on what's needed.
Food is always needed in just about every establishment. But most companies don't just buy food without knowing the purpose as to why it's needed, which is why employees can use these forms to state the purpose and show details as to what kind of food is needed along with its amount. Just make sure you know when to use these forms and you know how to use them.