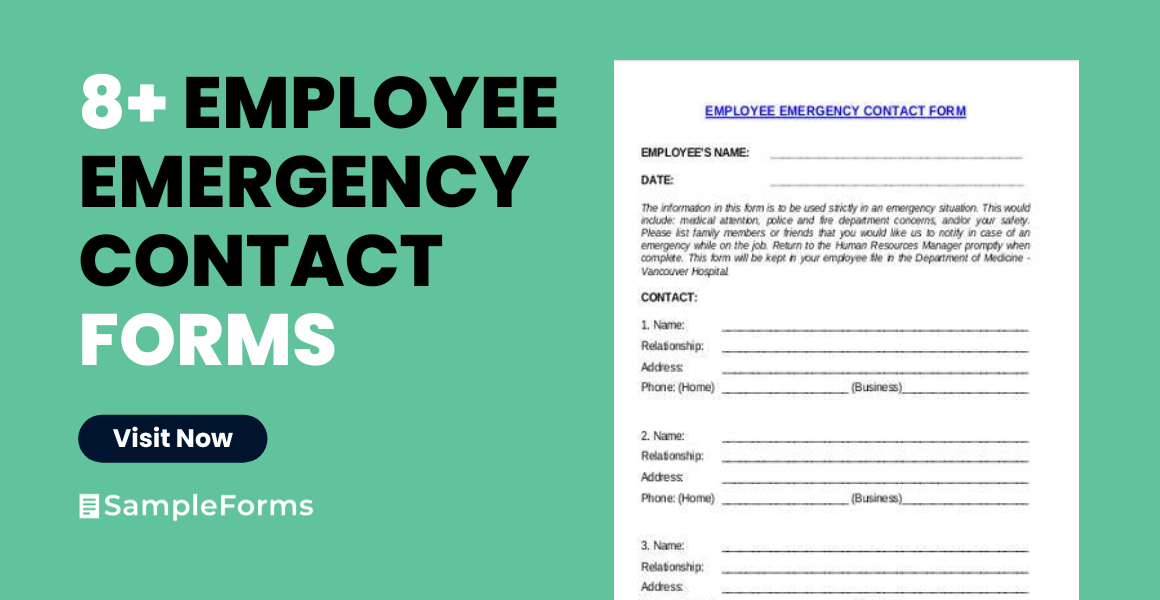 Whenever a company hires an employee, they have to make sure that they get all the contact information they can from him. Without a doubt, there will be situations in which the employee may not be contacted, so the company has the option to get in touch with an alternate contact.
This is also useful in the event that there's an emergency that either requires that specific employee, or an emergency that involves an employee's friends or relatives to be contacted. This is why companies also ask for an employee's emergency contacts.
These emergency contacts have to be noted down in the right kind of documents so that the company has the right to access them and call them whenever they need to. The one thing that can do that is the use of the right Emergency Contact Forms.
Free Employee Emergency Contact Form
Printable Employee Emergency Contact Form
Generic Employee Emergency Contact Form
Employee Information Emergency Contact Form
Employee Emergency Contact Form in PDF
The Types of Employee Emergency Contact Forms
There are tons of versions of these forms that just about any establishment can use for whenever they need to contact anyone that can help out a specific employee whenever there are issues that are very serious. Here are some examples of these types of forms:
Employee Medical Emergency Contact Forms are the kind of forms that are utilized by just about every establishment whenever one of their employees suffers a serious medical condition and that they have no idea what they should do. These people in their medical emergency contact forms are professionals who understand the employee's medical history and treatments. Thus, in the event that you see a coworker suffering from any kind of medical emergency, don't hesitate to use these forms.
Employee Emergency Contact List Forms are generally used to keep a large amount of emergency contacts for certain employees. It's always better to be safe than sorry. These forms are used so that an employee may place in more than one emergency contact in the event that some of them cannot be reached. It's good for establishments to know that there isn't just one person they can contact in case of an emergency.
Employee Medical Emergency Contact Form
Employee Emergency Contact Details Form
Employee Emergency Contact List Form
Employee Emergency Contact Form in Word
The Importance of Employee Emergency Contact Forms
If you witnessed one of your coworkers undergo an unfortunate accident which renders them unable to move, then surely you'd want to make sure that you contact this person's family and friends. This is exactly why there are forms such as these to help you out. There will be moments where these emergency contacts are needed because a certain employee might have a condition that only a family member or his doctor might know about. And the contact information is usually stored under Emergency Contact Forms.
These are also really useful when it comes to anything business-related. An example would be that the manager needs to contact a certain employee because he needs him to close down an important business transaction. However, the manager can't reach the employee due to unknown reasons. Hence, he uses these forms to check who his emergency contacts are and phones them up to ask the whereabouts of the employee.
In the event that you need to help a fellow coworker out but you are unsure what to do, or if you need something urgent from that person, then use these forms at your own discretion.