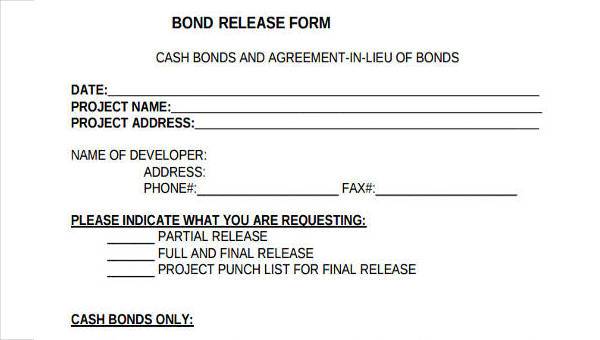 If you want to appeal for or release some confidential information, there is always a huge possibility you will have to download Release Forms. Release Forms are expected by the the source of the information, and if you want to know where to get the necessary templates for those documents, well, you are looking right at it, for this website has those templates you can take advantage of. So go study the forms because our enormous library is designed just for you. If you are thinking they would cost a fortune, well, no sir, because every form we have is for free.
Basic Bond Release Form
Free Bond Release Request Form
Refunding Bond Release Form
Bond Release Form in PDF
Lien Release Forms are forms used in instances where one party owes another some cash, and the first party hands possession of any of his properties – could be a house, a car, or a parcel of land – over to the other party as a form of security that he shall pay his debt given a specific time. When the first party finally has the money to pay off the other party, the former would need to whip out the said form as proof of the transaction, and probably will use it if further issues come up. This should all be done legally, needless to say.
If you have faced such a scenario, or think you might, then this is your chance to learn more about the form. Just type in "lien" in the search bar, and you will be forwarded to a list where sample forms concerning liens are located. You might want to check out other forms as well, available here on this very website. Like I stated earlier, we keep a vast, constantly updated library, and this website will never run out of forms to offer. The best part is, none of these forms will cost you anything, so no worries if you are on a tight budget. We guarantee you that we got you covered.
Bond Foreclosure Release Form
Bond/Deposit Release Form
Bond Release Request Form
Bond Release Form Example
This might sound like I am jumping from one topic to another, because I do not know how else to simplify yet at the same time fervently define what General Release Forms are. But as a fan of this motion picture entitled A Monster Calls, and feeling a constant need to obtain merchandise from that movie, I would most probably need General Release Forms.
Everything that revolves around a famous personality or an expensive undertaking is generally demoralizing (since the nays are almost always outweighed by the yays) and demands you to shell out thousands, even millions. Here on our website, we have at least some way that can help you own your favorite movies' or stars' mementos. I suggest not to go some place else since we already have these forms right here for free. We definitely do not restrict ourselves with Release Forms alone, let me tell you. Our website is full of many of them, so go ahead, check out as many as you want right now. We always make sure it is all easy to navigate through, so the only thing you will be spending time on would be downloading our forms.
Have I already mentioned these are all for free?