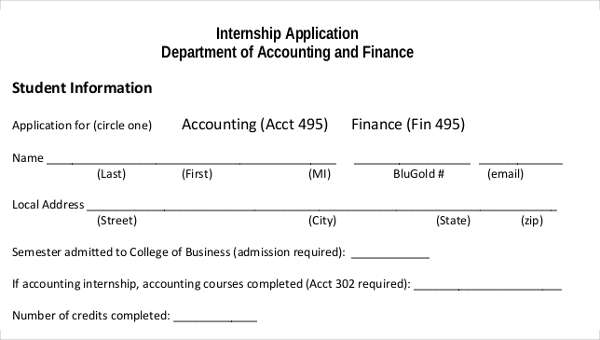 Whenever you think of the word "accounting" one of the things that come into your mind is the handling of money. And that's not wrong, when one does any kind of accounting, then that means that they're seeing to each and every revenue being gained and expenses being made. And there are Accounting Forms to ensure that these records are official.
There are a ton of Financial Accounting Forms that people can use in the event that they need to keep track of their finances. And it's best that they do so sooner rather than later, as you wouldn't want to be in the red or in the threshold of bankruptcy.
Application for Job Accounting Form
Annual Accounting Scheme Application
Internship Application for Accounting and Finance Department
Accounting Internship Application
What is an Accounting Application?
An Accounting Application is exactly as its name states. These forms can be used by anyone to apply for an accounting position for any company, or it can be used to apply for programs or courses that involve the management of finances. These forms help you ensure that you get to apply for the position that allows you to handle any businesses's finances. A good example is when one uses Blank Accounting Forms. these kind of forms are used by all business in the event that they need to keep track of managing everything that affects their finances, and it makes it easier for them to do bookkeeping.
How Does One Make an Accounting Application?
Employers who are looking for willing applicants have to make these forms to ensure that these people have the necessary qualifications. They can make these any time through the use of word software found in any computer. What they'll need to think about when creating these is what they want these applicants to put in these forms.
So this typically entails their names, address, date of birth, contact numbers, educational background, and work experience. If it's applying for a course, then it's basically the same thing, but the person is required to place in his or her course details. For more information, there are Printable Accounting Forms available to help you get started in making your accounting application.
Application for Higher Education
Accounting Software Application
How to Write an Application Letter For an Accounting Job?
Whenever you apply for any kind of job, you have to start off with introduction about yourself. The next step would be to talk about the position that you're applying for, in this case you're applying for an accounting position.
You will then have to explain as to why you should be hired, that means listing down all your accomplishments and experiences that you think can help you land the accounting job. Close the statement by thanking them for the given opportunity. You'll have to supply your personal information such as your name, address, contact number, and e-mail so that in the event that you're considered for the position, you can be contacted or located immediately.
When it comes to handling finances, it's always going to a job that requires a lot of accuracy and responsibility. So whether it's Accounting Expense Forms or Sample Accounting Forms, make sure to use any of them to help you out when it comes to you accounting needs.