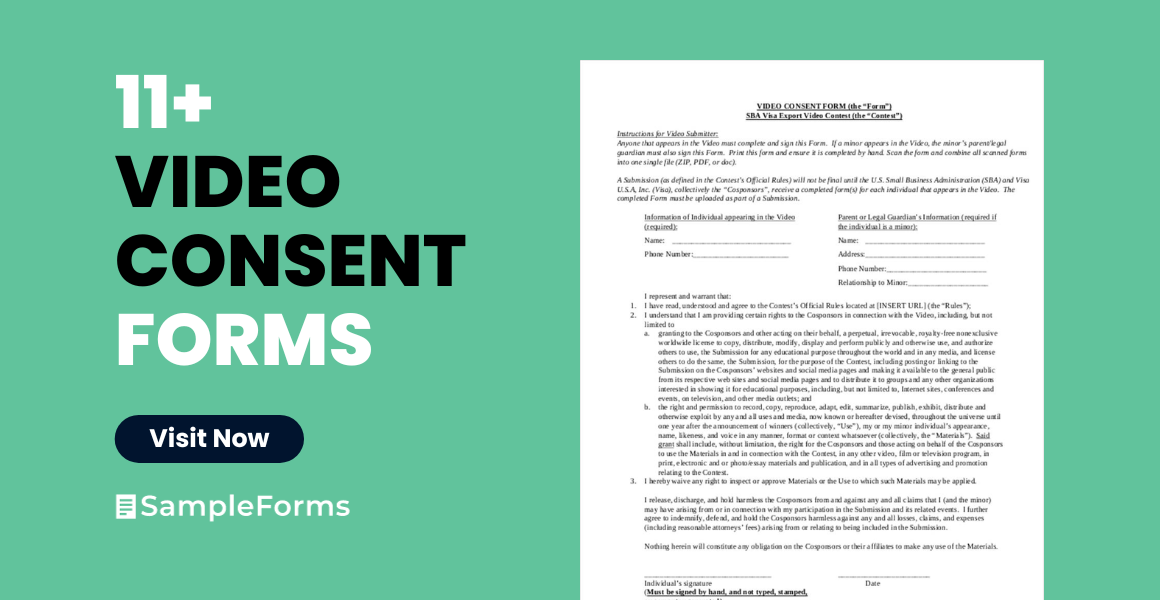 With the laws governing our modern world, one simply cannot do anything on a whim without first obtaining the proper authorization or consent. This is why there are many kinds of Consent Forms that are globally available and widely used nowadays. It is important for every Consent Form to contain the elements of informed consent for it to be effective and enforceable.
Consent Forms are used to document a person's consent prior to performing a procedure or task. This will state that the company will not be held liable legally and/or financially because the individual has already given his or her consent
. Companies and organizations use consent forms for research, advertising, education, training, and many more.
Photo and Video Consent Form
Patient Consent for Video/Digital Recording
Consent Form for Film/Video, Audio and Photography
Photography/Video Consent
Video Recording Consent
What is a Consent Video?
A Consent Video is a kind of consent provided by an individual to any company or organization that wishes to use a video created by him or that which features his image, for whatever purpose it may serve. For such purposes, a Video Consent Form is to be signed by the individual to properly document the consent, which may also state that the individual releases all rights and claims to the video in question.
When to Use Video Consent Forms
Video Consent Forms are required whenever a company or organization wishes to post or release a person's video for whatever purpose it may serve. It may be used for marketing, research, education, and training purposes. Certain privacy laws that are implemented require the use of Video Consent Forms to allow the people to protect their privacy. If the material, be it a video or a photo, is being released to the media, then Media Release Forms have to be used for such circumstances.
Children under the age of 18 who are the subjects of a video would also need to have a Video Consent Form signed, but instead of them signing the form, it is their parents or legal guardians who will sign.
Video Consent Pictorial
Informed Consent Form
Research Interview Video Consent
Generic Video Consent
Parent Consent Form
Video Consultation Consent Form
Sample Video Consent Form
Tips For Using Videos To Improve Teaching
Lighting: When making instructional videos, make sure that the area is well lit.
Audio: Be as close as you can to the camera or recording device when recording since some devices are not designed to record really good audio.
Aspect Ratio: If you are using a mobile device to record, avoid holding it upright when recording so as not to mess up the aspect ratio of the video. It is best to hold your mobile device horizontally or in landscape position, so that the aspect ratio of the video will fit just right.
Animation: Make use of animations in your video, like in transitioning from one video clip to another. This will keep the students attentive and interested.
Photos: You can also include photos when introducing new things, provided that you have the right Photography Release Forms. This will make your video more informative and visual.
Providing video materials in teaching can be a great leap from traditional teaching. Videos are a great way to introduce new concepts and procedures to students with various information acquisition styles, especially those students who are visual learners. With the benefits of using videos in various purposes, it is no wonder that Video Consent and Sample Release Forms are so widely used.