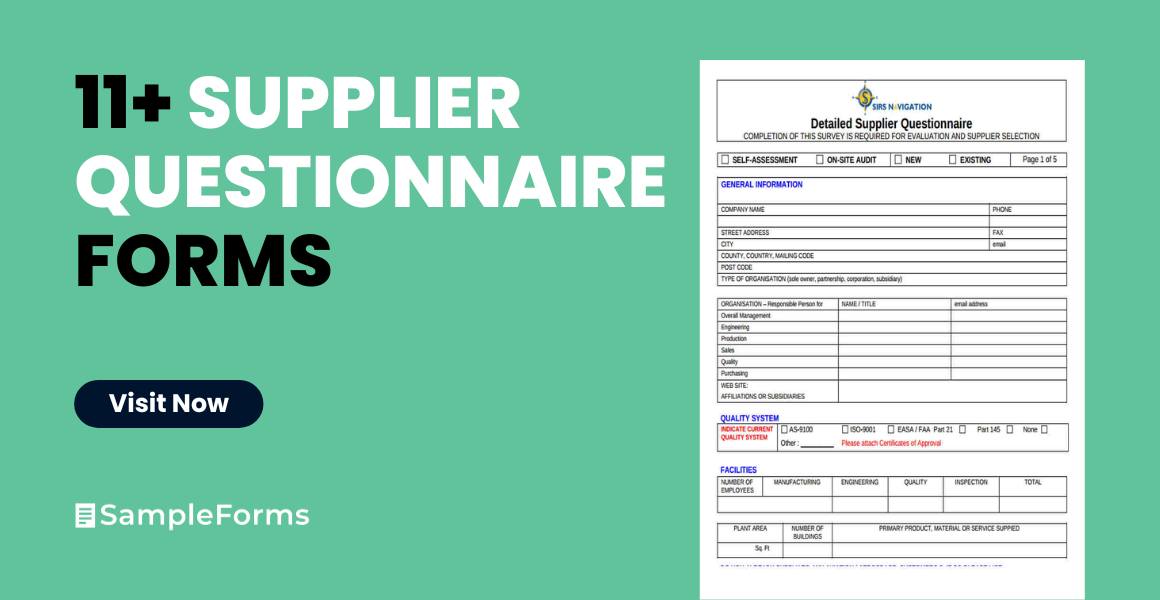 Lots of people use Questionnaires and Surveys when they need to know more information about a specific topic. For instance, a certain establishment uses customer service surveys so that they may be able to figure out just how well their customers feel about how the employees are assisting them.
Questionnaires are a great type of research method that allows you to obtain information in a quick and efficient way. As long as you keep the questions to the subject that you want to find out more on, then there should be no problems with gathering data which can show conclusive results.
Supplier Quality Questionnaire
Raw Material Supplier
Supplier Evaluation Form
Questionnaire Assessment
Supplier Approval Form
Vendor Qualification Questionnaire
Why Must One Complete Supplier Profile Questionnaires?
The reason why someone has to complete these questionnaires is because companies need to know the type of person they're hiring before they become their official supplier. This is why there are a ton of supplier questionnaire form samples that provide all the necessary questions that see what kind of people would be best suited to become a supplier. If you do answer these, make sure that all of your answers are the ones the business is looking for.
How to Appraise Suppliers
If you're going to start appraising any kind of supplier, you're going to have to know the following information:
Name of the supplier
The suppliers contact details along with the address
The specific type of products that they supply
The quality of the product that they supply
Making comments on how these suppliers communicate with the company and provide the materials they have
Think of these as Buyer Questionnaire Forms, but instead of asking questions that a buyer can answer, you're asking the supplier questions on how they fare with their services and products. Just be sure that you take all of that information into account when assessing your supplier.
Supplier Self-Audit
Supplier Pre-Qualification
Supplier Sustainability Form
Database Registration Questionnaire
Supplier Appraisal Questionnaire
Detailed Supplier Questionnaire
6 Tips for Creating Supplier Evaluation Questionnaires
It's always best that businesses understand  the level of quality that any of their suppliers bring to them. Which is why if you're going to make supplier questionnaire forms, then use these tips to help you out:
Keep the questions short and concise
Ask clear questions
Check the questions for any mistakes, especially grammar and spelling
Avoid asking two questions in one
If you ask a question, phrase it in a positive rather then a negative sense
Make sure that the questions being asked are related to the job in which suppliers undertake
Questionnaires are great for any company or organization. Good examples would be when one establishment uses a Food Frequency Questionnaire Form to see how frequent one consumes meals or when using Financial Questionnaire Forms to see where certain people stand in terms of their finances.
When using these questionnaires, businesses will be able to determine all the factors that highly affects the level of performance, as well as the quality of products and services that certain suppliers may provide them with.
All you have to do is know how to utilize these form so that you'll be able to gather the necessary information you need to provide certain services, or to gain more knowledge about certain subjects.