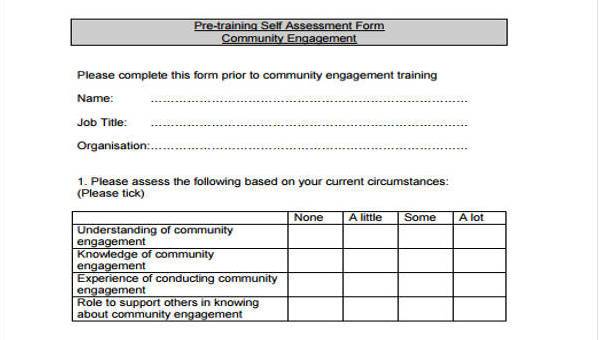 Everybody needs some form of training. Whether it's to get a job or if it's for an upcoming sports competition, they need to make sure that they're fully capable of doing anything that they're required to do, and they need to make sure that they do it really well.
Training can really improve the skills and abilities of a person. It also makes them better in certain areas where they can improve.
However, how would they know if they gained anything from the training? They must properly assess themselves and they have to do a proper evaluation of the training they underwent. What better way to do that than by using Training Assessment Forms?
Pre-Training Self Assessment Form
Training Self-Assessment Form Sample
Personal Training Assessment Form
Post Training Assessment Form Sample
The Different Kinds of Training Assessment Forms
There are lots of types of Training Assessment Forms that help those individuals properly assess the kind of training that they went through, whether that training was a personal choice or not. Here are some examples of these types of forms:
Pre-Training Self Assessment Forms are used by those companies or establishments that want applicants of their training to assess themselves before they start the actual training. This lets companies know if these people are ready for the training  or not.
Training Self-Assessment Forms are the kinds of forms for those who wish to conduct a proper assessment of the current progress of their training. These help them figure out if they're actually making any good progress with the training or not.
Post Training Self-Assessment Forms are for those who wish to do a proper assessment of themselves at the end of their training. These help them figure out if they gained anything or if they somehow improved at the end of the training or not.
Personal Training Assessment Forms are mainly used by those who undergo personal fitness training. These are to see if a person has any commendable results by following their own personal training.
Safety Training Needs Assessment Form
Employee Assessment Form
Training Physical Assessment Form
Pre-Training Assessment Form
Skills Training Assessment Form
The Importance of Having Training Assessment Forms
Training Assessment Forms are somewhat similar to Project Assessment Forms. A Project Assessment Form comes in handy when someone assesses the details of a project and determines if it's going to have any form of impact. A Training Assessment Form is the same in the sense that it comes into play when someone wants to see if a certain kind of training will impact anything such as his performance or physique.
Keeping records of how well you're doing during your training can be very helpful as it helps you figure out just how far you've reached and how you're performing. If you have a goal that you wish to achieve by the end of the training, then assessing how you're doing is really helpful in letting you know if you should put in more effort to reach that goal.