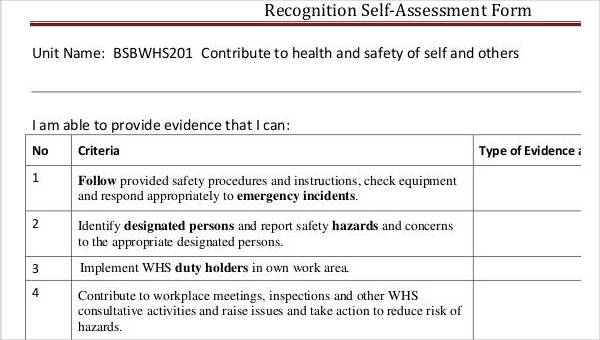 A Self-Assessment is the process of evaluating one's actions, attitude, or performance in order to measure one's capacity and capability and to determine if an individual was able to meet a set of goals and objectives.
Self-Assessments are an integral tool used for self-development and thus provide critical and constructive results that can help in fostering growth and development. You can download our Self-Assessment Forms to use in the office, in school, or in business. We offer a wide array of Self Assessment Forms that range from employee self-assessment to marketing self-assessment templates. Our sample forms are free and are easily accessible to help you get what you need without the hassle or the inconvenience.
Employee Self-Assessment Forms
Free Employee Self-Assessment Form
Employee Performance Self-Assessment Form
Employee Self Evaluation Form in PDF
Student Self-Assessment Forms
Annual Student Self-Assessment Form
Research Student Self-Assessment Form
Neurology Student Self-Assessment Form
School Student Self-Assessment Form
Teacher Self Assessment Forms
Teacher Self Assessment Form in PDF
Faculty Teaching Self-Assessment Form
End of Year Teacher Self-Assessment Form
What Are Self-Assessments?
Self-assessment are also dubbed self-evaluations. There are different environments and fields that use self-assessments so that the higher management can be aware of what people think about their performance. The usage of self-assessments ensure that the improvement and developmental plan begins at a two way process where both entities within the procedure are aware of why a particular call to action is needed and necessary to be implemented. Oftentimes, schools and work environments use self-assessment procedures or self-evaluations to gauge the performance level of their staff. In a school setting, evaluations are usually done to determine a student's level of understanding. Self-Evaluations require cautious reflection and must be done in a targeted method where self-evaluation is given in an unprejudiced sentiment of one's qualities, shortcomings, and capacities.
The Uses of Self-Assessments
1. Encourages Employee Interaction
If you factor in the results of an employee's self assessment into your performance management process, this encourages employee interaction in the company's performance appraisal procedure.
Rather than simply being the person who always chews on feedback that is given by supervisors, employees are given the chance to participate and to express their ideas and thoughts which can somehow help to shape their performance appraisal and scores. This active participation helps them to be more engaged with both their performance and the overall review process.
2. Gives Managers a Broader Perspective
With the appropriate and objective usage of self-evaluation forms, managers will know why a particular person performs the way he/she does. The way we think of ourselves and the way we measure our capabilities as well as our effectiveness can affect how we also look at things and processes where we have been a part of. It is essential for employees to rate and assess themselves so that the management can have a spectrum where differences and similarities occur between the assessment of the person and theirs. Perceptions differ from one person to another. However, in a work environment, it is very important for perceptions to match especially when work performance is already the subject of discussion. Using a Self-assessment process can also help an employee be more aware of his/her strengths and weaknesses. With this, room for improvement will be given accordingly especially when the management is very keen with helping their employees develop their skills.
When supervisors let employees fill out a self-evaluation prior to providing evaluations, they are able to provide more knowledgeable insight into an employee's perception and performance, even for supervisors who work closely with employees, especially since it is not always conceivable to see the whole picture and see every one of the variables that influence employee performance. Having the employee finish a self-appraisal allows the supervisor to view performance through their eyes and allows them to put themselves in the employee's shoes. It can likewise help the supervisor comprehend their employee's strong qualities and shortcomings from the employee's point of view, and additionally aid in providing the necessary tools needed for improvement.
3. Helps to Identify Varying Perceptions
People generally have different opinions and means of perceiving an individual's performance. Although a lot of people would usually assume that supervisors are always privy to their employee's traits and characteristics, this is usually not the case. Oftentimes, even an employee's self-assessment is used by a supervisor as a basis for his own evaluation.
An employee Self-Appraisal can help to identify differences in perception that might not be so obvious at first. This helps managers to appropriately prepare for their evaluations and the feedback and action plans that they need to discuss with the employee to make sure that a fruitful communication process is initiated and that the employee will be able to show improvement.
4. Enables a More Constructive Discussion of Goals and Objectives
Successful management requires a continuous, two-path discourse between a supervisor and an employee about performance, needs, and difficulties. A performance management program that incorporates an employee's self-examinations formalizes this two-way exchange, maintaining a strategic distance from top-down assessments that frequently serve to demoralize or separate employees. It can likewise settle in this crucial two-way discourse in the company or the organization's administration culture.
Candidate Self Assessment Forms
Professional Progress Candidate Self Assessment
Candidate Self Assessment Checklist
Self-Assessment Worksheet Forms
Office Self-Assessment Worksheet Form
Teacher Self-Assessment Worksheet
Employee Self-Assessment Worksheet
Register Self Assessment Forms
Register Partner Self Assessment Form
Insurance Register Self Assessment Form
Soils Self Assessment Form
Acid Sulfate Soils Self-Assessment Form
Market Self Assessment Form
Network Marketing Self-Assessment Form
Partnership Marketing Self-Assessment Form
Market Stream Self-Assessment Form
Carer's Self Assessment Forms
Sample Carer's Self Assessment Form
Carer's Supported Self-Assessment Form
Community Self Assessment Form
Community School Climate Self-Assessment Tool
Readiness Community Self Assessment Form
Community Pharmacy Pre-Opening Self Assessment Form
Trailers Self Assessment Forms
Food Safety System Self Assessment Form
Single Trailers Self Assessment Form
Medical Self Assessment Forms
Example of Medical Self Assessment Form
Confidential Medical Self-Assessment Form
Study Abroad Medical Self-Assessment Form
Health Care Provider Accreditation Self-Assessment Form
General Employee Self-Assessment Form
How Do You Conduct a Self-Assessment?
Writing an assessment about how you think you perform can actually be awkward and uncomfortable at some time. This only happens a few times in your life where your rating can actually affect how you are perceived by your employers may it be based on your performance or character. With this, you need to make sure that how you perceive your performance will be a reflection of your actual deliverable. Your Assessment should be based on how you perform in the work environment and not on how you think you should look like through the eyes of your employer. Always remember that self-assessments are up for evaluation so it is better to be truthful with how you think rather than feel sorry when you are called for a meeting as your assessment does not match with that of your superiors.  
Do not be too conceited when doing self-assessment. Remember that the document is needed for the management to identify how they can help you. Hence, you need to make sure that you will properly specify your strong and weak points. Being honest can do a lot of things as it can be your door to open up about your work struggles. More so, it can also help you climb up the work ladder especially if a great self-assessment matches the great reviews of your bosses. Listed below are the processes that you may incorporate when making your self-assessment.
Promote Yourself and Your Strengths
Use self-assessments as a chance to promote yourself and to highlight your achievements and how you were able to make a positive impact on the company. Do not feel embarrassed to flaunt your skills and talents and inform your superiors on how your efforts have caused a positive and dramatic impact to the company as a whole. Though it is not that necessary to brag about how you have helped the operations of the business, it can also be good if you will mention some of the key points where you have been an additional value to your team. With this, your managers can see how you give importance to your work which in turn can help them notice the deeds that you have done that contributed to the improvement and development of the entire team. An example of conveying this area to your superior may sound like this: "I was able to close 18 auto loan deals this month, which greatly helped in the dramatic increase of our sales rating up to 4%."
Be Transparent about Your Faults
It is a fact that your self-assessment will not always be about the great things that you can provide the company with. you should be transparent and accepting when it comes to accepting your faults in the working environment or the gray areas where you need help. A Self-Assessment can only be fully maximized if you will own up to your weaknesses. This way, the management can see your improvement from time to time. In the long run, this will allow you to present the changes that occurred with your performance causing for a better self-assessment in the future. You need to be able to show that you are more than willing to grow with the company.
When doing your self-assessment, you do not need to promise a lot of things about how you will change to become a better employee. What you can do is to admit your faults and provide information on how you are able to cope up with particular situations where your weaknesses are shown. This way, the company will know that you are brutally honest when it comes to specifying your weak points. The first step to improving is by admitting that you need to improve on particular areas – and the way that you handle your weaknesses and present it to the management will surely be appreciated.
Discuss Challenges with Your Boss
You need to showcase your humility if you really want to be noticed by your bosses in the right light. We are humans, and we commit mistaken. Openly discussing the work issues that you have can make your boss be aware of what to improve on. Your weaknesses can actually be a combination of your own gray areas, the weak points of the management, and the environment where you are currently immersed in. Hence, being honest with your situation can also be of help in the improvement of the entire work flow as well as the management. If you want to achieve your professional goals, make sure to discuss your weaknesses so you can have an easier time to address them.
Open Up about Your Plans for Career Growth
As a professional, we all want to experience being promoted. A higher position means that you are considered to be one of the assets of the business. Promotion also is one of the goals of employees as they enter a professional environment.
However, being promoted requires you to present a good track record. Evaluation how you perform through self-assessment can show how organized you are when it comes to listing down the things that you have contributed to the business. As an, Employee, you need to be aware how your deliverable affect the business. This will allow you to make a stand on why you should be up for promotion.
In terms of your career, you need to be careful with the steps that you make in the corporate world. That includes the way you answer self-assessments. Though deemed as a simple document, the content of a self-assessment form can actually play a vital role on how employers will profile you especially in relation to career development opportunities. Some of the things that you need to be keen with when doing your self-assessment are as follows: What are your strengths and weaknesses? What were you able to achieve in your work? What are your talents and values? Do you harbor the same values and principles as with the company you work for? What is your dream job and why? Do you love your job? Why or why not? Are you passionate about the work that you do? Why or why not? What can you do to make your work more fulfilling?
Be Professional
Your self-assessment will identify how truthful and objective you are when it comes to evaluating the way you perform as an individual in a working environment. You need to be savvy and smart when making your self-assessment. The selection of words in the document where you will fill your evaluation can also affect how you will be perceived by the management.
You can showcase that you are a well-cultured member of the company if you will be honest with what you will put in the assessment. Always be keen with the details that you will incorporate in your review as it can be used either to make or break your career aspirations.
Be reminded that a Self-Assessment form does not require you to specify that you are the perfect employee. More so, it does not require you to talk bad things about other people just so the business can see that you are better than your co-employees. What you need to do is to be professional and give information about your strengths, the things that you do for the business, the items that you are great at, and the technical skills which you use on a daily basis to be a productive employer.
Pack Unit Self-Assessment Form
Daycare Self Assessment Form
Daycare Children Self Assessment Form
Business Self Assessment Forms
Small Business Self Assessment Checklist
Food Business Self Assessment Checklist
Business Impact Self-Assessment Form
Employee Self Assessment Forms
Sample Employee Self-Assessment Form
University Employee Self-Assessment Form
Appraisal Self Assessment Forms
Appraisal Self Assessment Template
Performance Appraisal Self Assessment Form
Provider Self Assessment Form
Residential Provider Self-Assessment Form
Apprenticeship Self Assessment Form
Apprenticeship Self Assessment Review Form
Self Assessment Questionnaire
Supplier Self-Assessment Questionnaire
Patient Self Assessment Form
Outpatient Self Assessment Form
Recognition Self Assessment Form
Recognition Criteria Self Assessment Form
Review Self Assessment Form
Ethical Review Self-Assessment Form
Staff Self Assessment Form
Professional Staff Self Assessment Form
Workstation Self Assessment Form
Office Workstation Self Assessment Form
Computer and Workstation Self Assessment Form
University Workstation Self Assessment Form
Competence Self Assessment Forms
Cultural Competence Self-assessment Checklist
Leadership Competency Self Assessment Form
Sample Competency Self Assessment Form
Carefully Reflect on Your Evaluation
Don't finish your self-assessment in just one go. Take the time that you need to make sure you are able to accomplish it clearly, properly, and objectively. You have to keep in mind that your Self-Assessment dictates your self-worth. Let your supervisor see how much you appreciate yourself by coming up with a well-constructed and carefully thought-of Evaluation.
Learn about Proper Documentation
With the self-evaluation processes being present at least once or twice within an entire year of operations, you need to make sure that you will properly document the things that you are doing in the office. Your conduct within the vicinity of the business and how you treat other people should also be well-documented. More so, you need to be specific with different instances and how you react to them so you can have strong points to discuss during your self-assessment.
Be careful when it comes to putting together all the information that you will present as you need to make sure that you are highlighting your skills, talents, and abilities without putting shade to other employees or even to the business. You need to be professional when discussing particular instances so you will not offend the management in any manner.
The findings within a self-assessment document is highly-usable in the processes followed by the Human Resources. It is important for the human resources department to collate data from different resources and sources before creating a sound decision. Through the help of your self-evaluation, they will be able to identify if you are aligned with the management and your supervisors when it comes to identifying your productivity at work. This is the reason why you always need to ensure that you are basing your assessment on facts and actual occurrences.
May it be a Work Performance Assessment Form or a character self-assessment form, always utilize the instances that can show what kind of employee you are. Stress the positive impact that you have given to the business so you can be deemed to be an effective part of the workforce.
There are already different kinds of self-assessment forms that can be browsed through and downloaded online. When using a template or a sample as a reference, make sure to select the one that is appropriate, related, and relevant to the operations of the business. This way, you can have a document that is effective, usable and worthy to be used.