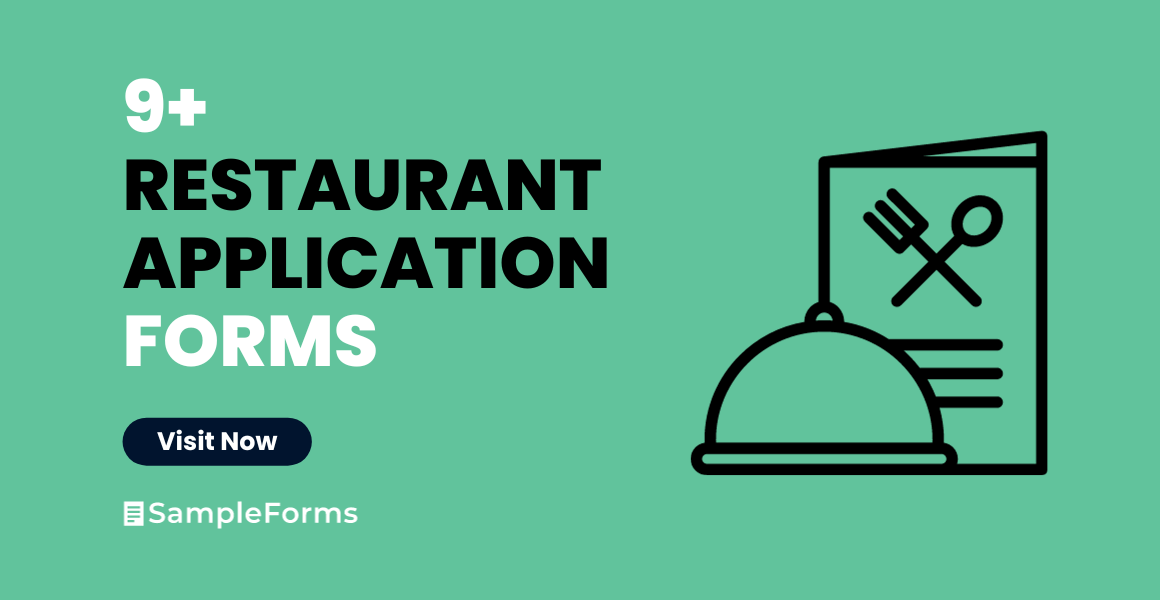 If you are planning to apply for a job or membership at a restaurant, you need to tailor your resume in the desired way, so that you can break the ice without any problem. Since these jobs require specialization in certain areas, you should mention these skills clearly in the application. A properly crafted document can deliver good results, and you will get hired soon. Check out the Application Forms – file format from the examples given below to know the format.
Restaurant Job Application Form in PDF
In this template, the personal information of the employee is presented in the first section. Then the desired employment position is mentioned, along with other specifications. The previous experience and references are included in the end.
Restaurant Employment Application Form Downloadable
The information is divided into different sections in this application form. These include personal history, military history, employment history and so on. The information is presented in a tabular form in this application. You may also see General Application Forms.
Restaurant Application Form in PDF
This application form provides the employee with options with respect to the choice of restaurant, salary expectation and so on. The template is colorful and there are attractive font variations in it.
Blank Restaurant Application Form
The application form is segmented here, with specific information about the personal details and job preferences of an employee. The previous experience, educational details, and all the relevant information are included here. You can also see Grant Application Forms.
Restaurant Insurance Application Form for Free
These forms are to be filled up by the restaurant authorities when they apply for an insurance. The personal information, details of the restaurant including the premises and other related information are included in separate sections.
Restaurant and Tavern Application Form
This application has several parts and the relevant information is included in each of these parts. It begins with the names of the owners and their personal detail, followed by business information, financial information, and related details. You may also see Application For Employment Forms.
Restaurant Membership Application Form
This form is meant for getting a membership at a restaurant. The membership level, type of business restaurant information and other details are included under different sub-heads in this template.
Food Service License Application Form for Restaurant
The first section contains information related to the restaurant and personal details of the owner. Then other information is included in the form of different sections and is separated from each other by individual boxes. You can also see Sample Employment Application Forms.
Simple Restaurant Application Form
Uses of The Restaurant Application Forms
A restaurant application form is beneficial both to the applicant and the recruiters at the restaurant. These forms contain important information about your skills and the previous employees. In certain cases, the educational qualifications and special training are also required. The recruiters find it easy to assess your abilities when you have all these details incorporated in your resume. Apart from this, the restaurants may be specializing in a certain category of food Your application states your ability tin handling that respective responsibility.
Target Audience
Restaurant application forms may be of different types, according to the variable target audience. For instance, you may be a chef, looking out for a job at a restaurant. In this case, the application will be carrying your cooking abilities, a brief history of your past employers and the areas in which you specialize. If you apply for other positions like sweepers or cleaning personnel, you need to craft your application in the desired way. Restaurant membership applications are to be tailored according to other lines. You may also see Employment Application Forms.
In case you need Restaurant Reservation Forms, you can browse through the website and download the templates that are suitable for your purpose. These restaurant application forms are developed for specific purposes, and you will find it easy to get across to your goals when you avail these application forms.