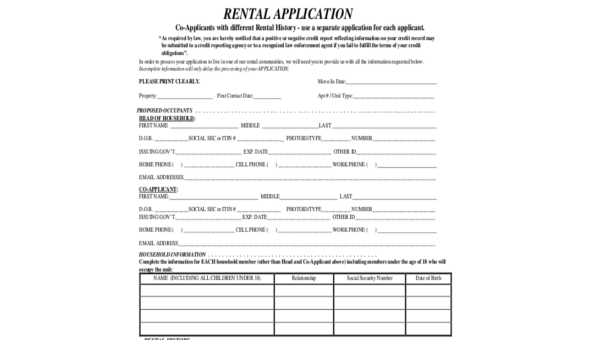 A tenant is the bread and butter of the land-lording industry. But finding the perfect tenant is not as easy as it sounds; you could either fall prey to renters who are notorious for intentionally damaging leased properties, or renters who have questionable financial stability.
Our Rent Application Forms are a great way to increase your rate of trustworthy potential tenants and decrease the number of bad ones. By having an Application Form, skimming through a list of candidates will be a breeze and will save you a lot of time and energy. Our Lease Application Forms are downloadable, easy to access, and printable too.
Rent Application Cover Letter
Application Form for Tenants to Rent
Application Form to Rent Residential Premises
Room for Rent Application Form Example
Rent Application Cover Letter Sample
Simple Apartment Rental Application
The Importance of a Lease Application Form
Means for Credit Checking
Typically, a Rental Application form will contain the names of both the lessor and the lessee, contact information, identification details, and references.
As the landlord, the state gives you the right to do a thorough credit check on your potential tenant to guarantee that their financial background is sustainable enough for the lease.
Contacting references that an applicant has provided in their Lease Application Form also enables you to check on their credibility and will serve as a point of character reference. If the information you have gathered does not give out a positive result, look for a different tenant.
Be extra cautious with any verbal agreements that are being discussed with a renter as these can be legally binding.
Non-Disclosure Clause
Along with the privilege of gaining access to private information relevant to the tenancy, acquiring information also requires a non-disclosure clause wherein the landlord is obliged to use the information responsibly and solely within the purpose of gathering the necessary details to check on a renter's financial capacity to pay and to verify if the details provided are correct and true. It is the landlord's responsibility to secure any information being provided by the renter and to ensure that this information is not used outside the purpose of tenancy.
Free Application to Rent Form
Sample Application for House Rent Allowance
Rent Assistance Application Form
Application Form to Rent
Serves as Reference
Any formal agreement should come in writing. Even in today's digital age, the importance of having a hard copy of a written agreement provides quick and easy access for references and – believe it or not – is hassle-free. Old-fashioned as it may sound, a tangible form is the best route to go.
Printable Lease Application forms are also the quickest way to categorize your applicants and narrow them down in an objective way according to your set standards.
Rental properties are big investments that need to be protected. As a landlord, it is important that you are able to specify your requirements and expectations to protect yourself and your investment. A detailed lease application form along with the necessary credit and reference checks saves landlords from unwanted trouble with tenants, unpaid debts, and misuse of property.
Our Rental Application Forms will help you get the best of both worlds. They're easy to use, downloadable, printable, and cover all the key points that make an efficient Rental Agreement Form.