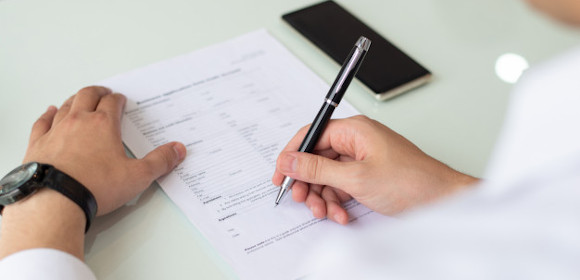 Have you ever been stuck in the middle of two milk brands? If so, you also must have had a hard time whether to pick the regular or non-fat. We cannot deny that market options have a way of influencing the consumer's last-minute buying decisions. But what does consumerism truly mean? Is it to base our purchases on what we need or on our options? This article will tell you how to utilize your choices with option forms and its impact on the retail industry and other sectors. Continue reading below.
FREE 50+ Option Forms in PDF | MS Word | MS Excel
What Is an Option Form?
An option form is a printable form essential to several work operations. It is used to avoid long and controversial transactions relative to those operations. The concept of option forms is to put practical boundaries in terms of responsibility on the user's part to choose wisely.
Advantages
Using an option form creates focus and brings seriousness to the relationship of the process. When a user has limited options, he or she will take a realistic view of decision making. As a form document, an option form can collect data that are essential for the process. Here are more of its advantages: (1) The fillable form user can combine limited options; (2) a compulsory option will make sure to eliminate unnecessary choices; (3) an advanced option form will limit the number of undecided users; (4) it promotes positive decision making; (5) the option form will ensure the reduced duration of transactions.
Risks
On the other hand, a user has to rethink about compulsory options because it might be better than the first one. Although option forms are made to create awareness of the user's choices, it could trigger confusion. More risks of using option forms below: (1) aside from compulsory options, users should think about non-compulsory options too; (2) a user should observe proper judgment whether to take the option or not; (3) the users should be critical of filling out the option form so that they would not regret their choices later on; and (4) having multiple option forms could negatively impact your decision making.
Why Are Options Important In Making Decisions?
We make a lot of decisions every day—some are easy, and others are complex. According to an article posted on Forbes' website, many options guarantee no winning alternatives. In this case, many alternatives are the same—bombarded with unknown logic that does not have a definitive choice. The impact of our decisions on the outcome, time, feeling, and connection becomes extremely important. That is why options are fundamentals in our decision-making.  It focuses on the process of choosing rather the process itself.
1. Making Better Decisions
Having many options does not mean you will make the best decision. Instead, your decision is more likely to be influenced by these traits: fatigue, enthusiasm, and authority. All these will contribute to making ideas that are cohesive, fervently expressed, and the obvious favorite of people.
2. Save Time and Use Resources Efficiently
If there is no clear process, you cannot achieve your desired outcome. This has been proven true, whether in finishing tasks or decision making. A logical process will waste no time and make use of your resources at the right time. Also, it will teach you to follow the process in sequence.
3. Contribute More Effectively
Understanding your options will get everyone on the same page as quickly as possible. Thus, they will know what to expect and how to contribute. Also, the process will help them take one step at a time with great clarity.
4. Professionally Improve and Grow
Given that the process is highly instructive, the options will improve your ability to come up with relevant information. Understanding this information is the building block of greater opportunities relative to your career as a professional. Thus, options on top of the process will provide significant leaning.
5. Accomplish Faster
You can achieve your goals fast when you know exactly what you are trying to get. That does not require further explanation. Your speed will come from great clarity of purpose, process, and options.
6. Commit Stronger
Many will strongly commit when they believe their options are based on logic, information, and fairness relative to the interests represented. When people understand the process as carefully and thoroughly, they will stand along with the decisions, even if it turns out to be unrealistic.
7. Your Satisfaction and Engagement Will Improve
Both satisfaction and engagement are hot topics in the business industry. These hook on how you can quickly and effectively contribute and whether the company you are working with operates to create a commitment or not. Take note that your decisions are based on your options, and it will affect your satisfaction and engagement.
8. You Will Be Focused
You will want to be instantly involved if you do not trust the people who are making decisions for you. You will try to prevent disaster and avoid surprises with the options you have on hand. Based on an article posted by Forbes, it is human nature. By creating a clear process and purpose, you will learn to trust the system and get loose. When this happens, people can continue their priorities and improve their ability to focus.
9. A Stronger Sense of Ownership
If you are to make decisions, make sure to do it one at a time. This will require more specified options. Working on numerous decisions will keep you going in circles; hence, a waste of time and resources. If you add clarity in your options, you will understand that you own each step of the way.
10. Make Fewer Mistakes
Since decisions are common, understandably, there is also room for errors and conflicts. The bad thing about this is that it creates an unclear ending, especially because an erroneous process will lead downhill. The aftereffect is people walking out of the room with the wrong ideas.
What Are Some Commonly Used Option Forms?
Giving someone options is a better way to provide for their needs. This goes to all working and non-working people who always encounter transactions daily. Whether you like it or not, some transactions need quick decision making. And with options, you can easily decide on your choice. Although making some decisions could take some time, these forms will carry out options that are suitable for the process. With that, you will never have a hard time making choices. Find out more below.
1. Credit Card Payment Option Form
A credit card payment option form is a document used to request how the advance payment must be made. This form, along with other bank forms, is essential in bank transactions. It carries out confidential details only the account owner and the bank have access to.
2. Solution Option Details Form
The solution option details form a document that contains alternative details for the subject presented. On top of that, it also entails actionable steps on achieving goals, completing projects, and hasten tasks with the help of other options aside from the original line up.
3. Option Registration Form
An option registration form is a document that contains several options relative to registration, whether for events, organizations, or businesses. This form aims to let the user decide on his or her choice without feeling pressured. If you are to fill this form, you should take your time.
4. Option Vacation Form
The option vacation form is a common document in companies. It is used by employees who are going on a business trip or vacation leave. The form will give them time to think about their trip. Also, this makes the travel authorization process smoother and faster.
5. Option Payroll Form
An option payroll form is essential to the human resource industry. It selects whether to deposit or pay card for salary payment directly. This form makes salary transactions faster and more accurate. With the ability of the form to choose the advance payment terms, it has become crucial in small-business transactions.
How To Create an Option Form That Works
You have two options in making the option form—manual and digital. Digital forms are more convenient to create because there are editing software and applications that you can use, such as a google sheet, google docs, or excel spreadsheet. In comparison, manually crafting the option form will give you up-close observation, which means you can pay more attention to it. But, whatever option you are to choose, we made these steps that are suitable for the two methods. Remember, it is not a race, so take your time:
Step 1: Start With a Plan
You cannot make the application form, order form, request form, evaluation form, or appointment form without a plan. That said, you need planning to create an option form. A plan will help you set out goals and establish actionable steps in achieving those goals. But if you find it challenging to begin, answer these questions, and planning will be much easier: Why is there a need for a project plan? What is expected in creating option forms? Is planning necessary? The answers to these inquiries will be the objective of the plan. After that, you can continue planning.
Step 2: Provide the Relevant Details
Providing the relevant details into the option form is a crucial part. In this portion, you have to make sure that all the details are correct. Your way around this is familiarizing the process in which the option form will be used. This way, you will have an idea of what it is all about. By that, you can incorporate the required fields—the spaces where the user can fill out the needed information. You can even put a checkbox if necessary.
Step 3: Use a Template
Like crafting the best contact form, consent form, membership form, sample report form, and reservation form, making the option form needs a template. However, this is optional. Using a template will make your life easier because it has editable suggested content, downloadable format, and printable output. But, for those who prefer to start from scratch, you can refer to old forms on the internet or libraries. It will give you ideas about what an option form truly is. 
Step 4: Update the Form
After days, weeks, and months of using the option form, there could be changes in the transaction where it is being used. In this case, you have to update the content of the form, so it stays relevant and useful. But if you intend to let it out of date, you can append to make new form along with the petition form, education form, business form, services form, and payment form.
FAQs
Robert Half once said, "It is easy to make good decisions when there are no bad options." However, once in our life, we have to take the bad options to appreciate good ones. And, that is why we need to keep our doors open for more options.