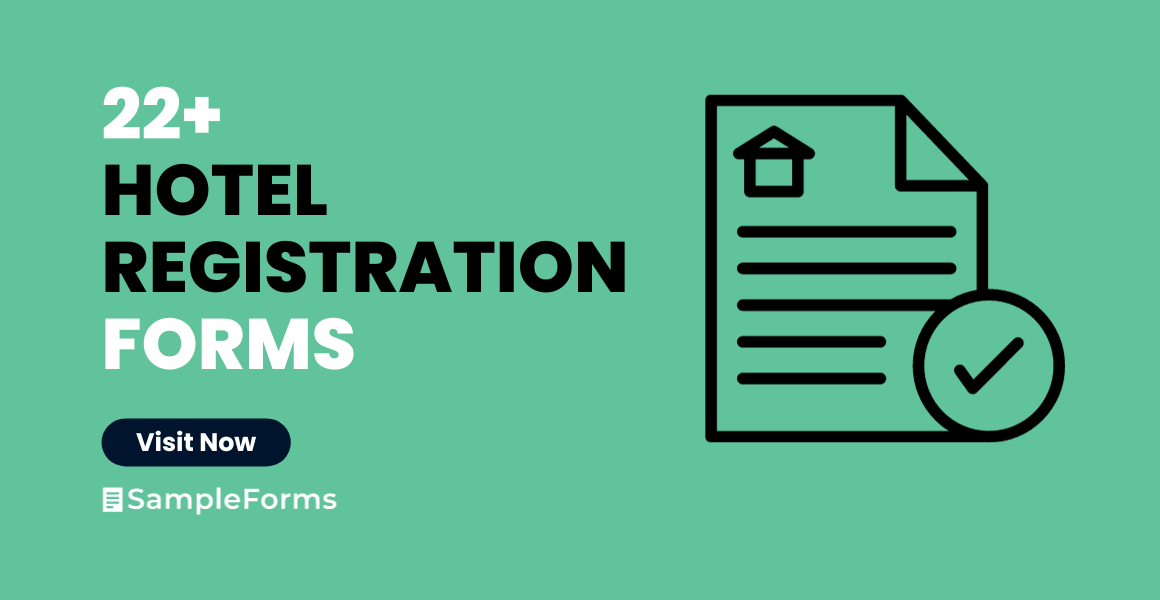 If you have ever checked into a hotel, odds are you may have noticed you are required to fill out a certain document before you are actually allowed to enter your room. This document is a hotel registration form, and the exact purpose and definition of this document will be explained later on.
Registrations are a common thing when it comes to determining who will attend an event or be requesting access to a certain area. In terms of an event, an event registration is needed so as to determine who attended the event as well as what time they arrived and what time they left. This type of process proves useful in managing and controlling the number of people in a certain area.
Hotel Guest Registration Form Samples
Hotel Guest Registration
Free Hotel Guest
Hotel Vendor Registration Forms
Conference Vendor
Vendor Exhibitors
Non-Exhibiting Vendor
Sponsor/Vendor Registration
What Is a Hotel Registration Form?
A hotel registration form is a type of registration form used to keep track of the number of residents occupying the units of the building. It gathers information about each of the residents. This step in the process allows hotel employees to determine what kind of services the resident may want, also allowing contact of the resident as needed. Hotel Registration Forms are a requirement for any resident, whether they will be staying for a short amount of time or an extended (if not permanent) amount of time.
What Is Pre-Registration in a Hotel?
Pre-registration simply means that the person has already registered ahead of time, be it for an early release of a new game, a new movie, or for concert tickets. This type of transaction is typically called "booking" or "scheduling," where the objective is to  gain a reservation as well as information without having to be processed on the date itself. In fact, for many exclusive events, it would already be too late by then.
In terms of pre-registration in a hotel, it is simply registering or reserving a room in advance by answering a Hotel Reservation Form and stating when the hotel can expect you to arrive. This type of registration is most preferable thanks to the convenience of allowing the hotel to make the necessary preparations beforehand, sparing you the waiting list.
Hotel Management Registration
Hotel Booking Registration
Hotel Customer Registration Form
Attendee Registration Form
Hotel Registration Form Sample
Hotel Check-In Registration
Hotel Accommodation Registration
Conference Registration Form
What Is the Difference between a Hotel Registration and a Convention Registration?
The primary difference between hotel registration and a convention registration is its usage. Simply, a hotel registration is for registering a room in a hotel for residential or even convention purposes, while a convention registration is simply used as a means of registering for a convention regardless of where that convention may take place.
There are other differences between a hotel registration and a convention registration form, these differences being:
A hotel registration is a means of identifying which room the resident can occupy within the duration of their stay, while a convention registration is simply used to allow or deny access to the convention depending on the type of requirements necessary.
A convention registration typically requires very little information about the guest—usually just their name, age, gender, and their convention/membership number—while a hotel registration will require you to submit a lot more information, such as the guest's preferences, arrival time and departure time, type of room or suite, method of payment, unique registration number per guest, as well as contact information.
A hotel registration will also require you to pay the entire cost for your stay up front. A convention registration will allow you the choice of paying the full amount to attend the entire convention (conventions sometimes takes several days to finish) or just for some of the scheduled dates and events of the convention.
Registration forms comes in different types and styles. Other examples of registration forms aside from these include Vendor Registration Forms and Supplier Registration Forms.
Hotel Metropole Room Registration Form
Hotel Tax Certificate of Registration
Hotel Registration Form Example
Press Hotel Registration
Supplier Registration Form
Application for Hotel Reservation
Free Hotel Registration
Event Registration Forms
Special Event Registration
Member Event Registration
Sample Hotel Registration Form
How to Check for Your Hotel Registration Number
Checking the hotel registration number is actually quite simple. Just look for the unique number assigned to your hotel registration form. Each hotel registration form is required to have a unique registration number to distinguish each resident's papers from the others.
In the event the number is not visible on the form you fill up, there should still be a unique number assigned to your form once it is processed by the hotel personnel.
If you failed to catch it the first time when filling up your hotel registration form, don't worry; there are means of finding your hotel registration number. You can simply approach the receptionist of the hotel and request to speak with the hotel manager in case the receptionist is not allowed to disclose that information. Discuss with the manager the reason you need to know your registration number, and why you failed to catch it the first time.
Hotel registration forms are basically a hotel's version of a Customer Registration Form where the objective of the form is to identify the customer or client so as to better serve the customer or clients needs. In a way, Event Registration Forms behave in a similar fashion with a similar purpose.