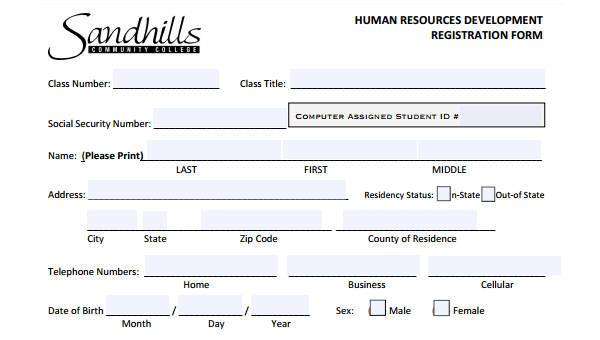 Human Resources is the department in any organization that deals with hiring, training, and administrating of employees. They basically employ people and make sure that they abide by the company rules and regulations. Along with making sure that employees follow the company's rules, they also orient new employees.
Like any other departments in an organization, they have Registration Forms for various purposes, like new employee registration and HR development registration among others. Registration forms make everything easier to file and keep track of, and are used to collect information for whatever purpose it may serve. Having well-thought-of registration forms helps companies be professional and organized.
HR Development Registration Form
HR New Employee Orientation Registration Form
HR Access Request Form Sample
HR Risk Management Helpline Registration Form
HR Eligible Individual Form
Types of HR Registration Forms
HR Development Registration Form: This is used to register for a Human Resources Development Program, which is a program designed to help unemployed or underemployed adults gain the skills they need to reenter the workforce. Their skills are going to be assessed and they will be trained. They will also be provided with career counseling.
HR New Employee Orientation Registration Form: This is used to register new employees for an orientation. Details about the orientation should also be included in this form.
HR Access Request Form: Certain organizations provide limited access to some of their employees and only allow authorized personnel in restricted areas. Employees are also required to sign a Confidentiality Agreement to protect sensitive and confidential information that the employee has access to while employed in the company.
HR Risk Management Registration Form: This is filled out by organizations who would want to hire a third party company to help them with their risk management in HR activities.
HR Eligible Individual Form: If an employee does not have a spouse or is not married, he may enroll one individual for health and dental coverage. This form is used for such purpose. Guidelines on who are considered to be eligible individuals are also stated in this form. Aside from this, you may also see our Event Registration Forms for registering attendees to an event.
HR Registration Form Example
Fillable HR Registration Form
HR Training Registration Form
HR Management Employee Details Form
Oxford HR Registration Form in Doc
HR Training Registration Form: This is a form used to request enrollment in training sessions for employee development.
HR Management Employee Details Form: This is used to collect specific and detailed employment details of an employee for entry into the Human Resources Management System. This is a software that HR personnel use for their various HR activities, like payroll, recruitment, and training among others.
So there you have it. The different forms used by the Human Resources Department in their day-to-day tasks. Some of which include recruitment, payroll, policy enforcement, and handling employee complaints. They sure do have a lot of tasks, and it would be easy to get lost and confused in this sea of tasks without the proper Registration Forms to help sort them. Just imagine all the clutter that has to be dealt with if those files were not organized. Luckily, each task comes with their own form and that way, it will be easier for any HR personnel to file them and keep track of things. We also have Hotel Registration Forms that would be a good way for hotels to store the necessary records to keep their business afloat.