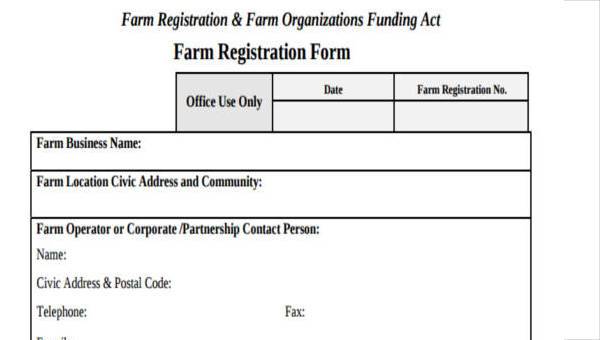 Farmers are some of the most hardworking individuals in the world. They strive hard to ensure that their crops and animals are in good shape in order to sell them for a good price in the market. However, before they can enjoy a good profit and feel the rise of their economical status, they must legally register first as a farmer.
Registration Form are used in order to ask and store details of the contract. It also states private information like name, contact details, and sometimes even the properties they own. Through these forms, farmers can legally own their farmlands and sell their produce.
Farmer Registration Form For Paddy Procurement
Farmer Registration Form Example
Farmer Market Registration Form
Project Farmer Registration Form Sample
Junior Farmer Registration Form
Farm Registration Form in Doc
Aside from the documents of registering as a legitimate farmer and officially showing your properties and supporting documents, you now need to know what crops you should raise and what environment you need for them to thrive. Plan your future ahead and piece together the information you need in order to enjoy smooth sailing for raising crops and animals.
Aside from the location and crops, you must also know what memberships to take part in for you to learn more about what it means to be a farmer from others in the same livelihood. There are various tricks you need to know in order to make the business really strong and sturdy for years to come. But before the excitement of starting a new business, it is important to know your budget and plan on it thoroughly to avoid unnecessary debts and loans that would give you more headaches than results.
It is also important that you should try to innovate and create more unique ideas that you can be proud of when you present your ideas in the market. See also Camp Registration Forms.
Master Farmer Registration Form
Young Farmer Registration Form Sample
Free Farmer Registration Form
Farm Business Registration Form
Seasonal Farmer Registration Form
Being a farmer takes a lot of experience and stamina. You will be able to understand your land and discover new crops you could raise in order to make your economic status more stable. It would also prove a great help if you study more about your land's history and what you could do with it.
Bear in mind that everything that is connected to earning requires detailed terms and conditions before you can start making a profit. It is also important to keep supporting documents and legal deeds that might come in handy if there are any troubles faced in the future.
Aside from the legalities and the land deeds, it is important to understand what you are getting into and learn the entire agreement in order to avoid difficulties in the future. See also Summer Camp Registration Forms.