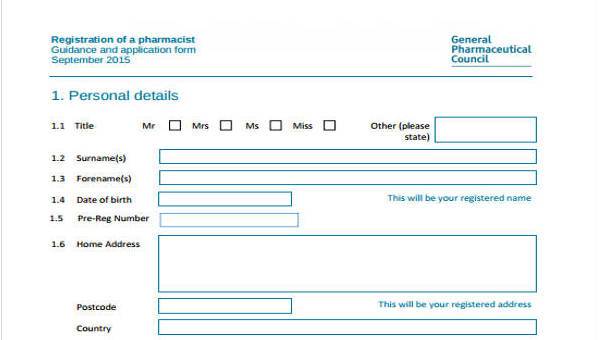 A Registration Form is a form in which you process or enter your information on something into a book or system of public records.
An example of a Registration Form is a Pharmacist Registration Form in which you process your application and record your information into an official list as a pharmacist in a pharmaceutical council or any other independent regulators for pharmacists. This form also involves completing an affirmation stating that they are fully qualified and they meet all the professional standards.
Below are a list of downloadable Pharmacist Registration Forms. You can download them, fill them out, and print them for your application.
Pharmacist Application Registration Form
Refresher Pharmacist Registration Form Example
Refresher Pharmacist Registration Form
Application for Full Pharmacist Registration Form
Preparations for First Time Registers
To be eligible for a Certificate of Registration, you must meet the following registration requirements:
Document evaluation by the Pharmacy Examining Board
Pass the Pharmacy Examining Board
Provide proof of citizenship, permanent residency, and authorization to work in the country you are registering for
Sign a declaration that confirms you have not been found guilty of any drug-related or criminal offense
Successfully completed practical training
Pass the Jurisprudence Examination for Pharmacists
File an application and pay the fee
Applicant must also hold a degree or diploma in Pharmacy to be eligible to register as a pharmacist. The applicant must also include the following information when registering namely:
Full name and residential address of the registered person
Date of his or her first admission to the register
Qualifications for registration, some of which are stated above
When to Use These Forms
You can only use these forms if you're planning on registering as a pharmacist, and you are eligible for registering based on the qualifications stated above.
Who Can Use These Forms
Only qualified pharmacists who wish to register can use this form.
Another example of a Registration Form is a Summer Camp Registration Forms, which you use to process for your application to a summer camp.
Pharmacist Authorization Registration Form
Student Pharmacist Registration Form Sample
Application for Full Pharmacist Registration Form Example
Pharmacist Registration Form Example
Pharmacist Registration Form in DOC
Warning for Pharmacists Who Are Working but Not Registered
Anyone who does not meet eligibility requirement of experience stipulated above but practices as a pharmacist or refers to themselves as such, is in defiance of the law. Continuing to practice while not actually being registered as a pharmacist has resulted in warnings being handed to pharmacists by the fitness-to-practice committee of the General Pharmaceutical Council and may carry civil and criminal penalties.
Many countries prohibit unregistered persons from practicing licensed professions. A person other than a registered pharmacist shall not hold any appointments and consultations as a pharmacist in any hospitals, infirmary, and any other public institutions. Unregistered people who continue to practice and refer to themselves as such are also culpable.
One must register first before working as a pharmacist to avoid any acts punishable by law and any other civil and criminal penalties in the future. You can download our forms here, and use them for registration as pharmacists. Remember to be eligible first to qualify for registering.
A Patient Registration Form is another example of a Registration Form in which a patient who enters a new clinic or hospital inputs their basic information and medical history.