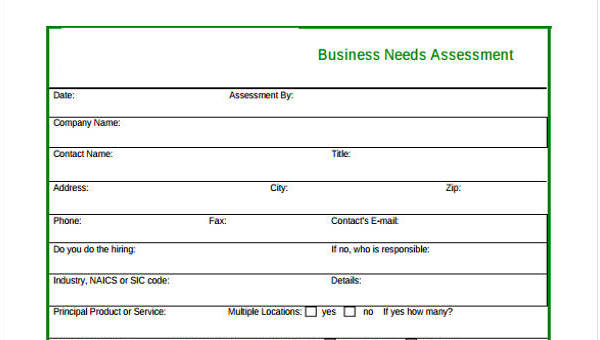 A Needs Assessment is a process that follows a particular system in order to identify and address needs or underlying cracks that fall beneath current conditions and desired conditions or expectations. By conducting a Needs Assessment, the current condition, the desired condition, as well as the things that need to be done in order to attain the desired conditions can be assessed and identified.
The usage of needs assessment forms are not only intended for individuals as there are also groups who are needed to be assessed when it comes to their particular needs at a given time period. There is always a necessity to provide the needs of entities may it be for growth, development, or improvement to ensure that they are going to function accordingly.  You can download our Needs Assessment Sample Forms below. We offer a wide array of sample forms to cater to your needs. We offer Community Needs Assessment Forms, Financial Needs Assessment Forms, Training Needs Assessment Forms, and many more.
Community Needs Assessment Forms
Community Needs Assessment Form Example
Community and Capacity Needs Assessment Form
Financial Needs Assessment Forms
Student Financial Needs Assessment Form
Undergraduate Financial Need Assessment Form
Training Needs Assessment Forms
Sample Training Needs Assessment Form
Annual Training Needs Assessment Form
Training Needs Assessment Evaluation Form
HR Training Needs Assessment Form
Business Needs Assessment Form
Sample Business Needs Assessment Form
What Is a Needs Assessment?
A Needs Assessment is a systematic process of asking questions, comparing answers, and making informed decisions that would help foster human or organizational improvement.
Why Is Needs Assessment Useful?
1. Commences a Planning Process
Needs assessments are oftentimes used to initiate a planning process that can be used to improve or refine a product, an individual, an activity, or a process. This is the primary reason why Needs Assessments are used for assessing individuals, educational activities, training activities, organizations, and community groups.
2. Aids in Problem Identification
Needs assessment is the perfect tool to clarify problems and to determine correct or accurate methods toward a resolution or an intervention because one is able to properly identify the exact source of the problem.
3. Promotes Improvement
Needs assessments can help in developing the quality of policies or processing methods, which, in turn, can promote vast improvements on performances and in attaining the goals or objectives that have been initially planned out. Also, the findings or results of a needs assessment will serve as a marker or a reference for any other future decisions related to policies and processes, including implementation and evaluation of projects.
4. A First Step in a Training Process
A needs assessment is also the first step toward a training process and is integral to its success. Through a needs assessment, the quality of training is evaluated as well as the identification of the type of training needed.
What Are the Types of Needs?
In order to assess the type of need that is required, you need to determine which of the following types of need is warranted by familiarizing yourself with the three different types:
Perceived Needs – Refers to a person's own judgement or assessment on the things that he deems as a necessity. Each of these standards vary from person to person. For example, one person might need a car because he lives far from his work, while another person might prefer to take public transport because his area of residence does not have a garage.
Expressed Needs – Expressed needs are needs that are defined according to the number of people who have sought help and focuses on circumstances where feelings are translated into action. A major weakness of expressed needs assumes that all people with needs seek help.
Relative Needs – Relative needs are more focused on equity and are usually more inclined toward considering the differences in population as well as social pathology.
Needs Assessment was first discovered by Roger Kaufman who initially created a model that would help in identifying needs defined as a gap in results from products, processes, methods, or inputs. Kaufman was considered as the "Father of Needs Assessment." According to him, in order to conduct a quality needs assessment, the current result should first be identified. Once this has been done, a solution can then be plotted – one that is targeted to fill in the missing fillers to the cracks or the "gaps."
Client Needs Analysis Forms
New Client Needs Analysis Form
Sample Client Needs Analysis Form
Free Client Needs Analysis Form
Care Needs Assessment Form
Care Management Needs Assessment Form
Home Care Needs Assessment Form
Child Care Needs Assessment Survey Form
Child Care Needs Assessment Form
Volunteer Needs Assessment Forms
Sample Volunteer Needs Assessment Form
Volunteer Management Needs Assessment Form
Field Office Needs Assessment Forms
Field Office Needs Assessment Form Sample
The Steps in Conducting a Needs Assessment
1. Conduct a "Gap" Analysis
Do a comparison of the performance of your organization or people versus existing standards. Examine the situation and try to gauge the skills and knowledge of your workers by identifying their weak and strong suits, decipher the gaps between those who perform well and those who do not, and identify success barriers. From there, establish the conditions that you desire or hope to attain, set up a goal or an objective, and focus on the necessary job tasks.
2. Identify Your Proprieties
After analyzing the "gap," you will then be able to determine a list of needs for development in the training, career growth, and organizational aspect. Examine those needs and establish which one comes at a higher importance to you.
3. Gather Relevant Data
Collect data effectively by interviewing people. Start with upper management trickling down to employees. For upper management staff, you can ask them about their expected operational or business results, their ideal work responsibilities, their ideal curriculum, etc. For regular employees, you can also inquire about their current or their desired level of performance, the learning opportunities, etc. Be sure to provide relevant examples and all factors to be considered, both internally and externally, and broaden your scope by interviewing employees in all departments and organization levels.
4. Analyze Data in an Accurate Fashion
Organize the results of the data that you have collected and review them properly in order for you to properly assess the type of solution that needs to be set forth.
5. Give Out Proper Feedback
Identify the causes of the problems and try to decipher if a training solution is warranted or if the resolution that has been plotted is deemed to be effective enough to garner immediate results.
6. Device an Action Plan
When formulating an action plan for your unmet needs, be sure to follow the SMART acronym. Your action plan needs to be:
Specific
Measurable
Acceptable
Realistic
Time-bound
Extensive
Rewarding
Be sure to track your assessments with the use of a Needs Assessment Form, or a Tracking Form. Remember that proper documentation is the key to organization, and organization leads to accurate collection of data, which will allow you to make effective and wise decisions that could greatly affect company handling and management.
Property Needs Assessment Form
Sample Property Needs Assessment Form
Needs Assessment Forms in PDF
Needs Assessment Application Form
Initial Rapid Assessment Form
Resettlement Needs Assessment Form
Support Needs Assessment Forms
Support Needs Self-Assessment Form
Tenant Support Needs Assessment Form
Medical Needs Assessment Form
Needs Assessment Request Forms
Care Needs Assessment Request Form
Parental Request Needs Assessment Form
Housing Needs Assessment Forms
Housing Needs Medical Assessment Form
Sample Needs Assessment Form
Free Needs Assessment Form
Community Needs Assessment Form
Sample Community Needs Assessment Form
Basic Needs Assessment Form
Community Needs Assessment
A Community Needs Assessment is a needs assessment that identifies the strong suits and the resources that are usable in the community. These resources should be ones that are able to meet the needs of children, families, and the youth. A Community Needs Assessment is conducted by focusing on the capacity of a community, as well as its populace, its state and local government agencies, and its organization.
Conducting a Needs Assessment on communities helps to provide a foundation for improving and distinguishing the services and solutions and helps to promote communities that foster growth for children and families. Community Needs Assessment may be done through the compilation of data such as census records and surveys.
Training Needs Assessment
A Training Needs Assessment Form helps employers determine the training needs of their employers by interviewing them about their skills, their knowledge, their strengths, weaknesses, abilities, and accomplishments at work that have impacted the company as a whole.
Care Needs Assessment Form
A Care Needs Assessment Form is a form that you need to fill out in order to get help from your local authorities when you need assistance and support for self-care. When a Care Needs Assessment is done, local authorities will have to identify the needs that you require and how these can affect your well-being. They will also discuss with you how you wish to live your life and whether there are certain aims you would like to achieve but are unable to do so because of your care and support needs.
You can choose or download from many of our Needs Assessment Forms available in Word or PDF formats. Our wide-ranging forms are available in Community Needs Assessment Forms, Training Needs Assessment Evaluation Forms, and many more.