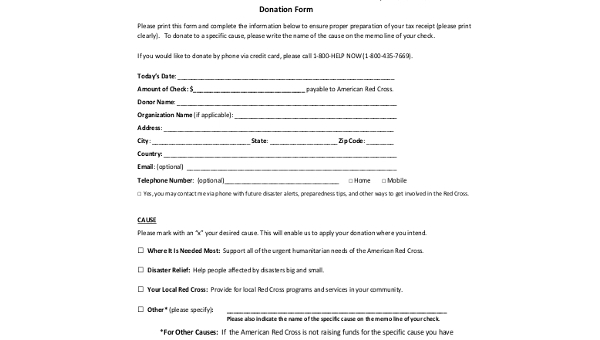 Momentous events like anniversaries, sports days, national holidays, commencement exercises, community extension services, and foundation days for colleges and universities are open doors for generous hands. They will open linkages and build bridges for future events. It's imperative to have benefactors for activities that foster camaraderie and dynamism toward the success of the event. Indeed, it is imperative to give them receipts of their donations, as a way of acknowledging their generosity in the event.
Don't know what a receipt for such cases looks like? Here at Receipt Form, you can create your own donation receipt for your convenience.
Free Charitable Donation Receipt Form
Blank Donation Receipt Form
Donation Tax Receipt Form Example
Sample Donation Receipt Form
Donations can be in the form of cash or in kind. With this collection of different sample templates, you will definitely find what best suits the occasion. There are two types of receipt forms:
The sample receipt forms are for cash donations / payments entered for the sole purpose of the event. Such donations need proper documentation to keep track of the money used for the different functions of the event.
Have this template downloaded to help you with your task as it can be edited and customized all for your convenience and personal preference. To lend it more authority, you may opt to include your organization logo, address, and contact information. Working this information in will increase your credibility.
It's good to have a simple and credible receipt form for any event. These receipt forms enable you to make your life easy, saving you valuable time. They're a reliable and dependable companion and come in handy whenever you are in need of one. They can be updated time to time for your convenience.
Silent Auction Donation Receipt Form
Charitable Donation Receipt Form
Car Donation Receipt Form in PDF
Holiday Sponsor Donation Receipt Form
Check this one out – Printable Receipt Forms – for a helpful companion that gives you a daily dose of good news away from the stress. Presented here is a systematized and simplified way of how to go about tracing your donations. These are all professionally formatted to give you a hassle-free experience, making everything in your workload perfectly done, in accordance with the manner of how the corporate world functions.
All sample receipt forms feature:
MS doc and PDF file formats
are easy to download
editable and customize layout design
professionally reviewed formats
saves valuable time
systematizes your documentation
With these features, you can be assured of a suitable receipt form depending on your work environment. We want to make things works for you. Remember it takes two to tango; this sample template will be your companion for life.