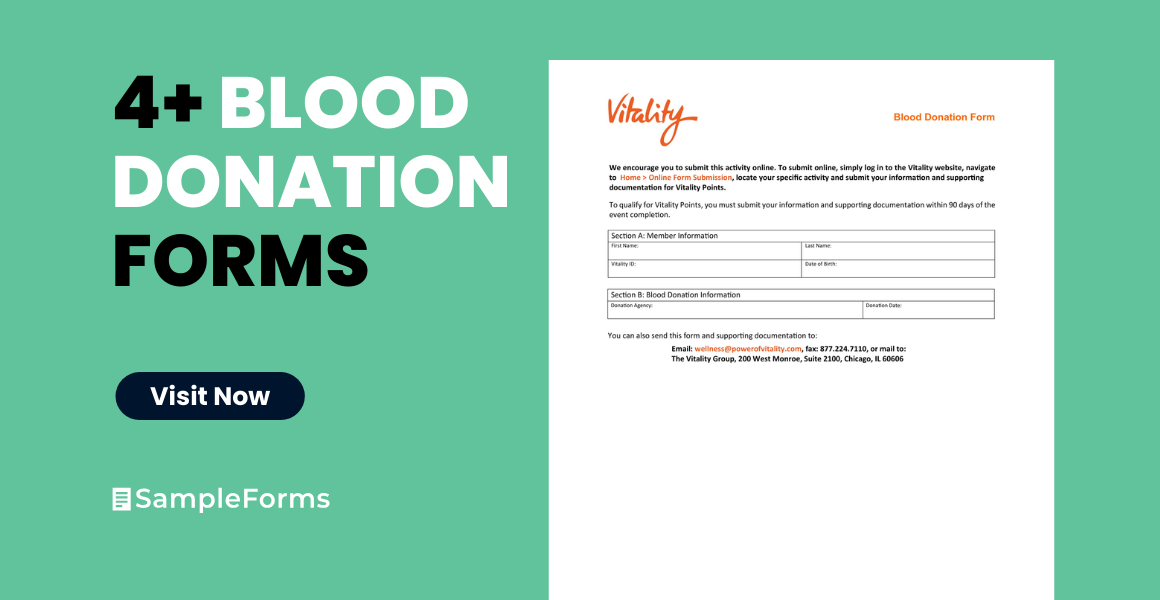 Donating blood is also known as giving the gift of life to someone who is in a critical medical condition. An individual who aims to be a blood donor must complete a specific document and a set of procedures before he will be considered as a suitable donor. The document that medical institutes and health organizations use is a blood donation form. You may also see nonprofit donation forms
Blood Donation Form Sample
What Is a Blood Donation Form?
A blood donation form is a document that blood donors use to provide their general information. Organizations require the completion of this document to secure that their blood donors are recorded and are suitable for the process of the donation. Once the form has been completed, the donor will then undergo a medical assessment and health screening. The results of the medical procedures will aid the phlebotomist to determine if the donor's blood is healthy and if the donor will be able to sustain himself during the blood extraction, which often requires a pint of blood to be acquired from the donor.
Blood Donation Application Form
Blood Donation Enrollment Form
Varieties of Blood Donation Forms
Blood donation forms will vary on where and when the form will be necessary and will be required by the medical institute. Below are the common varieties of blood donation forms:
1. Blood Donation Application Form –
This application form is used during one-day blood donation programs. It serves as a tool for the medical staff to identify the donors and know their blood information such as blood types and blood composition.
2. Blood Donation Enrollment Form –
Some countries and states have blood donors' registry in their medical establishments and agencies. This registry will enlist the names and the contact information of prospective blood donors with their blood details. The information that these agencies use came from the blood donation enrollment forms that blood donors have submitted. With the registry, medical patients will be able to reach out a suitable blood donor whenever there is a need for a transfusion. Additionally, the donor will also be able to be updated on matters regarding who received his blood donations.
3. Blood Donation Leave Form –
Compared to the aforementioned forms that can be used by any blood donor, this blood donation leave form is only applicable to employees and staff. Identical to an employee leave application form, the main purpose of using the form is to acquire a permit from the company regarding an employee's absence if the reason is for the employee to donate blood. The form contains a note for the employee, the place of where the blood donation will take place, the identification of the employee, and a section for the employee's signature.
4. Blood Donation Parental Consent Form –
This type of blood donation form is provided to a blood donor who is categorized a minor or is an underage individual. The legal guardian or parent of the donor must indicate on the parental consent form of what donation type will be best for the minor. A signature and a parent contact information section are significant areas of the form that must be completed by the donor's parent.
Blood Donation Leave Form in DOC
Blood Donation Parental Consent Form
Some blood donation forms have enclosed and attached documents such as a donor questionnaire form that will be used to gather more details about the donor. Nonetheless, donors must disclose any irregularities in their medical health in order to assure that they will not be risking themselves for the duration of the blood donation. You may also like charity donation forms