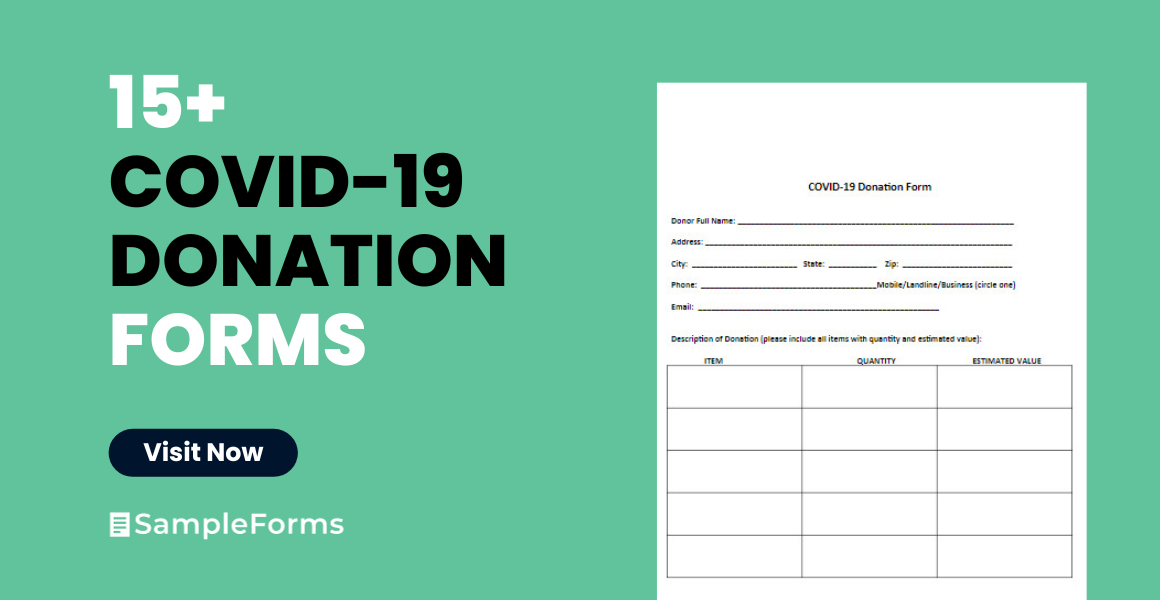 In the midst of a global crisis, the COVID-19 Donation Form emerges as a crucial conduit for generosity and aid. It's an invitation to contribute to the fight against the pandemic, enabling benefactors to offer financial support, essential supplies, or volunteer services. These printable forms come in various formats, each tailored to harness the spirit of giving in a structured and impactful manner. This guide explores the essence, diversity, and methodological creation of donation forms, alongside expert tips to enhance their efficacy.
What is a COVID-19 Donation Form ? – Definition
A COVID-19 Donation Form is a document or digital interface designed to facilitate the contribution of resources toward relief efforts during the COVID-19 pandemic. It serves as a structured means for individuals, organizations, and businesses to offer monetary support, essential goods, volunteer services, or other forms of assistance. These fillable form typically captures donor information, the type and amount of donation, and preferences regarding the allocation or acknowledgment of the contribution, streamlining the process for both donors and recipients.
What is the Meaning of a COVID-19 Donation Form?
The COVID-19 Donation Form embodies the collective response to a global health crisis, functioning as a pivotal instrument for channeling charitable contributions. Its meaning extends beyond a simple transaction—it represents solidarity, compassion, and community resilience in the face of adversity. Through this form, donors are empowered to contribute to relief efforts, support frontline workers, aid the vulnerable, and bolster healthcare systems. It encapsulates the spirit of giving and the shared commitment to overcoming the challenges posed by the pandemic.
What is the Best Sample COVID-19 Donation Form?
The best sample COVID-19 Donation Form would be one that is clear, concise, and easy to navigate, ensuring that donors can contribute quickly and without confusion. Below is a basic template that can be adapted to specific needs:
Personal Information:
Full Name: __________________________________________________
Company/Organization (If applicable): _____________________________
Address: ____________________________________________________
Email: ______________________________________________________
Phone Number: _______________________________________________
Donation Details:
Donation Type:

Monetary
Supplies
Services
Other: ________________________________________________

Amount (If monetary): $_________

One-time
Monthly
Annually

Payment Method (If monetary):

Credit/Debit Card
PayPal
Bank Transfer
Check
Other: ________________________________________________

If donating supplies or services, please describe:


---
Preferences:
Would you like to designate your donation to a specific cause or area?

Yes (Please specify): ___________________________________________
No (Please allocate as needed)

Recognition Options:

I would like to remain anonymous
Please acknowledge my donation publicly
Additional Information: Please provide any additional information or special instructions for your donation:
---
Confirmation:
I confirm that the above information is accurate and that I am authorized to make this donation.
I understand that this contribution is subject to the terms and conditions provided by [Organization Name].
Signature: __________________________________ Date: _________________
Instructions for Completing the Form:
Please fill in all required fields.
For monetary donations, you will be directed to a secure payment portal after submitting this form.
For non-monetary donations, a representative will contact you to discuss logistics.
Remember, this is a basic template and might need to be adjusted based on legal requirements, the specifics of the donation program, and the platform used (paper, digital, or web-based). Always ensure data security and privacy when handling personal and financial information. You also browse our Sample Patient Information Forms.
FREE 15+ COVID-19 Donation Forms
1. COVID-19 Donation Form
2. Covid 19 Online Donation Form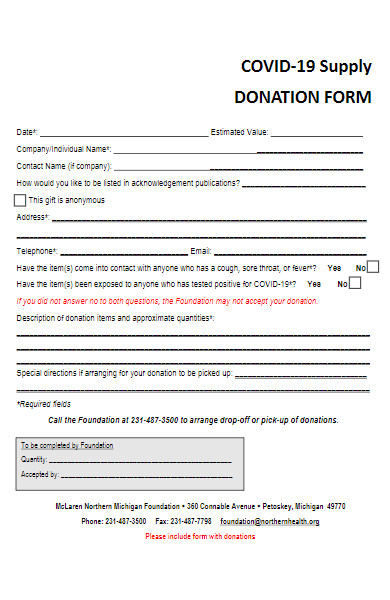 3. COVID-19 Emergency Fund Donation Form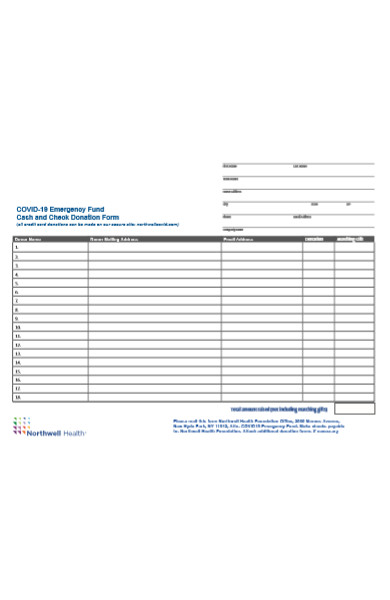 4. COVID-19 Sick Leave Donation Form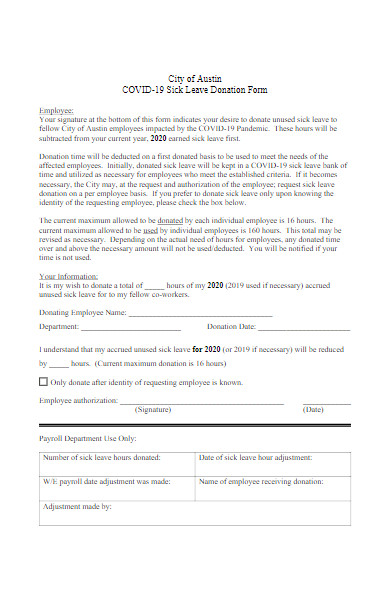 5. COVID-19 Donation Item Form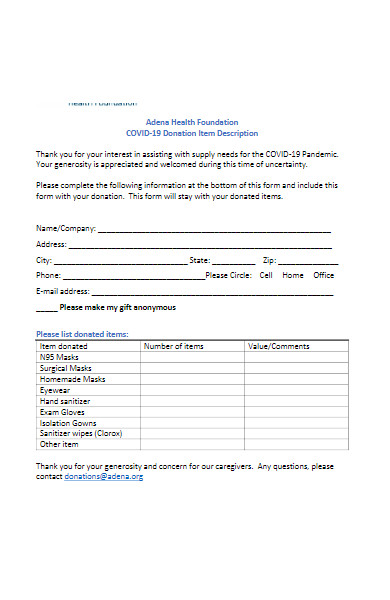 6. COVID-19 Response Donation Form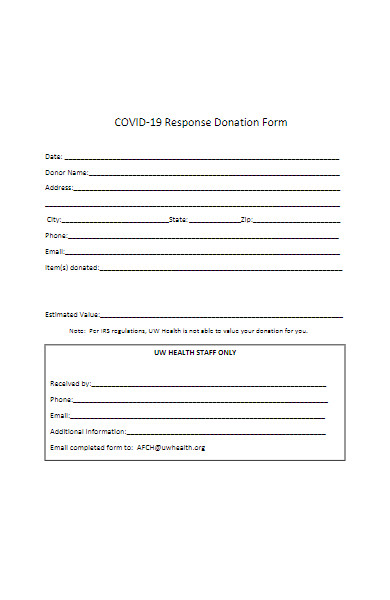 7. Sample COVID-19 Donation Form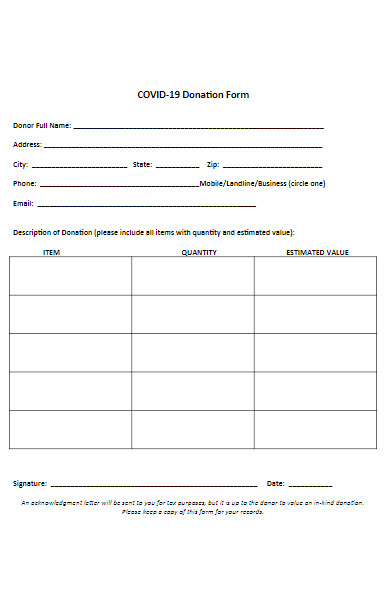 8. COVID-19 Sick Leave Donation Request Form
9. Health History form for COVID-19 Potential Donor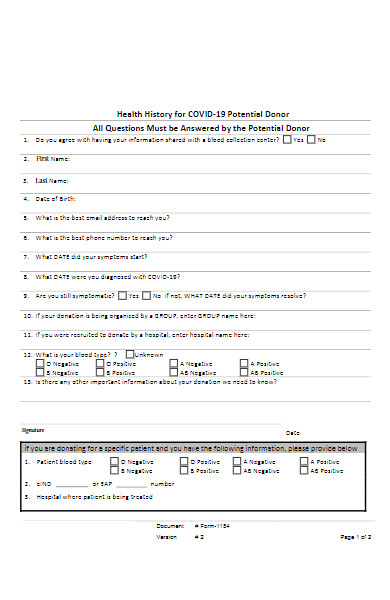 10. Covid 19 Donation Wavier Form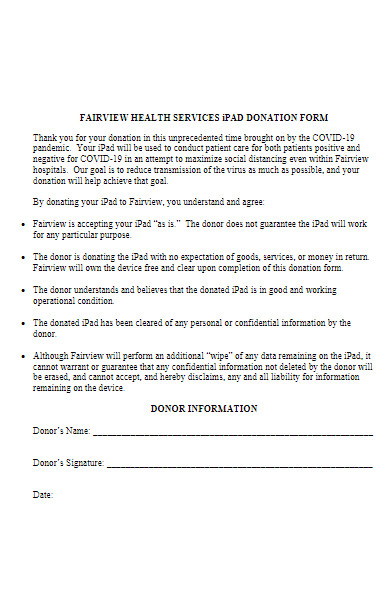 11. COVID-19 Donation Form Example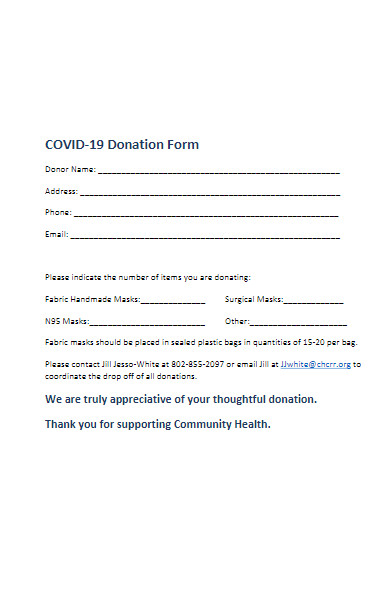 12. COVID-19 Response Leave Donation Form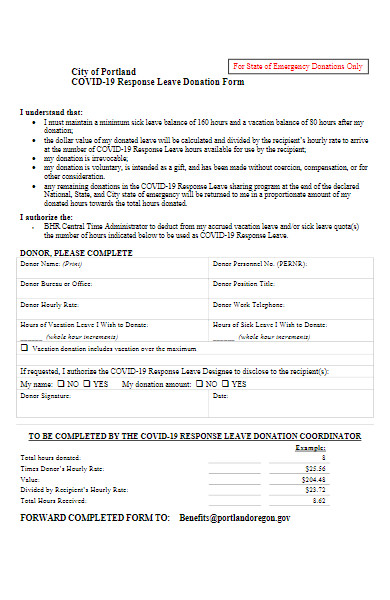 13. Covid19 PPE Donation Form
14. Covid19 Bank Donation Form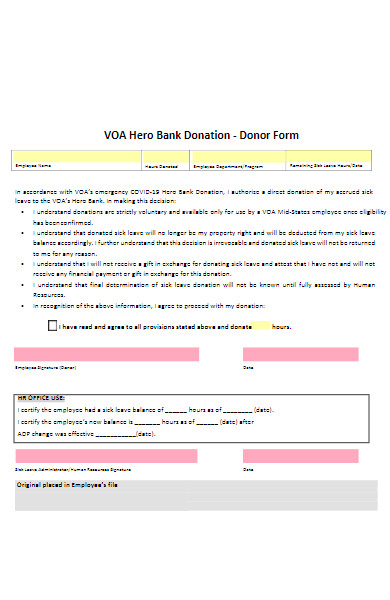 15. Covid-19 Gift in Kind Donation Form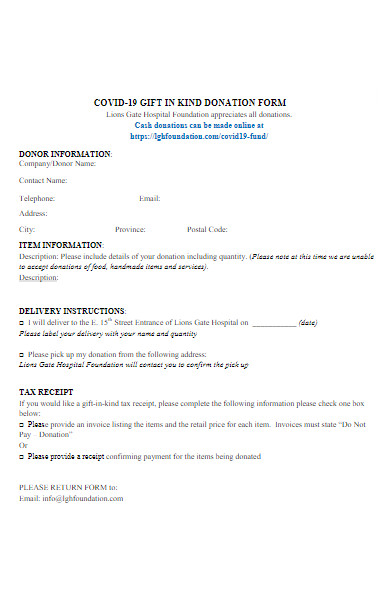 16. COVID19 Supply Donation Form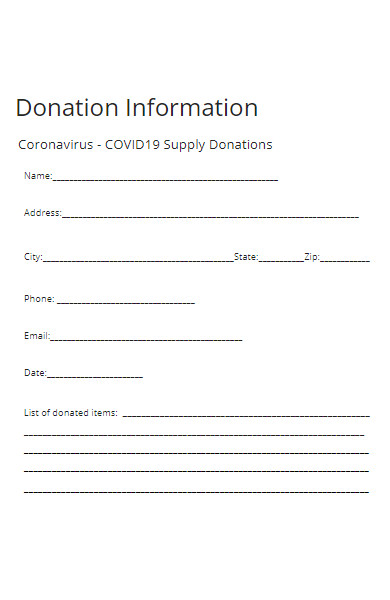 How can I submit a COVID-19 Donation Form online?
To submit a COVID-19 Donation Form online, you would typically follow these steps:
Find the Form:

Visit the official website of the organization or charity you wish to donate to. Look for their donation page.

Fill Out the Form:

Complete the form with your personal information, the amount you wish to donate, and any specific instructions or preferences you have regarding the use of the donation.

Payment Information:

Provide your payment details. This could be your credit card information, PayPal account, or other online payment methods offered by the organization.

Review Your Information:

Before submitting, double-check all the information you entered to ensure it's correct.

Submit the Form:

Click the submit button. Ensure you're on a secure connection (look for "https" in the URL and a padlock symbol in your web browser).

Confirmation:

After submission, you should receive a confirmation message on the website and/or a confirmation email.

Save the Receipt:

If a receipt or confirmation page is provided, save it for your records and for tax purposes, if applicable.
Remember to verify the legitimacy of the organization before submitting any personal or financial information. Only donate through secure and official channels.
Where can I find a printable COVID-19 Donation Form?
To find a printable COVID-19 Donation Form, you can take the following steps:
Official Charity Websites: Look on the official websites of charities and organizations that are involved in COVID-19 relief efforts. They often have resources and forms available for download.
Government Websites: Some government agencies coordinating pandemic relief might offer forms for various aid programs, including donation forms.
Community Centers: Local community centers, religious institutions, and non-profits might have printable forms available for those who wish to contribute to local relief efforts.
Healthcare Facilities: Hospitals and clinics that are accepting donations may provide forms on their websites or at their locations.
Social Media and Forums: Official social media pages of reputable organizations may post printable forms or links to where they can be downloaded.
Ask for Assistance: If you're unable to find a form, contact the organization directly and ask if they can provide you with a printable form or direct you to where you can find one.
Library and Public Bulletin Boards: Check if local libraries or community bulletin boards have copies of donation forms that you can take and print.
Always ensure that the form comes from a reputable source to avoid scams, and that you are using an up-to-date version of the form. You should also take a look at our Medical Research Form.
What information do I need to fill out a COVID-19 Donation Form
When filling out a COVID-19 Donation Form, you'll typically need to provide the following information:
Personal Information:

Full name
Address
Contact details (phone number, email address)

Donation Details:

The amount you wish to donate (if it's a monetary donation)
Frequency of donation (one-time, monthly, etc.)
Specific cause or campaign you want to donate to, if applicable

Payment Information (for monetary donations):

Credit/debit card details or bank information
Billing address

Gift Information (if the donation is on behalf of someone or in memory of someone):

Name of the person
Any message or acknowledgment details

Supplies Information (for in-kind donations):

Types of supplies or items you're donating
Estimated value of the in-kind donation

Volunteer Information (if you're offering services):

Type of service or volunteering work
Availability and preferences

Preferences:

If you want to remain anonymous
If you require a donation receipt for tax purposes

Agreement or Consent:

Acknowledgment that you agree to the terms of the donation
Consent to process your personal data as per privacy policies
Remember, the specifics may vary depending on the organization's requirements and the form's structure. Always check with the organization if you are unsure about what information is required.
How is my personal data used from the COVID-19 Donation Form?
The personal data collected from a COVID-19 Donation Form is typically used for the following purposes:
Processing the Donation: Your information is used to process the financial transaction if it's a monetary contribution or to coordinate the receipt of physical goods if it's an in-kind donation.
Acknowledgment and Receipts: Organizations use your contact details to send acknowledgments of your donation and to provide official receipts for tax deduction purposes, if applicable.
Communication: Your contact information may be used to keep you updated on how your donation is being utilized, ongoing relief efforts, and future fundraising campaigns or volunteer opportunities.
Compliance and Reporting: Non-profits and charities often have reporting obligations to government entities for transparency and tax purposes, and your donation details might be included in these reports (though personal data is usually anonymized or aggregated).
Donor Management: Organizations maintain records of donors for their own management purposes, which might include tracking donation history, preferences, and engagement with the organization.
Legal Requirements: In some cases, personal data may be used or disclosed if required by law, such as in response to a court order or for compliance with tax regulations.
Security: Personal data is also used to verify the identity of the donor and to prevent fraud or unauthorized transactions.
It's important to note that reputable organizations handling COVID-19 Donation Forms should adhere to strict data protection and privacy standards. They should provide a privacy notice or policy that explains in detail how they handle personal data, how long they retain it, and the measures they take to protect it. If you have concerns about your data's privacy and usage, don't hesitate to contact the organization directly for clarification.
Is it possible to specify how my donation is used on the COVID-19 Donation Form?
Yes, many COVID-19 Donation Forms allow you to specify how you would like your donation to be used. Here's how it typically works:
Designated Giving: The form may include options to direct your donation to specific programs, such as support for healthcare workers, research, aid for affected families, or other targeted initiatives.
Unrestricted Funds: If you do not specify a preference, donations generally go into a general fund, which the organization will use where it's needed most.
Directing Your Donation: If the form includes the option to specify, simply select or specify the area where you would like the funds to be used.
Following Up: After making a donation, you can usually follow up with the organization to learn about the impact of your contribution.
When filling out the form, look for a section titled 'Donation Preferences,' 'Use of Funds,' or similar to make your choice. If the form does not have such an option and you have a specific intention for your donation, you can contact the organization directly to express your wishes.
Can I make a recurring donation using the COVID-19 Donation Form?
Yes, many organizations and charities offer the option to set up recurring donations through their COVID-19 Donation Forms. To do this, you would typically:
Select the Recurring Donation Option: Look for and select the option on the form that specifies a recurring gift. It might ask you to choose the frequency of your donation (e.g., monthly, quarterly, annually).
Specify Donation Amount: Enter the amount you wish to donate on a recurring basis.
Provide Payment Information: Fill in your payment details. For recurring donations, organizations often require a credit card or bank account information to automate the process.
Authorize Regular Withdrawals: By selecting a recurring donation and providing your payment information, you authorize the organization to withdraw your specified donation amount at the chosen intervals.
Confirm and Submit: Review all the information to ensure it's correct, especially the amount and frequency of your donation, then submit the form.
Confirmation: You should receive confirmation of your recurring donation setup via email or a confirmation message on the website.
Record Keeping: Keep records of the authorization for your recurring donation for personal tracking and in case you decide to alter or cancel it in the future.
If you're not sure whether the organization supports recurring donations or if you're having trouble setting it up, reach out directly to their customer support or donation assistance team for help.
What types of payments are accepted on the COVID-19 Donation Form?
The types of payments accepted on a COVID-19 Donation Form can vary depending on the organization or platform. Commonly accepted payment types include:
Credit/Debit Cards: Most organizations accept major credit and debit cards such as Visa, MasterCard, American Express, and Discover.
Online Payment Services: Services like PayPal, Stripe, or Apple Pay are often supported for their convenience and security.
Bank Transfers: Some forms may allow you to donate directly from your bank account through an ACH transfer.
Checks: For those who prefer to mail in donations, many organizations will accept personal or cashier's checks.
Mobile Payment Apps: Payment options like Venmo, Zelle, or Google Pay might also be available.
Direct Deposit: Some forms may provide information for direct deposit into the organization's bank account.
Wire Transfers: Particularly for larger sums, some donors might choose to wire the money directly to the organization.
Cryptocurrency: A growing number of organizations are beginning to accept donations in the form of cryptocurrency.
Gift Cards: Certain relief efforts may accept gift cards as a form of donation.
When you fill out a COVID-19 Donation Form, the accepted payment methods should be clearly listed. Always ensure you are making payments through secure methods and through official channels to protect your financial information and ensure the donation reaches its intended destination. Our Emergency Form is also worth a look at
How to Create a COVID-19 Donation Form?
Creating a COVID-19 Donation Form is a process that should be approached with consideration for the donor's experience and the ultimate goal of efficiently collecting donations. Here's a guide to help you create an effective form:
Step 1: Establish the Goal Define what the donations are for. Is it for medical supplies, community support, research, or financial relief for those affected by COVID-19?
Step 2: Choose the Platform Decide whether the form will be hosted online, such as on your organization's website, or if it will be a physical form for in-person events. For online forms, consider platforms like Google Forms, JotForm, or a built-in form on your website.
Step 3: Design the Form Layout the form in a user-friendly manner. If online, ensure it's mobile-responsive. For paper forms, ensure they're clear and easy to fill out.
Step 4: Collect Donor Information Ask for essential information such as:
Donor's full name
Contact information (email, phone number)
Address (for sending receipts or acknowledgments)
Step 5: Donation Details Include fields for:
Donation amount options
Recurring donation options (if applicable)
Specific areas the donor can choose to direct their funds to
Payment method details
Step 6: Payment Integration For online forms, integrate secure payment processing tools like PayPal, Stripe, or others that enable credit/debit card transactions.
Step 7: Provide Transparency Explain how the donations will be used. Include information about the tax-deductibility of donations and how donors will receive their receipts.
Step 8: Review and Test Before going live, test the form internally to ensure that all functionalities work and the donor's experience is smooth.
Step 9: Compliance and Security Ensure the form complies with data protection regulations (like GDPR or CCPA) and that all data is securely stored and transmitted.
Step 10: Launch and Share Once the form is ready, launch it on your chosen platform. Share it widely through your organization's communication channels, including social media, email newsletters, and press releases.
Step 11: Monitor and Adapt After the form goes live, monitor the submissions and the funds collected. Be open to making adjustments to the form based on donor feedback or observed trends in donation patterns.
Step 12: Follow-Up Set up a system to thank donors and keep them informed about the impact of their donations.
Tips for creating an Effective COVID-19 Donation Form
Creating an effective COVID-19 Donation Form is critical to ensure the smooth collection of donations. Here are some tips to help you design an efficient and user-friendly form:
Simplicity: Keep the form simple and straightforward. A complicated form can deter potential donors.
Clarity: Clearly state what the donations will be used for and how donors can contribute.
Flexibility in Donation Amounts: Offer suggested amounts but also give the option to enter a custom amount.
Transparency: Provide details on how the donations are managed and reassure donors about the security and privacy of their information.
Multiple Payment Options: Include various payment methods to make it convenient for more donors to contribute.
Mobile Optimization: Ensure the form is mobile-friendly, as many users will access it via their smartphones.
Recurring Donation Option: Give donors the opportunity to sign up for recurring contributions.
Minimal Mandatory Fields: Request only essential information to make the donation process quicker.
Quick Process: Aim for a donation process that takes just a few clicks or taps from start to finish.
Secure Processing: Assure donors that their information and financial transactions are secure.
Acknowledgment: Set up automatic confirmation emails or messages to thank donors immediately after their contribution.
Social Sharing Options: Include buttons or links that allow donors to share the form on their social media, increasing visibility.
Legal Compliance: Make sure the form complies with all relevant financial and privacy regulations.
Testing: Before going live, test the form on different devices and browsers to ensure it works properly.
Feedback Mechanism: Provide a way for donors to give feedback on their experience or to ask questions.
A/B Testing: If possible, use A/B testing for online forms to determine which version yields better donation results.
By adhering to these tips, you can create a donation form that not only facilitates a smooth donation process but also encourages generosity and amplifies the impact of the contributions made.
The COVID-19 Donation Form is an essential tool enabling individuals and organizations to contribute to pandemic relief efforts. It encapsulates the spirit of giving, streamlined into a structured format that ensures contributions are channeled effectively. This guide provides insights into creating an accessible, secure, and user-centric form, ensuring that the generosity of donors translates into tangible support for those affected by the crisis. You may also be interested to browse through our other Medical Forms and risk assessment forms.