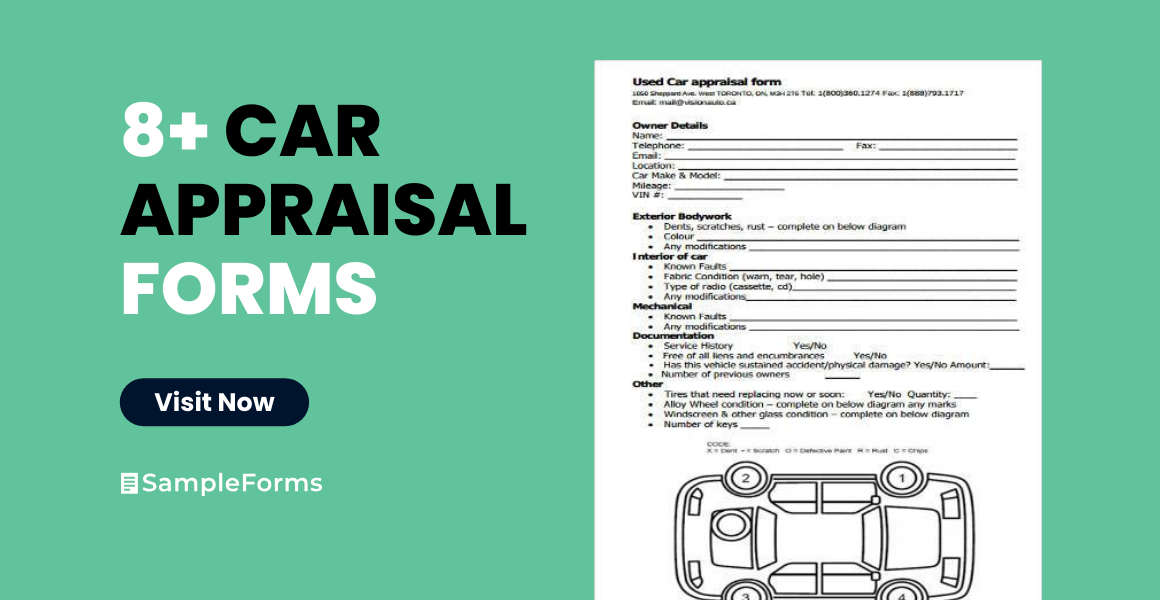 Cars have become very important in today's modern society. People need cars to be able to get to the places they need to be, and cars make travel so much easier. Companies even have their own company vehicles which allow them to perform the services they need to serve their customers.
In short, everyone wants to have a car. However, if you're going to choose the right car, then you'll need to check everything from top to bottom.
And the way to do that is by using Car Appraisal Forms.
Vehicle Part Exchange Appraisal Form
Vehicle Dealer Appraisal Form
Vehicle Certified Appraisal Form
Used Car Appraisal Form in PDF
Used Car Appraisal Blank Form
The Different Kinds of Vehicle Appraisal Forms
There are tons of Vehicle Appraisal Forms that people, or even major or small businesses, can use to assess the kind of vehicle that they need for different kinds of purposes. Here are some examples of these kinds of forms:
Vehicle Dealer Appraisal Forms are forms that are used by people or companies that try to assess the dealer of a vehicle being sold. This is to make sure that this dealer is of a trustworthy nature and is someone who will give you the car that you need.
Vehicle Part Exchange Appraisal Forms are used when someone wishes to assess the parts of the car that were exchanged. It could be that a person requested for a certain part of the car to be replaced and he wishes to see the quality of the new part first.
Used Car Appraisal Forms are utilized by those who wish to assess a used car they purchased from a certain dealer. These forms help them in making sure that the used car is operational and fit for the road.
Vehicle Assessment Appeal Forms are used by someone who wishes to assess the appeal of the vehicle itself. These are used to evaluate the physical aesthetics; if it's in the buyer's taste, then most likely it'll be purchased.
Motor vehicle Appraisal Form
Car Approval Form In PDF
Vehicle Assessment Appeal Form
Free Car Appraisal Form
The Importance of Vehicle Appraisal
It's really important to evaluate the kind of vehicle you're about to buy before you actually purchase it. It's even better to appraise the dealer of the vehicle you wish to purchase. Let's say that this dealer tells you a car is really popular and worth this much, how would a buyer verify all this? They can check the sales by asking for the dealer's Sales Appraisal Forms.
It's really important that you assess the kind of car you want along with the purpose of the vehicle. If you want a car that can operate and run without breaking down despite travelling long distances, then it's up to you to find the right car and assess if that indeed is the car for you and your business.