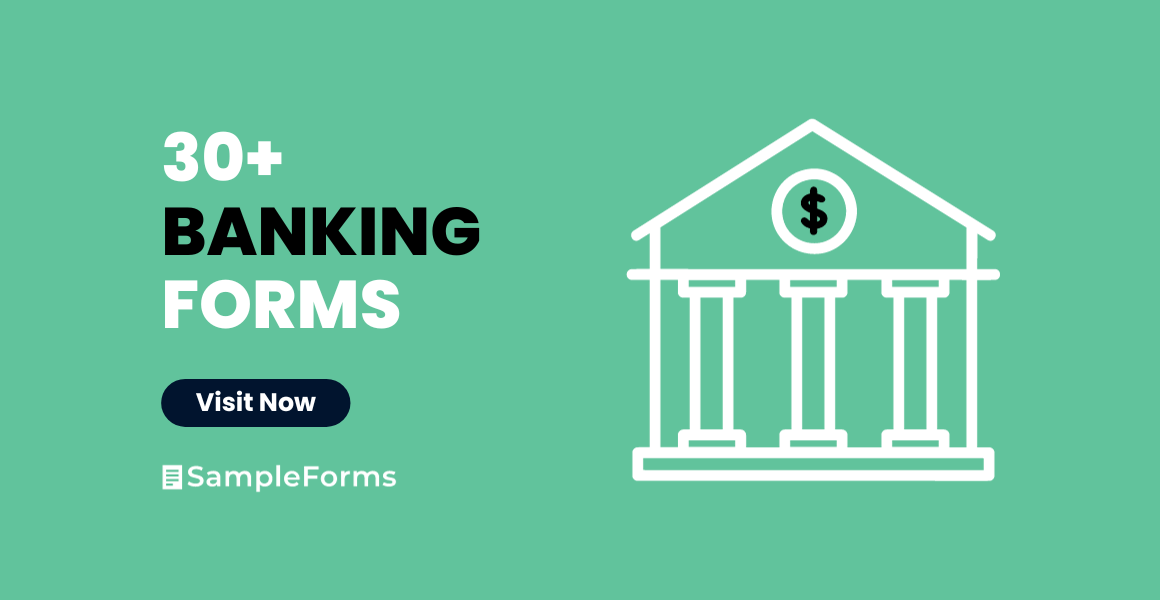 Struggling financially can happen to anyone but there are different ways to manage funds and one example includes knowing the functions of banks. When you have a bank account, you can process for loan applications, investment agreement forms, and more. Filling out the right banking forms can help you avoid poor financial decisions.
FREE 30+ Banking Forms in PDF | MS Word
1. Internet Banking Form
2. Banking Application Form
3. Retail Banking Form
4. Banking Request Form
5. Banking Address Form
6. Mobile Banking Form
7. Corporate Banking Form
8. Banking Funds Form
9. Banking Delivery Form
10. Banking Related Form
11. Customer Banking Form
12. Simple Banking Form
13. Banking Mandate Form
14. Banking Services Form
15. Banking Detail Form
16. Banking Access Form
17. Banking Term Form
18. Business Banking Form
19. Banking Updation Form
20. Agent Banking Form
21. Individual Banking Form
22. Banking Account Form
23. Banking Service Request Form
24. ATM Card Banking Form
25. Standard Banking Form
26. Banking Opening Form
27. Banking Consent Form
28. Self Assessment Banking Form
29. Banking Registration Form
30. Banking Amendment Form
31. Banking Update Form
What Is a Banking Form?
It's necessary to differentiate a bank from banking first. The root word bank refers to a financial system or institution, legally complying with the government laws, that allows users to deposit, withdraw, or make any payment transfer. On the other hand, banking already refers to the process of lending money and similar transactions while the business gains profit from such sales. When you handle banking processes or transactions, you can take forms that will document what operations got managed. Thus, those documents become useful as proof of a sale or for bank verification.
Banking forms are many, and the main categories usually go to deposit, withdrawal, loan application, and fund transfer forms. You take cheque depositing for processes involving money or cheque submission to banks while withdrawal forms are self-explanatory, for withdrawing. Loaning is possible as well when you meet the qualifications for loan applications. If you need to send money from your account to another person, then you take fund transfer forms. The point here is you need to be specific on what your goal is to reach the right way. Maybe you end up withdrawing cash despite having the intention to deposit because you took the wrong form, and that will be a hassle on your part.
When you need documentation for bank procedures, the forms can help because they work as evidence. Maybe you weren't granted a loan, yet you applied for it in the first place, so you secure your copy of the document as proof that you did use. Scams are quite common nowadays too, and someone might alter the information you placed. Thus, your copy can help you make your claim more trustworthy to see which part got changed. When this process ends up in serious litigation, then you cover your documentation for evidence during courtroom sessions.
What Are the Benefits of Banking?
The banking industry wasn't just made for no big reason because not many people would have considered banks until now if that were the case. The business also keeps on improving to adjust to trends and competition. Providing you with smart ways for financial management is already a known fact from a bank, but there are more examples to expect too. You will find various advantages from banking, and you must know of such details first before you fill out any form for awareness reasons. The benefits are as follows:
Enhanced Safety Approved

Banks are the safest option to protect your money, especially if you end up saving millions of cash as that requires higher protection. Indeed, you can save at home with a lockbox or a wallet, but it doesn't guarantee you safety from house fires or even theft. It would be a nightmare to find out your money was stolen, turned into ashes, and other unfortunate situations. Its industry observes strict rules and agreements to ensure identity theft or bank scams get avoided so that no account will be in jeopardy. Not thinking about the security of accounts will only invite numbers of complaints from bank users at some point, and that puts the industry to doom due to lack of security.

Quick Access for Credit or Loans

It's almost impossible to save up for a considerable amount of money, particularly in housing or a college fund without loaning money. If you need instant funds, then considering an account application for credit and loans is advantageous. It grants you numerous options like the loan cash home credit application, so you need not wait any longer to get that dream home you always wanted. While it can be simple to loan, you can't ever forget about being serious with your financial responsibilities, so you can't lose this. With an impressive credit score, you are on a bright path for these opportunities.

Convenience Guaranteed

Besides taking manual banking where you line up on banks with lots of clients, you can enjoy the convenience through net or internet banking. Online banking enables users to take transactions where their devices get connected to the internet. You can freely check your account balance, send money, and so forth. This approach saves you time and effort because you can manage finances even while still lying in your bed and wearing only your comfy PJs at home. You can also process this with mobile banking, so you need not turn on laptops or personal computers since doing it via mobile is more convenient.

Money Savings

Your account from a bank can hold up to how many amounts of cash, which keeps you secured financially. Saving through banks is a smart strategy compared to saving at home only because you can always access your money anytime at the house. Thus, you will get tempted to use a portion from your savings because the location is just at your home. In banks, you need not withdraw all savings, so it becomes your safety net. At times where you lose a job or meet any financial crisis, you finally have a backup plan thanks to the bank where you kept your savings securely.
Bryce Dallas Howard: Fear of Negotiations
Did you know that the successful Jurassic World actress, Bryce Dallas Howard, doesn't have a million dollars in her bank account? It's quite shocking that even her male co-stars didn't believe it at first as it was mentioned in Glamour last 2018. Another reason why it's quite hard to accept is that the actress's net worth is already around $15 million in 2019. This example of low savings from Howard sparked attention on the pay inequity between men and women from Hollywood and where she felt intimidated in requesting for any pay negotiation. She even admitted that she's privileged, yet that doesn't mean she has millions from the bank. Negotiating for bigger pay made her nervous, which shouldn't be the case.
In banking, there are bank consultants and experts you can always talk and negotiate with for a more fulfilling financial management. Instead of merely getting fearful, you stay calm and speak because banks may have other plans to help you reach more significant savings and smarter budgeting solutions. Indeed, rejection can be scary, but banks and similar businesses do not just reject without reason. At least you can learn why something gets rejected first instead of just saying no. Moreover, alternative solutions usually are offered in banking so that you won't get disappointed. Speaking up and clear or compelling communication can make a difference, and you can learn that from Howard's example.
Why Shouldn't You Rush Banking Forms?
When you have goals for acquiring quick cash and numbers of loans, it turns expected that you will need to take a banking form to start processing immediately. However, rushing the process is discouraged. For example, you could have placed the wrong information into these forms, like the incorrect spelling of names, account info, and the like. Inaccurate details may cause you to receive rejection instead of verification. You also confirm if the document is official or relevant to what you are processing. Authorities might question the validity of that form, and that's not the kind of impression you want to gain while making these relevant documents.
While banks bring you numerous services, you will need to avoid confusing one service to another. For example, you don't expect a cancellation for a loan application to be the same as the account closing. Confirming on that is a must before you regret your wrong decision. Instead of rushing, you find time to read and review all details involved from a form first. Don't just view what you wrote but also what information gets already set or printed ahead. Maybe the problem lies in the document, so there is still time to complain before signing and submitting that document. This reason is why you review carefully from the available templates to download and edit accordingly.
How to Create Banking Forms
It's already known that you can take a banking form for many procedures like a bank registration, account closing, or credit authorization. However, you must know about the steps in making professional printable banking forms too. This way, you won't find it difficult to process for your banking needs because you will know about the format, its process, and common considerations. Making these forms without standards would let you end up with invalid or poor results, and nobody wants to receive that impression, especially when banks themselves maintain professionalism at all costs. Here are some of the standard steps to follow:
Step 1. Look for the Suitable Template or Format
Numerous templates and formats are available for you to choose from, may that be in PDF, Google Docs, or anything you prefer. What matters most is that you are comfortable with the experience from such a template. Forms that still have to undergo hectic or challenging processes will only stress you out, particularly when you need to make more of those. Templates are customizable anyway, so you no longer have to stick with a mediocre result as you can make it more professional at the end. Testing out every example from templates lets you notice which one is the best for you.
Step 2. Specify the Type of Form
Whether the document you make involves an account report, account registration, or anything related to banking, you plainly must specify it. The form type is typically placed on top of the document and in bold letters, so its detail will naturally catch the eyes of whoever views this document. Failure to be specific will only let people get confused at what the text functions. As you search online, you can witness numerous types out there, and you only need to familiarize how each example differs from the other to prevent confusing one thing to another.
Step 3. Input the Required Information from that Form Type
Just like in most contracts, documents, and paperwork out there, there are details required to answer. Lacking specific info, mainly customer information will make the form incomplete. Names, contact numbers, and addresses are just some of the notable examples required from the details. Details still vary depending on the type of form. What matters most is nothing gets forgotten because an error takes place from incomplete or invalid paperwork. Don't forget to make the right balance where the outcome doesn't look that long because there can be a way to simplify it and still possess the crucial points. Thus, space gets saved from making this briefer.
Step 4. Leave Some Blanks or Spaces for Writing
While putting all details is crucial among forms, it doesn't mean there is no space for writing too. The thing is there are blanks provided for users to write their identity information, contacts, and so forth. This idea also means you adjust your measurements carefully because some spaces may be too narrow that a person hardly finds space for writing some of the required information. Its blanks should be properly aligned as well because the written detail might not be close to what turns asked, and it will be difficult to distinguish what such a feature is. If an account number is required, then the blank beside it should contain the information for such figures as it's easy to understand that way.
Step 5. Improve the Presentation
You can't miss out on checking how the whole presentation appears. Maybe some parts look messy like if lines weren't straight or measured well and that spaces failed at getting divided. You focus on enhancing its appeal, too, wherein anyone who checks the form will appreciate its comprehensible and professional output. Improving presentation does not necessarily mean you get creative with colors and designs anyway, but it is more on appearing professional. In doing that practice, you can create a document that observes professional reputation or like an actual official form.
Step 6. Adjust for Necessary Changes
People usually need to change some information after the first attempt, so you shouldn't submit immediately without a review yet. If you find out that your forms look very wordy and space-consuming, then you adjust by observing assessments. This process enables you to evaluate if any mistake is still present because you will have to change it afterward. Don't submit if errors weren't corrected yet. A simple read and review of what you made can already let you notice what needs to be changed. Changing for the better should be your goal and not the other way around.
Everyone should now be updated and aware of how to manage processes for forms related to banking. According to Worldbank.org, around 1.7 billion individuals or adults on a global scale are not served by banks or similar institutions within 2018 alone. That's quite a lot of people who failed to see how useful banks can be, and you shouldn't miss the opportunities like them. Make your experience right, starting with accomplishing the proper banking form until you achieve success in your finances.